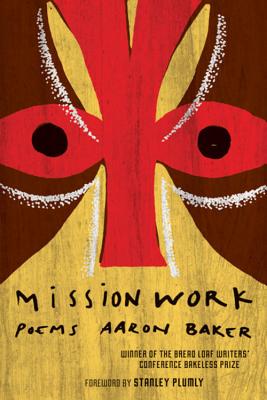 Mission Work (Paperback)
Poems
Mariner Books, 9780618982677, 80pp.
Publication Date: March 18, 2008
* Individual store prices may vary.
Description
In this prize-winning collection, a debut poet evokes his childhood as the son of missionaries in Papua New Guinea.

Mission Work is an arresting collection of poems based on Aaron Baker's experiences as a child of missionaries living among the Kuman people in the remote Chimbu Highlands of Papua New Guinea. Rich with Christian and Kuman myths and stories, the poems explore Western and tribal ways of looking at the world -- an interface of vastly different cultures and notions of spirituality, illuminated by the poet's own struggles as he comes of age in this unique environment.

The images conjured in Mission Work are viscerally stirring: native people slaughter pigs for a Chimbu wedding ceremony; a papery flight of cicadas cuts through a cloud forest; hands sting as they beat a drum made of dried snakeskin. Quieter moments are shot through with the unfamiliar as well. In "Bird of Paradise," a father angles his son's head toward the canopy of the jungle so the boy can catch sight of an elusive bird.

Stanley Plumly, this year's guest judge, writes, "How rare to find precision and immersion so alive in the same poetry. Aaron Baker's pressure on his language not only intensifies and elevates his memories of Papuan 'mission work,' it transforms it back into something very like his original childhood experience. Throughout this remarkably written and felt first book, the reader, like the author himself, 'can't tell if this is white or black magic,' Christian, tribal, or both at once."
About the Author
American poet Stanley Plumly has taught English at University of Maryland, College Park's creative writing program. Raised in Ohio, he helped found the Ohio Review while teaching at Ohio University, where he earned his M.A.
 
Praise For Mission Work: Poems…
"Wildly beautiful . . . Aaron Baker has written his own creation myth and discovered an original voice." --Carol Muske-Dukes

"Richly textured and self-confident . . . MISSION WORK is a haunting and powerful debut." --David Wojahn

"Aaron Baker's extraordinary journey in poems . . . has the power to awaken us all to the deep strangeness of being alive." --Gregory Orr

"It is the encounter between an adult imagination . . . finding the child again which makes this work both compelling and moving." --Eavan Boland

"How rare to find precision and immersion so alive in the same poetry . . . remarkably written and felt." --Stanley Plumly