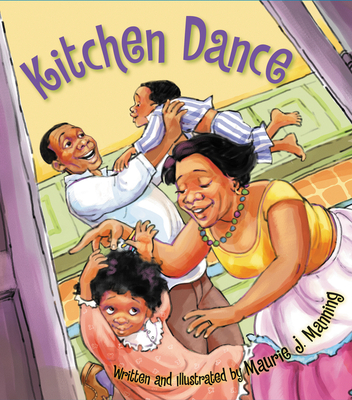 Kitchen Dance
Hardcover

* Individual store prices may vary.
Description
This charming picture book celebrates family, full of singing and joy and tenderness. 

A little girl wakes in the night to mysterious, inviting noises. She rouses her brother, and they sneak downstairs and peek into the kitchen. To their amazement and delight, their parents are dancing and singing---"?Como te quiero! Oh, how I love you!" ---as they clean up and put food away. Mama and Papa discover the two kids and sweep them into the embrace of a family dance. Slowly, the song changes to a lullaby. . . the children close sleepy eyes. . . then Mama and Papa tuck them into bed again.

The story reads like poetry. The art moves from subdued tones to hot tropical colors and back again. And as you turn the pages, you can almost hear the music---changing from a pop ballad to a hot tango to a cozy lullaby. All in all, it's a perfect bedtime book, with a satisfying hugs-and-kisses ending.
Praise For Kitchen Dance…
"Drawn from their beds by noises downstairs, the narrator and her little brother, Tito, peer into the kitchen to find that their parents have turned dinner cleanup into a rambunctious, Latin-flavored song and dance number. Mama swishes her ruffled skirt and Papa croons into a wooden spoon ("¡Cómo te quiero! Oh, how I love you. Umm, hmm"). The performance reaches its peak with a flourish worthy of Fred and Ginger: "My mother twists, and my father catches her by the waist and bends her low," writes Manning (The Aunts Go Marching), mixing awe with incredulity. "There is silence for a moment." As the rounded, sculptural bodies of the couple move about the kitchen with humor and grace, the illustrations take on a cinematic sense of motion and space. This is Manning's most exuberant work yet, a winning tribute to happy feet and happy families." --Publishers Weekly
"Scrape! Splash! Clunk! Clang!...I hear kitchen sounds," says the curly-headed marrator as she and her little brother Tito wake up to the sounds of their parents' kitchen dance. Creeping downstairs, they see mother and father as "[s]ide by side with stacked plates they glide," turning the routine of washing-up into a loving and even rather sexy tango. When Mama spots the two children, she and Papa sweep them up into an affectionate foursome, all singing, "¡Cómo te quiero!" Manning depicts this Afro-Latino family with verve, tilted angles and bright colors providing movement, and warmth as tall, skinny Papa and slightly zaftig Mama strut their stuff. It's In the Night Kitchen decloaked; how salutary for children---protagonists and readers both---to see a set of parents loving each other with suh abandon and enthusiasm. Their joyful inclusion of the kids makes this book read like one long, wonderful hug---as the narrator says, after being tucked back into bed with a couple extra besitos, "Umm, hmm." --Kirkus Reviews, STARRED review "A young girl lies in bed listening to the sounds emanating from the kitchen. "Scrape! Splash! Clunk! Clang!...Then something else-a deep voice humming a tune, and someone laughing." She wakes up her brother, Tito, "Oye! Do you hear?" Together they tiptoe down the stairs, peek into the kitchen, and gaze upon a playful and obviously happy couple. Their father is singing to their mother in Spanish and English, using a wooden spoon as a microphone, "¡Cómo te quiero! Oh how I love you." They dance around the kitchen drying dishes, opening and closing cabinets, oblivious to all except one another. Then Mama spots the two children. "Hola!" she says. She picks up the girl, Papa picks up the boy-now they all sing. "Oh, how I love you!" as they "twirl around and around in a circle of family." Faces nestled, the children grow sleepy and are carried back upstairs. "Sweet dreams." Full of vitality, simple, and touching, this picture book presents a celebration of family through words and exprssive, exuberant pictures. Wonderful." --School Library Journal
Clarion Books, 9780618991105, 32pp.
Publication Date: October 6, 2008
About the Author
Maurie J. Manning is the author/illustrator of Kitchen Dance and has illustrated numerous other children's books, some of which she also wrote. She and her children live in Stockton, California. Visit her online at mauriejmanning.com and on Twitter @mauriejmanning.