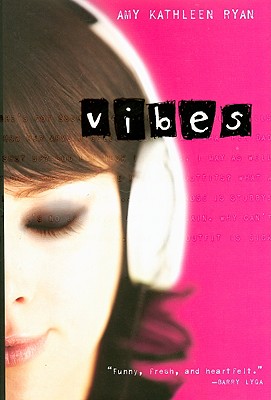 Vibes
Hardcover

* Individual store prices may vary.
Other Editions of This Title:
Digital Audiobook (9/29/2008)
Paperback (1/18/2010)
Compact Disc (5/4/2015)
MP3 CD (8/18/2015)
MP3 CD (9/30/2008)
MP3 CD (9/30/2008)
Compact Disc (9/30/2008)
Compact Disc (9/30/2008)
Description
Nothing is beyond Kristi Carmichael's disdain—her hippie high school, her friend Jacob, her workaholic mom. Yet for all her attitude and her mind-reading abilities, Kristi has a vulnerable side. She can hear the thoughts of her fellow students, calling her fat and gross. She's hot for Gusty Peterson, one of the most popular guys in school, but of course, she's sure he thinks she is disgusting. And she's still mad at her father, who walked out on them two years ago. Soon, a school project brings her together with Gusty, her father comes home and drops a bombshell, and a friend comes out of the closet, and suddenly she is left doubting that she can read people at all.
Bitingly funny but ultimately poignant and positive, this YA novel is completely on the mark.
Praise For Vibes…
"If you ever thought reading people's minds would make it easier to understand other people, Amy Kathleen Ryan is here to tell you that you're dead wrong. Funny, fresh, and heartfelt, Vibes zigs when you expect it to zag, and will have you laughing out loud."—Barry Lyga, author of The Astonishing Adventures of Fanboy and Goth Girl and Boy Toy
" . . . the surprising details make this a worthwhile addition to a teen romance collection . . . Kristi's eccentric habit of crafting her wardrobe from found objects, the content of her psychic visions, and the mismanagement of the relationships in her life add personality, and the result is a sweet, undemanding, yet consistently entertaining read with a good deal of insight into the way slightly off-center teenage girls construct their manic inner worlds."--The Bulletin
"Ryan's novel humorously explores the mind of a teenager grappling with issues of self-esteem, creativity, and self-worth. Teens will identify with Kristi and care about what she's going through."--KLIATT
Houghton Mifflin Books for Children, 9780618995301, 256pp.
Publication Date: October 1, 2008
About the Author
Amy Kathleen Ryan reads huge numbers of books and magazines but has not had success in reading minds, though not for lack of trying. She always knew she wanted to write, and thus earned an M.A. in English literature and graduated from the New School Creative Writing for Children Program. She now lives with her family in Colorado. This is her second novel.
or
Not Currently Available for Direct Purchase