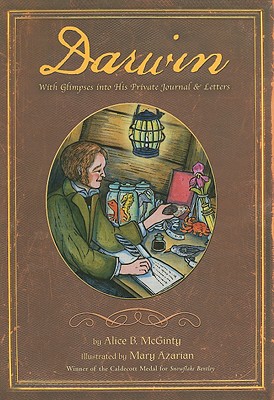 Darwin (Hardcover)
HMH Books for Young Readers, 9780618995318, 48pp.
Publication Date: April 6, 2009
* Individual store prices may vary.
Description
Filled with the fascinating words of Charles Darwin—designed as handwritten entries—this picture book biography reveals the assembling of a profound idea: the survival of the fittest. Two hundred years after his birth, 150 years after the publication of his ORIGIN OF SPECIES, this thought-provoking, splendidly ilustrated account invites us into the private thoughts, hopes and fears of a soul who forever changed the way we see the world.
About the Author
Caldecott Medalist Mary Azarian is a consummate gardener and a skilled and original woodblock artist. Many of her prints are heavily influenced by her love of gardening, and her turn-of-the-century farmhouse is surrounded by gardens that reveal an artist's vision. Mary Azarian received the 1999 Caldecott Medal for SNOWFLAKE BENTLEY, written by Jacqueline Briggs Martin. She lives, skis, and gardens in Vermont.
Praise For Darwin…
"Azarian's woodcuts are filled with cheerful color and capture the moments in Darwin's life that will most intrigue children. With its cover made to look like one of his own battered brown leather notebooks, showing the naturalist surrounded by his beloved specimens, this is a pleasing package for children just learning about the man and his work."--School Library Journal, starred review
"McGinty does a fine job of communicating Darwin's personal humility as well as his passion for exploring the natural world, his tireless work to understand it better, and his reluctance to publish a theory that seemed to contradict religious teaching. The interplay of the clearly written third-person text with Darwin's own words and occasional quotes from his contemporaries creates a multifaceted view that leads to a broader understanding. Biographies of scientists can be challenging to write for an audience unfamiliar with their research, but this one succeeds in introducing Darwin and his work to a surprisingly young group."--Booklist, starred review
An accessible and thoroughly engaging biography of the much-profiled scientist, this easy-to-follow narrative is enriched by striking illustrations and excerpts from Darwin's own writings. McGinty lays out the major events in Darwin's life clearly and both enhances readers' understanding and piques their interest by choosing the accompanying quotations carefully. Her writing is smooth and conversational, and while she compresses a large amount of information into only a few pages, readers never feel rushed or confused. In addition to describing his famous voyage on the Beagle, the author focuses on Darwin's long struggle to reconcile his discoveries with religious teachings, giving readers a better understanding not only of what Darwin posited but also the impact it had on his world—and ours. Azarian's woodcuts, hand-tinted with watercolors, showcase the wonders Darwin saw on his voyage beautifully and also illuminate the everyday environment of home and family. Presenting the quotations in script on facsimile paper fragments to evoke the style of the time adds to the overall appeal. Exquisite and enlightening."--Kirkus, starred review
"Azarian's woodcuts (tinted with watercolors) evoke the naive art of the period; the beauty of the artist's natural materials partners nicely with Darwin's process of nature observation and scientific deduction that is stressed throughout. Explanations of natural selection are particularly strong . . . Nearly every spread contains a parchment-like "letter" containing edited portions of Darwin's diary and letters. These quotes validate the main narrative and form an abbreviated chronological record for important events and thoughts in Charles's life. A brief author's note, source material, and full documentation complete this book."--Horn Book
"It's a concise, compelling children's introduction to a tricky and difficult subject. With meticulous source notes and an extensive bibliography, this is no Everyone Poops."--Wired Magazine
or
Not Currently Available for Direct Purchase