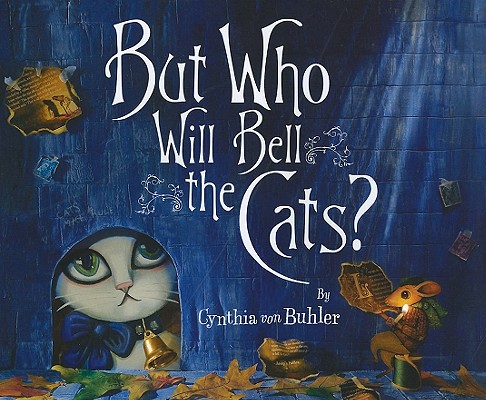 But Who Will Bell the Cats? (Hardcover)
HMH Books for Young Readers, 9780618997183, 32pp.
Publication Date: September 7, 2009
* Individual store prices may vary.
Description
Finally, the solution to Aesop's age-old question:
Who will bell the cats?

Mouse and his friend, Brown Bat, are determined to get out
of the basement and into the banquet hall to join
the fun and frolicking there.
But escape won't be easy with the cats blocking
their efforts . . .

It will take many attempts and a surprising
solution for Mouse and Bat to succeed.

Cynthia von Buhler's enchanted upstairs/downstairs
world shows readers the rewards of determination, bravery,
and creativity—and reminds them of the uncomplicated
power of kindness.
About the Author
Cynthia von Buhler is an internationally known and award-winning artist. Her artwork has been displayed in galleries and museums around the world, on CD covers, and in books, magazines, and newspapers. Cynthia lives in a castle on Staten Island in New York.
Praise For But Who Will Bell the Cats?…
"It's an upstairs-downstairs scenario carried through in every way, the spreads frequently split in two horizontally to show the contrast. The typeface is appropriate to the location, heavy and bright in the Princess's rooms, while thin and pale in the mouse's quarters. The action is richly illustrated in profusely detailed multimedia collage, framed in ornate gilt, which again emphasizes the differences in the lifestyles of the characters. The upstairs scenes glow in lavish, bright gold tones, and the downstairs scenes are dark and gloomy. Young readers will pore over this one again and again."--Kirkus Reviews

"Dark, complicated mixed-media illustrations bring a humorously creepy feel to the tale. A fancy typeface for the upstairs story contrasts nicely with the pseudo-handwritten type accompanying Mouse's story . . . this story of an indefatigable mouse should find a welcome place on the shelves of any castle...or library."--Horn Book

"Children will find a lot to discover in the details, even after repeated readings. "--School Library Journal

"It's only through true dedication on the part of the artist that you get something as visually inspiring as But Who Will Bell the Cats? Beautiful and haunting with the kinds of images kids will pore over, there ain't nothing like it out there today. A new fable in an all-new style."--Fuse 8 Blog

"Destined to earn the "classic" label down the road…"--UrbanBaby.com

or
Not Currently Available for Direct Purchase