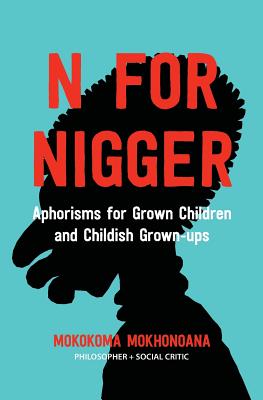 N for Nigger (Paperback)
Aphorisms for Grown Children and Childish Grown-Ups
Mokokoma Mokhonoana, 9780620616478, 288pp.
Publication Date: July 29, 2014
* Individual store prices may vary.
Description
"12% of employees eat because they are hungry. 88% of employees eat because it is 1 o'clock.""Though you can love what you do not master, you cannot master what you do not love.""A slave that acknowledges its enslavement is halfway to its liberation.""It's the invention of clothes, not nature, that made 'private parts' private.""Education is what they equip you with; just in case your dream doesn't work out."AND 920] OTHER APHORISMS
About the Author
Mokokoma Mokhonoana is a philosopher and a social critic. His work is generally an attempt to link human suffering to our thinking or, at times, lack thereof. He strongly believes that human suffering could ultimately be dramatically reduced if not eradicated if we invest in developing a society of Independent Thinkers. Granted, thinking isn't everything, and some people might even go so far as to say that thinking alone will not solve anything. Having said that, he believes that at the core of every single thing that breeds human suffering lies either or both of the following: (1) THINKING, i.e., human deeds, which were bred by our thinking, or, lack thereof; and (2) PERSPECTIVE, i.e., the attitude that we have towards things that breed our suffering, e.g., death. An attitude that is, of course, attributable to nothing but our thinking (which was shaped by our cultural conditioning). Mokokoma studies human beings. And from some of his observations, he either writes or draws. He shares his observations through aphorisms, essays, and cartoons. He was born, bred, and is based, within the bounds of some invention called South Africa.