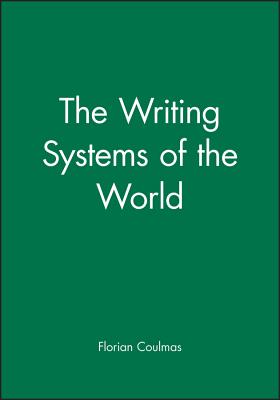 The Writing Systems of the World (Language Library)
Paperback

* Individual store prices may vary.
Description
This book is an account of the writing systems of the world from earliest times to the present. Its aim is to explore the complex ways in which writing systems relate to the language they depict. Writing, Coulmas contends, is not only the guide or garment of spoken language, but has a deep and lasting effect on the development of language itself.

His study takes in Egyptian hieroglyphics and the cuneiform system of the ancient Near East; he describes Chinese writing, discussing why an apparently cumbersome system has been used continuously for more than 3,000 years; he ranges across the writing systems of western Asia and the Middle East, the Indian families and the various alphabetic traditions which had its origins in the multifarious world of Semitic writing and came to full bloom in pre-Classical Greece.
Wiley-Blackwell, 9780631180289, 320pp.
Publication Date: January 8, 1991
About the Author
Florian Coulmas is Professor of Linguistics at Chuo University, Tokyo. He has written and edited several books in Linguistics and Sociolinguistics and is associate editor of the International Journal of the Sociology of Language.