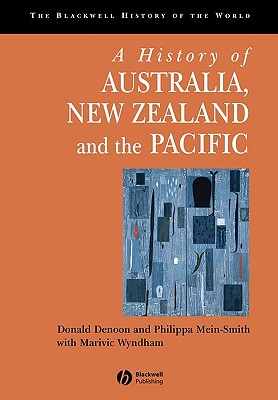 A History of Australia, New Zealand and the Pacific (Paperback)
The Formation of Identities (Blackwell History of the World)
Wiley-Blackwell, 9780631218739, 544pp.
Publication Date: November 6, 2000
* Individual store prices may vary.
Description
This book provides an arresting interpretation of the history of Australia, New Zealand and the Pacific from the earliest settlements to the present. Usually viewed in isolation, these societies are covered here in a single account, in which the authors show how the peoples of the region constructed their own identities and influenced those of their neighbours.

By broadening the focus to the regional level, this volume develops analyses - of economic, social and political history - which transcend
national boundaries. The result is a compelling work which both describes the aspirations of European settlers and reveals how the dispossessed and marginalized indigenous peoples negotiated their own lives as best they could. The authors demonstrate that these stories are not separate but rather strands of a single history.
About the Author
Donald Denoon is Professor of Pacific Islands History in the Research School of Pacific Studies, Australian National University. His previous books include Southern Africa Since 1800 (with Balam Nyeko, 1972 and 1984 ), Settler Capitalism (1981), The Cambridge History of the Pacific Islanders (Ed. 1997), and Getting Under the Skin: the Bougainville Copper Agreement and the Creation of the Panguna Mine (2000). Dr Philippa Mein Smith teaches New Zealand and Australian history, and social history of medicine in the Department of History, University of Canterbury, New Zealand. Her previous publications include Mothers and King Baby: Infant Survival and Welfare in an Imperial World: Australia 1880-1950 (1997). Professor Denoon and Dr. Mein-Smith enjoyed the privilege of a month's fellowship at the Rockefeller Study Centre in Bellagio, to develop the text. Dr Marivic Wyndham is an Australian cultural historian. Her doctoral thesis focused on the life and literature of the Australian novelist, Eleanor Dark (1901-1985). Her book, based on the thesis and due for release in mid-2001, offers a cross-cultural analysis of the writer. Dr Wyndham is now an Academic Adviser at the Study Skills Centre, Australian National University.