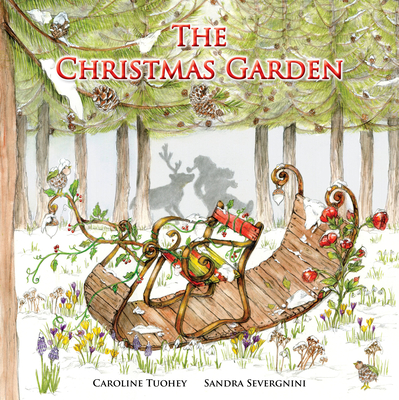 The Christmas Garden (Hardcover)
Little Pink Dog Books, 9780648256342, 32pp.
Publication Date: October 15, 2019
* Individual store prices may vary.
Description
A Christmas story told with lyrical rhyme and whimsical illustration, The Christmas Garden is reminiscent of the classic The Night Before Christmas. It takes children on a garden adventure filled with Christmas trees, reindeer, elves and of course, Santa Claus. It's a celebration of Christmas, the beauty in nature and the power of imagination.
There's a garden across from my house that's sublime
As it looks like it's Christmas there all of the time.
There's a seat on the lawn that resembles a sleigh;
It's just waiting for reindeer to pull it away.

Now, lean over close and I'll whisper to you
A secret that's known, but to only a few.
A tale so amazing you may not believe
That magic takes place there on each Christmas Eve.
Enjoy this magical garden adventure.
About the Author
Caroline Tuohey is an award-winning children's writer and poet whose main interest is picture books. She has three published picture books in the marketplace. She has also been published in children's literature magazines in Australia and Ireland, as well as in anthologies and poetry sites online. She enjoys holding story time sessions at libraries, schools and preschools and also runs workshops for both school students and adults. Her other interest is bush poetry – which she writes and performs. She lives on a farm in the Riverina region of New South Wales.
Sandra Severgnini owned an art gallery and retail store before finally deciding it was well and truly time to nurture her lifetime passion and focus on children's picture books. Her fascination with the magical natural world around her inspires her words and brings sensitivity and humour to her illustrations.