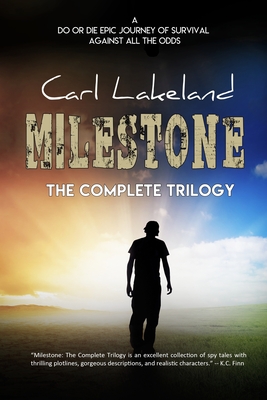 Milestone (Paperback)
The Complete Trilogy
Leif Karl Schlemmer, 9780648587002, 878pp.
Publication Date: July 13, 2019
Other Editions of This Title:
Hardcover (7/13/2019)
Paperback (2/19/2017)
Paperback (2/2/2017)
* Individual store prices may vary.
Description
MILESTONE: The Complete Trilogy is a do or die journey of survival against all the odds.

2019 BOOK EXCELLENCE AWARD WINNER - THE LOST ONES - ADVENTURE
2019 READERS' FAVORITE BOOK AWARDS WINNER - THE LOST ONES - ADVENTURE
2018 BOOK EXCELLENCE AWARD FINALIST - EAGLE SHIELD - THRILLER
2018 READERS FAVOURITE AWARDS HONOURS - EAGLE SHIELD - THRILLER
2018 INTERNATIONAL BOOK AWARDS FINALIST - EAGLE SHIELD - THRILLER

Eagle Shield: Milestone Rising
A trained killer must learn to forget everything he has come to know as a well-beaten path. He must become both father and protector to an orphaned ten-year-old girl.

Project Amber: The Milestone Incident
What will she do when she discovers her life was planned from the beginning? How will she handle being recruited into the intelligence community? Will she do more harm than good?
Or will she manage to stop the unimaginable?

The Lost Ones: Nothing Is How It Seems
With their dying nuclear reactor and dwindling electricity, the horror of lasting through winter plays heavily on their minds. To survive, they must escape to Australia. But the reality of the Australia they'd heard about is far from the images that live in their minds.