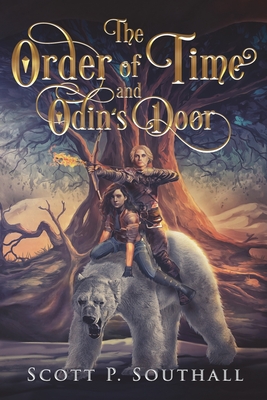 The Order of Time and Odin's Door
Paperback

* Individual store prices may vary.
Description
Anastasia and Edward Upston are summoned to the Order of Time's London headquarters to provide testimony. Their friend and mentor Dr. Alfred Gregorian has been charged with violating the time-traveling society's rules in relation to their trip to ancient Egypt. The twelve-year-old twins are determined to defend Dr. G and to get a closer look at the inner workings of the Order and its secret academy.

An unexpected turn of events leaves the twins stranded a thousand years in the past during the Viking Age. Hopes of returning home become secondary when they find themselves caught in the midst of a power struggle between Odin and Loki that could instigate the end of the Nine Realms. Surviving the Viking Age long enough for Dr. G and the Order to rescue them may be the hardest thing they ever do. If they can ….
Praise For The Order of Time and Odin's Door…
"Southall populates this delightful, fast-paced adventure through history, the second installment of the Order of Time series, with resourceful tweens and snarling monsters." Editor's Pick - booklife reviews

"A lively, entertaining time-travel tale that nicely blends history, myth, and adventure." Kirkus Reviews

"A rollickingly entertaining novel, Scott P. Southall's book is firmly rooted in the popular imagination and hits a bulls-eye with its mixture of classic action-adventure elements." 5 Stars - Reader's Favorite

"The Order of Time and Odin's Door feels like a hybrid between Harry Potter, Spy Kids, and The Golden Compass franchises. If you love wild fantasy adventure tales, this is the book for you." 5 Stars - Pikasho Deka

"Southall has crafted a great adventure that will keep young readers turning the pages to see how it ends." Reedsy Discovery
Seaview Press Holdings, 9780648695462, 278pp.
Publication Date: January 20, 2022
About the Author
Scott is an American author and banking executive who lives in Sydney, Australia. He grew up in the suburbs of Washington D.C. and attended Georgetown University. While he loves his job as a global banker, his true passion is making up stories with his children. His debut novel, The Order of Time, was the 2021 Reader's Favorite Gold Medal Winner in the Childrens – Mythology/Fairy Tale genre.
or
Not Currently Available for Direct Purchase