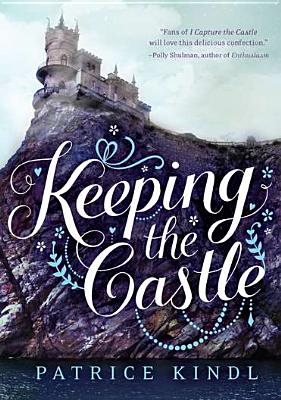 Keeping the Castle
Hardcover

* Individual store prices may vary.
Other Editions of This Title:
Digital Audiobook (7/4/2013)
Paperback (4/18/2013)
Description
Seventeen-year-old Althea is the sole support of her entire family, and she must marry well. But there are few wealthy suitors--or suitors of any kind--in their small Yorkshire town of Lesser Hoo. Then, the young and attractive (and very rich) Lord Boring arrives, and Althea sets her plans in motion. There's only one problem; his friend and business manager Mr. Fredericks keeps getting in the way. And, as it turns out, Fredericks has his own set of plans . . . This witty take on the classic Regency--Patrice Kindl's first novel in a decade--is like literary champagne!
"If you're a fan of I Capture the Castle you will love this sharply funny tale of courtship.  A delicious confection."  -- Polly Shulman, author of Enthusiasm

"Take one Austenian heroine in desperate financial straits.  Put her in a crumbling castle, give her two evil stepsisters and some very unsuitable suitors.  Make it funny!  Patrice Kindl's Keeping the Castle is an absolute charmer!"  -- Karen Joy Fowler, author of The Jane Austen Book Club
Praise For Keeping the Castle…
Publishers Weekly STARRED REVIEW In her first book in 10 years, Kindl (Lost in the Labyrinth) creates a sharp-witted comedy of manners set in 19th-century England that mirrors the narrative voice of Jane Austen. Seventeen-year-old Althea Crawley's mission is to secure a husband rich enough to repair the family's crumbling castle, since her wealthier live-in stepsisters aren't much help. (They "did feel some obligation to contribute towards their upkeep, but the sum was ever in dispute, and tardy in payment.") Althea's best prospect for a suitable fiancé is newcomer Lord Boring, but much to her annoyance, at social outings and parties she finds herself paired with his brash and outspoken companion, Mr. Fredericks. The banter between Althea and Mr. Fredericks will clue in readers that they are, in fact, a perfect match, something it takes Althea a while longer to recognize. Althea's tongue-in-cheek commentary regarding the selection of a suitor and her razorlike quips are abundantly entertaining, but it is the heroine's remarkable ingenuity and compassion for loved ones—including her widowed mother, younger brother, and an artist friend, Miss Vincy—that make her so endearing. Ages 12–up. (June)

Booklist STARRED REVIEW   Seventeen-year-old Althea Crawley is facing a plight familiar to characters in Dodie Smith's I Capture the Castle (1949), Jane Austen's Pride and Prejudice, and PBS' Downton Abbey: "Perhaps one day women might be able to choose their husbands with no thought of money and position, but not in this day and age in Lesser Hoo, Yorkshire, England." Althea is on a quest to marry rich so that she may secure the family's only inheritance, a dilapidated castle on the edge of the North Sea. She also bears the burden of supporting her widowed mother, four-year-old brother, and two sour, wealthy stepsisters, who refuse to contribute financially to the household. Marriage prospects in tiny Lesser Hoo are slim, to say the least, until dashing and wealthy Lord Boring arrives on the scene. Matters are further complicated by a revolving cast of potential suitors, including Lord Boring's cousin, Mr. Fredericks, who is the Mr. Darcy to Althea's Elizabeth Bennet. As with any respectable story set in England in the nineteenth or early twentieth century, the ending is jam-packed with revelations, only some of which are surprising. In her first novel in a decade, Kindl (Goose Chase, 2001) writes with sharp, effervescent, period-specific language that is so spot-on readers may find themselves adopting a British accent. This witty take on classic Regency romances is frothy fun for YA Anglophiles. — Ann Kelley

School Library Journal STARRED REVIEW  This droll tale set in 19th-century England will earn smiles of recognition from those familiar with Pride and Prejudice. Althea Crawley's only hope of saving her family and their castlelike home from their state of genteel poverty is to ensnare a wealthy husband using the two sole tools at her disposal: her youth and her beauty. The 17-year-old soon sets her sights on dashing Lord Boring, but obstacles arise, including her scheming stepsisters and Boring's seemingly boorish cousin, Mr. Fredericks. Though the bulk of the action revolves around socializing—visits, picnics, riding parties—these events are infused with enough drama and social maneuvering to keep the plot moving smoothly. Witty dialogue, particularly the barbed exchanges between Althea and Mr. Fredericks, recalls Elizabeth Bennet and Mr. Darcy's sharp banter but will also be accessible to readers who have not yet encountered Austen. Kindl uses sly humor to take aim at societal customs and standards. For example, Althea questions a rich suitor about why her appreciation of his wealth is mercenary while his enjoyment of her physical beauty is admirable. Althea is a worthy heroine with sharp-eyed views on matrimony that set her apart from more typical dewy-eyed protagonists. The dilapidated castle setting, the Crawleys' desperate circumstances, Althea's amusingly wicked stepsisters, and a touch of romance all bring this archly humorous story to vivid life. A treat for both fans of Austen and newcomers alike. — Mahnaz Dar

Kirkus Review A romp of a Regency romance told through the discerning voice of a witty teenage beauty whose family needs to her to marry for money.. . . Kindl respects the conventions of the genre while also gently mocking it. ...While the happy ending comes as no surprise, the path to it is funny as well as satisfying, with many nods to Jane Austen along the way.
Viking Books for Young Readers, 9780670014385, 224pp.
Publication Date: June 14, 2012
About the Author
Patrice Kindl (www.patricekindl.com) is the author of Owl in Love and Goose Chase as well as other award-winning novels.  She has shared her 1830's home in a small village in rural upstate New York with a wide variety of creatures: a son, monkeys (she trained them to be aides to quadriplegics), birds, cats, dogs and hamsters. Her current household contains a singing, dancing, talking parrot, a faithful little black and brown dog, an old tiger cat and a very tolerant husband.
or
Not Currently Available for Direct Purchase