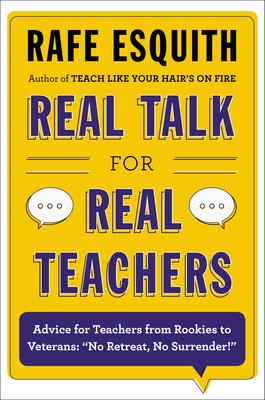 Real Talk for Real Teachers (Hardcover)
Advice for Teachers from Rookies to Veterans: "No Retreat, No Surrender!"
Viking, 9780670014644, 336pp.
Publication Date: July 16, 2013
Other Editions of This Title:
Paperback (6/24/2014)
* Individual store prices may vary.
Description
Wisdom to reenergize teachers of all ages and at all stages, from the "New York Times" bestselling author of "Teach Like Your Hair's on Fire"
If Rafe Esquith's "Teach Like Your Hair's on Fire" was food for a teacher's mind, "Real Talk for Real Teachers" feeds the teacher's soul. In this inspiring book, the genius behind the triumphs in Room 56 and on the stage with the Hobart Shakespeareans returns with words of wisdom and advice for those who struggle day to day in the world's hardest profession.
After thirty-plus years in the job, Esquith still puts in the countless classroom hours with which any dedicated teacher will be instantly familiar. He recognizes that new teachers and veteran educators need different kinds of nourishment, whether it's encouragement to see through a teacher's difficult early years, advice on midcareer classroom building, or novel ideas for how longtime educators can put their expertise to work.
Mixing his trademark offbeat humor and no-nonsense maxims with instructive stories and useful in-class advice, Esquith proves the perfect companion for teachers who need a quick pick-me-up, a long heart-to-heart, or just a momentary reminder that they re not alone. "Real Talk for Real Teachers" is from-the-hip advice to help teachers of every stripe cope with the overwhelming challenges of the classroom and beyond.
About the Author
Rafe Esquith has taught at Hobart Elementary School in Los Angeles for twenty-eight years. He is the only classroom teacher to have been awarded the president s National Medal of the Arts. His many other honors and awards include the American Teacher Award and "People" magazine s Heroes Among Us Award. He lives in Los Angeles."
Praise For Real Talk for Real Teachers: Advice for Teachers from Rookies to Veterans: "No Retreat, No Surrender!"…
Praise for TEACH LIKE YOUR HAIR'S ON FIRE:

"The most interesting and influential classroom teacher in the country." – The Washington Post "Rafe Esquith is a genius and a saint." – The New York Times "One of those magical teachers." —Los Angeles Times "Esquith is a modern-day Thoreau, preaching the value of good work, honest self-reflection and the courage to goone's own way." – Newsday "Politicans, burbling over how to educate the underclass, would do well to stop by Rafe Esquith's fifth-grade class." – Time "Teach Like Your Hair's on Fire . . . offers practical advice for teachers and parents." —USA Today "Teach Like Your Hair's On Fire," the second entry from the renowned Los Angeles educator, offers an hour-by-hour account of techniques that have helped his poor urban students excel for nearly 25 years. It is a volume that rebuts every pundit who doubts the wisdom of investing in troubled schools, but balances it with a vivid reality check for those who underestimate the difficulty of the task... If only more of us could fire up our inner Esquith." – Cleveland Plain-Dealer "From the moment I entered Rafe Esquith's fifth grade classroom, I knew it was a special place." —Bill Whitaker, CBS News   "Rafe Esquith is a trail-blazing, fast-talking fifth grade teacher." —NPR, "All Things Considered"  "If you could distil the essence of Rafe Esquith, bottle it and sell it to school districts hungry for master teachers, you'd no doubt make millions. [Teach Like Your Hair's on Fire] should be required reading for all teachers, especially those whose passion for the profession has cooled." —Dallas Morning News
or
Not Currently Available for Direct Purchase