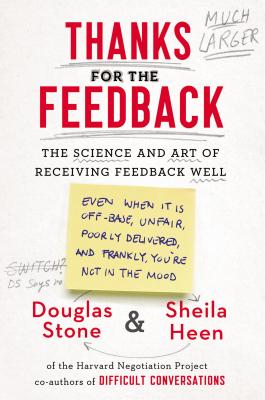 Thanks for the Feedback
The Science and Art of Receiving Feedback Well (Even When It Is Off Base, Unfair, Poorly Delivered, And, Frankly, You'
Hardcover

* Individual store prices may vary.
Other Editions of This Title:
Digital Audiobook (3/3/2014)
Paperback (3/31/2015)
Compact Disc (3/4/2014)
Description
The bestselling authors of the classic Difficult Conversations teach us how to turn evaluations, advice, criticisms, and coaching into productive listening and learning
We swim in an ocean of feedback. Bosses, colleagues, customers but also family, friends, and in-laws they all have suggestions for our performance, parenting, or appearance. We know that feedback is essential for healthy relationships and professional development but we dread it and often dismiss it.
That's because receiving feedback sits at the junction of two conflicting human desires. We do want to learn and grow. And we also want to be accepted just as we are right now. Thanks for the Feedback is the first book to address this tension head on. It explains why getting feedback is so crucial yet so challenging, and offers a powerful framework to help us take on life's blizzard of off-hand comments, annual evaluations, and unsolicited advice with curiosity and grace.
The business world spends billions of dollars and millions of hours each year teaching people how to give feedback more effectively. Stone and Heen argue that we ve got it backwards and show us why the smart money is on educating receivers in the workplace and in personal relationships as well.
Coauthors of the international bestseller Difficult Conversations, Stone and Heen have spent the last ten years working with businesses, nonprofits, governments, and families to determine what helps us learn and what gets in our way. With humor and clarity, they blend the latest insights from neuroscience and psychology with practical, hard-headed advice. The book is destined to become a classic in the world of leadership, organizational behavior, and education.
Praise For Thanks for the Feedback: The Science and Art of Receiving Feedback Well (Even When It Is Off Base, Unfair, Poorly Delivered, And, Frankly, You'…
Surprisingly little attention has been focused on being an effective recipient of feedback. Enter Stone and Heen with a well-rounded consideration of "the science and art of receiving feedback well." As they write, both of those disciplines are required to receive feedback in productive ways—not only in the workplace, but in personal life as well....the authors do an excellent job of constraining the applications to feedback usefulness while also exploring some of the other ways we can define what "feedback" consists of in our lives.
 
With a culture increasingly focused on the individual and the self, this book on developing the ability to accept and utilize the input of others constructively deserves a wide readership.
~Kirkus Reviews
 
"I'll admit it: Thanks for the Feedback made me unconformable. And that's one reason I liked it so much. With keen insight and lots of practical takeaways, Stone and Heen reveal why getting feedback is so hard -- and then how we can do better. If you relish receiving criticism at work and adore it in your personal life, then you may be the one person on earth who can safely skip this book."
~Daniel H. Pink, author of To Sell is Human and Drive
 
"Thanks for the Feedback is a potentially life-changing look at one of the toughest but most important parts of life: receiving feedback.   It's a road map to less defensiveness, more self-awareness, greater learning, and richer relationships.  Doug Stone and Sheila Heen have delivered another tour de force."  
~Adam Grant, Wharton professor and author of Give and Take
 
"Imagine an organization where everyone is actually good at receiving feedback. Collective anxiety would be reduced.  People would learn and grow. Impossible you say?  Thanks to this insanely original and powerful book, maybe not."
~Judy Rosenblum, Former Chief Learning Officer of Coca-Cola, and Founder of Duke Corporate Education
 
"Startlingly original advice for how to make feedback truly useful."
~Chris Benko, Vice President of Global Talent Management, Merck
 
"If you want to lead a learning organization, improving the quality of feedback is job one. This book is an essential guide to making that happen."
~Amy C. Edmondson, Novartis Professor of Leadership and Management, Harvard Business School, and author of Teaming
 
"Learning and HR professionals aren't the only ones who will love this book.  It should be required reading for anyone receiving a performance appraisal -- and anyone who is striving to improve."
~B. Alan Echtenkamp, Executive Director, Global Organization and Leadership Development, Time Warner Inc.
 
"Accepting feedback at work is important, but in families, it's vital. This simple, elegant book teaches us how."
~Bruce Feiler, New York Times columnist and author of The Secrets of Happy Families


 
Viking, 9780670014668, 348pp.
Publication Date: March 4, 2014
About the Author
Douglas Stone and Sheila Heen are co-authors of the New York Times Business Bestseller Difficult Conversations: How to Discuss What Matters Most, Principals at Triad Consulting, and have been teaching negotiation at Harvard Law School for twenty years.
or
Not Currently Available for Direct Purchase