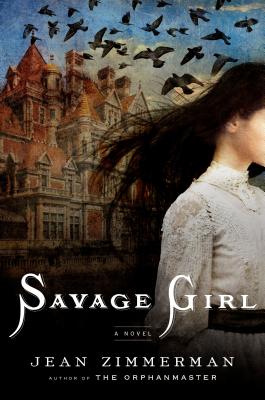 Savage Girl
Hardcover

* Individual store prices may vary.
Other Editions of This Title:
Digital Audiobook (3/5/2014)
Paperback (4/28/2015)
Description
A riveting tale from the author of "The Orphanmaster "about a wild girl from Nevada who lands in Manhattan's Gilded Age society
Jean Zimmerman's new novel tells of the dramatic events that transpire when an alluring, blazingly smart eighteen-year-old girl named Bronwyn, reputedly raised by wolves in the wilds of Nevada, is adopted in 1875 by the Delegates, an outlandishly wealthy Manhattan couple, and taken back East to be civilized and introduced into high society.
Bronwyn hits the highly mannered world of Edith Wharton era Manhattan like a bomb. A series of suitors, both young and old, find her irresistible, but the willful girl's illicit lovers begin to turn up murdered.
Zimmerman's tale is narrated by the Delegate's son, a Harvard anatomy student. The tormented, self-dramatizing Hugo Delegate speaks from a prison cell where he is prepared to take the fall for his beloved Savage Girl. This narrative a love story and a mystery with a powerful sense of fable is his confession.
Praise For Savage Girl…

Praise for Savage Girl

"Sooner or later, a historical crime novel is bound to drag you down some dark alley and into the nastiest, most lawless precincts of the period.  Jean Zimmerman followed this tradition in her first novel, The Orphanmaster, a descent into the hellish criminal haunts of 17th-century New Amsterdam.  In Savage Girl, this canny author puts all that aside and turns to the Gilded Age for a sweeping narrative, set within the cloistered ranks of high society in 19th-century Manhattan, that raises touchy questions about what it means to be civilized." —The New York Times Book Review

"Zimmerman's second novel takes us on an over-the-top romp through 1870s America . . . consider this the compulsively readable love child of Edith Wharton and Edgar Allen Poe."—Oprah.com

"A richly detailed 19th-century murder mystery and a fresh gloss on the Pygmalion fable, all in one. The story, narrated by a man who may or may not be a serial killer, compels you to keep turning the pages all the way to its shocking – and satisfying – end." —Christina Baker Kline, author of Orphan Train

"A formal, measured tempo only heightens the tension in Zimmerman's second historical fiction-cum-thriller. . .Zimmerman's dark comedy of manners is an obvious homage to Edith Wharton, a rip-roaring murder mystery more Robert Louis Stevenson than Conan Doyle and a wonderfully detailed portrait of the political, economic and philosophical issues driving post-Civil War America."—Kirkus Reviews
 
"Suffused with a gothic aura of dark suspense, this is a finely wrought psychological work, rich with historical detail.  Zimmerman's settings spring off the page. . .Immensely readable, Savage Girl takes the reader by the throat and doesn't let go."—ALA Booklist
 
"The prologue of Zimmerman's superior historical thriller will suck most readers in instantly. . .Zimmerman keeps the truth hidden until the end, combining suspense with an unsettling look into a tormented mind."—Publishers Weekly
 
"Zimmerman offers a fanciful and occasionally surreal take on a Gilded Age New York that is reminiscent of Caleb Carr's The Alienist or even Edgar Allen Poe."—Library Journal

"A provocative and modern take on the historical crime novel, Savage Girl reveals the dark and twisted side of the 'civilized' class of the Gilded Age. Filled with fascinating and unexpected details, this absorbing tale will draw you deep into the lives of its engrossing characters as it lures you to its startling end." —Koethi Zan, author of The Never List

"The best historical fiction brings the reader back to a bygone era and the depth of humanity then. Jean Zimmerman does all that and more in her elegantly written new novel. I simply could not put down this this tale of sweet and painful love, of a savage girl and her encounter with modernity."—Da Chen, author of My Last Empress
Viking Books, 9780670014859, 402pp.
Publication Date: March 6, 2014
About the Author
Jean Zimmerman is the author "The Orphanmaster "and several works of nonfiction, including Love Fiercely and The Women of the House. Born in Tarrytown, New York, she is a graduate of Barnard College and Columbia University School of the Arts. She lives in Ossining, New York.
or
Not Currently Available for Direct Purchase