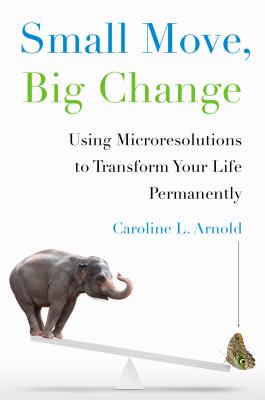 Small Move, Big Change (Hardcover)
Using Microresolutions to Transform Your Life Permanently
Viking, 9780670015344, 238pp.
Publication Date: January 16, 2014
Other Editions of This Title:
Paperback (12/30/2014)
* Individual store prices may vary.
Description
A Wall Street tech leader explains how small behavioral changes lead to major self-improvement
Whether trying to lose weight, save money, or get organized, we re always setting goals and making resolutions but rarely following through on them. Determination and willpower aren t strong enough to defeat our mass of ingrained habits; to succeed we have to learn how to focus our self-control on precise behavioral targets and overwhelm them, according to longtime Wall Street technology strategist Caroline Arnold.
"Small Move, Big Change "is Arnold's guide to turning broad personal goals into meaningful and discrete behavioral changes that lead to permanent improvement. A microresolution is easily kept and designed to nail a self-improvement target exactly and deliver benefits immediately. While the traditional resolution promises rewards on a distant someday, a microresolution rewards us today by instantly altering our routines and, ultimately, ourselves.
A wife, mother, and business innovator, Arnold uses her own successes and failures as case studies. Contrasting her career success with her personal resolution failures, Arnold recounts how by analyzing her own behavior she was able to reengineer her resolutions so that they were guaranteed to succeed every time, from losing weight to improving key relationships. Providing scores of engaging examples from the wide circle of colleagues and friends who practice her microresolution method, Arnold also shows how her system is supported by new willpower and habit science.
About the Author
Caroline Arnoldhas been a technology leader on Wall Street for more than a decade, managing some of the financial industry's most complex and visible assignments. She received the Wall Street & Technology Award for Innovation for building the auction system for the Google IPO, and her name appears on technology patents pending. She now serves as a managing director at a leading Wall Street investment bank. Arnold grew up in the San Franciso Bay Area and graduated from the University of California Berkeley with a degree in English literature. She lives in New York City with her husband and daughter.

"
Praise For Small Move, Big Change: Using Microresolutions to Transform Your Life Permanently…
"The real clincher here, as Arnold helps us realize, is that in order to make successful resolutions, "micro" or not, we have to know ourselves and stop picking one-size-fits-all goals out of the bin."
— Elle
 
"These genius strategies from Caroline Arnold, one of the few female bosses in Goldman Sachs' tech department, will help [to accomplish your goals]."
— Glamour
 
"If there's a habit you've been pushing against without a breakthrough, check out Small Move, Big Change. Reading it may be one of the last macroresolutions you ever make."
— Bookpage
 
"[Small Move, Big Change is a] thought-provoking road map to successfully transforming ourselves with new habits"
— Booklist
 
"Arnold, the managing director at Goldman Sachs and a technology leader on Wall Street, shows us how to effect behavioral change by thinking small. Through her own work, she's discovered that you can vanquish bad habits by focusing on concrete, manageable goals."
— Library Journal
 
"The only thing this book did for me was to get me to floss regularly, which led to less red wine, which led to snapping at my kids less, which led to their doing the dishes more. Who knew that flossing could change your life?"
— Dr. Wendy Walsh, CNN's human behavior expert
 
"I love this book! From page one, Small Move, Big Change is filled with wisdom, insight, and whip-smart 'micro' suggestions you can actually implement to change your life. Caroline Arnold manages to be funny, down to earth, and hard-hitting all at the same time. This is a must-read."
— Amy Chua, Yale law professor and author of Battle Hymn of the Tiger Mother
 
"Small Move, Big Change is a rare self-improvement book that actually works. With the right mix of science and practical examples, Caroline Arnold offers powerful advice for motivating ourselves to save more, eat less, get organized, boost our willpower, and even keep our New Year's resolutions. It's the most useful guide to getting things done since Getting Things Done."
— Adam Grant, Wharton professor and bestselling author of Give and Take
or
Not Currently Available for Direct Purchase