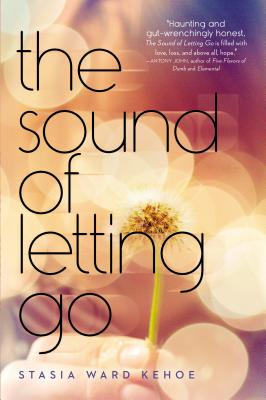 The Sound of Letting Go
Hardcover

* Individual store prices may vary.
Description
For sixteen years, Daisy has been good.  A good daughter, helping out with her autistic younger brother uncomplainingly.  A good friend, even when her best friend makes her feel like a third wheel. When her parents announce they're sending her brother to an institution—without consulting her—Daisy's furious, and decides the best way to be a good sister is to start being bad.  She quits jazz band and orchestra, slacks in school, and falls for bad-boy Dave. 
 
But one person won't let Daisy forget who she used to be: Irish exchange student and brilliant musician Cal.  Does she want the bad boy or the prodigy?  Should she side with her parents or protect her brother?  How do you know when to hold on and when—and how—to let go? 

"The Sound of Letting Go is deeply moving, fiercely honest, and always surprising. Stasia Ward Kehoe's characters are so real and complex, you won't want to let them go at the end.  I loved this book!"—Barbara Dee, author of Solving Zoe, This is Me From Now On, Just Another Day in My Insanely Real Life, and Trauma Queen
 
"Achingly beautiful, The Sound of Letting Go takes readers down a dangerous path while touching the heart and encouraging hope."—Elana Johnson, author of Possession, Surrender, and Abandon 
 
"Told in verse that is at once delicate and strong, lyrical and honest, Stasia Kehoe's The Sound of Letting Go is a moving contemporary story of the intense push and pull between the responsibility of family and the freedom of dreams."—Jessi Kirby, author of Moonglass, In Honor, and Golden 

"With captivating verse and a lyrical love story to match, The Sound of Letting Go will keep you hanging on, breathless and enchanted, until the very last page."—Gretchen McNeil, author of Possess, Ten and the forthcoming 3:59 and the "Don't Get Mad" series

"Soulful and stunning, this book has captured my heart. It's one of those tragic melodies you never want to end, a tribute to the damning and redemptive power of music."—Jessica Martinez, author of Virtuosity and The Space Between Us

 "The Sound of Letting Go draws you honestly into the turbulent ambivalence of life with a severely challenged sibling, while never short-shrifting Daisy's individual coming-of-age journey.  The music of Stasia Kehoe's beautifully flawed characters will resonate in your mind long after you finish reading her book."—Elise Allen, author of Populazzi, co-author of the Elixir series with Hilary Duff
Praise For The Sound of Letting Go…
PRAISE FOR THE SOUND OF LETTING GO:
"This painfully honest portrait of a family in crisis raises questions about love, responsibility, and self-sacrifice as it moves gracefully to a difficult but realistic resolution." —
Publisher's Weekly,
starred review
"An intriguing medley of music, teen romance, high school life and serious family issues." —
Kirkus
"This realistic portrayal of a family nearly torn apart by crisis will interest fans of romance, music, and drama." —
School Library Journal
"...a coming-of-age novel with a romantic backdrop,
The Sound of Letting Go
ranks among the best in its genre." —
VOYA
"...poignant..." —
BCCB
"Sharp, painful emotions come alive in flowing verse. Long after the notes fade, this book won't let you go."—Corrine Jackson, author of
If I Lie
PRAISE FOR STASIA'S FIRST BOOK, AUDITION:
"Sara's coming-of-age tale is one of passion and romance, colliding with her vision of whom she ultimately hopes to be. Her confused feelings are believably expressed and her attitudes toward her friends and the adults in her life will ring true, especially to...readers who are also involved in the performing arts." --
School Library Journal
"The author, who has a performing and choreography background, stages Sara's dance world clearly through her spare verse, from ballet moves and body aches to studio drama... readers will empathize as she struggles with everything from sore shins to Rem's fickleness and whether she wants to continue dancing." --Publisher's Weekly
"Fans of Ellen Hopkins and Sonya Sones will enjoy this cautionary, detail-oriented look at the backstage world of the ballet and cheer for Sara as she finally makes her own decisions about her commitment to dance and her future." --Booklist
"...the pages turn quickly once the reader gets into the rhythm of the words and Sara's story. Kehoe can turn an evocative phrase, like the way she describes the "encrusted hairspray" of the dancer, or the minimalist way in which she describes a dancer's eating disorder..." --Huffington Post
Viking Books for Young Readers, 9780670015535, 400pp.
Publication Date: February 6, 2014
About the Author
Stasia Ward Kehoe grew up performing on stages from New Hampshire to Washington, DC. She holds a BA in English from GeorgetownUniversity and an MA in Performance Studies from New York University. She now lives in western Washington State with her husband and four sons. Stasia's novels include Audition and The Sound of Letting Go.
or
Not Currently Available for Direct Purchase