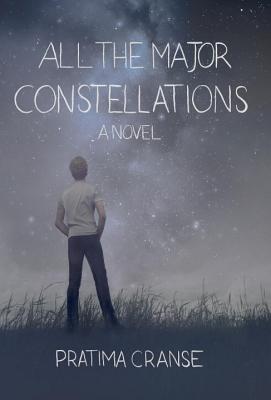 All the Major Constellations
Hardcover

* Individual store prices may vary.
Description
When you're about to face the world, who do you turn to? 

Andrew is leaving high school behind and looking ahead to a fresh start at college and distance from his not-so-secret infatuation: Laura Lettel. But when a terrible accident leaves him without the companionship of his two best friends, Andrew is cast adrift and alone—until Laura unexpectedly offers him comfort, friendship, and the support of a youth group of true believers, fundamentalist Christians with problems and secrets of their own. Andrew is curiously drawn to their consuming beliefs, but why? Is it only to get closer to Laura? And is Laura genuinely interested in Andrew, or is she just trying to convert him?
 
This provocative and compelling debut novel will resonate deeply with readers as it explores questions of identity, sexuality, and spirituality. 
Praise For All the Major Constellations…
Praise for All the Major Constellations:

* "Easygoing Vermonter Andrew discovers the complexities of spirituality and sexuality in this heartfelt debut. . . Moments of wry humor compliment Andrew's subtle changes as he realizes there are no easy answers, perhaps not even one right answer. Readers will cheer him on as he makes a path to find his answers. A stellar voice to watch." —Kirkus, starred review

* "Cranse's compassionate debut astutely conveys the joys, heartaches, and angst of coming-of-age." —Publishers Weekly, starred review

"Adolescents will relate to Andrew's exploration of religion and a world bigger than himself. Cranse creates an atmosphere where characters are safe to find humor in the face of tragedy and question the paths laid before them. The novel avoids making a commentary on religion, instead focusing on what can contribute to a personal sense of spirituality and the effort this involves. Older fans of realistic fiction will enjoy riding along with Andrew." —School Library Journal

"Cranse has a keen ear for dialogue and an equally sharp eye for the unspoken tensions in family and friendship dynamics. . . Give this to fans of skilled heartfelt YA by the likes of David Levithan and John Green." —BCCB

"Andrew is nicely drawn, and his frustrations are particularly well depicted. His struggles are less about religion and more about people, and that makes for an impressive debut." —Booklist

"Many teens can relate to questions about friendship, family, and religion, and will feel Andrew's confusion and frustration. . . It is this search for a basic human need—belonging—that stirs readers and makes the story touching and totally worthwhile." —VOYA

"Pratima Cranse's excellent book went with me to lunch, to the doctor's office, to the kitchen counter as I prepared dinner; its pages spattered with everything from coffee to marinara sauce. Part of it was being able to so easily slip into the indelible memories of a certain phase of adolescence. The rest was being able to pick up on themes that give 17-year-old Andrew Genter's life a point of view I hadn't thought about before. And isn't it the best thing in the world when you suddenly see something through completely different eyes?" —BookBrowse.com

"Debut author Pratima Cranse's gentle treatment of a huge array of characters—from flirty to bookish, from deeply religious to sexually confused—paints a vibrant and familiar picture of a teenage social scene. Despite the large cast, Cranse treats every supporting character with equal respect, building complex personal histories that make each one as compelling and relatable as the protagonist. . . Cranse's portrayal of Andrew's struggle is sometimes heartbreaking, often wryly funny and ultimately very compassionate and true. All the Constellations is a novel not to miss, and Cranse is a voice to watch." —Bookpage

"With a voice that is fresh, unique, and wry, Pratima Cranse, in her compelling debut, All the Major Constellations, captures the sexual frustrations, angst, and heartache of a young man on the brink of college. You will pull for Andrew to the end. This is a novel you won't put down." —Diane Les Becquets, author of Breaking Wild and the award-winning Season of Ice

"Pratima Cranse's writing is wise, funny, provocative, beautiful, and heartbreaking. So are her characters. So is this book." —Sam J. Miller, author of The Art of Starving
Viking Books for Young Readers, 9780670016457, 336pp.
Publication Date: November 10, 2015
About the Author
Pratima Cranse was born and raised in Vermont. She now lives in New Hampshire with her husband, daughter, and their two magnificent cats. When she's not writing, Pratima enjoys jogging very slowly (some might call it shuffling), and spending time with her family. You can learn more at pratimacranse.com and follow her on Twitter @PratimaCranse.
or
Not Currently Available for Direct Purchase