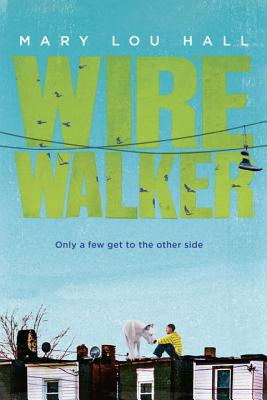 Wirewalker
Hardcover

* Individual store prices may vary.
Description
Sometimes heroes can be found in the most unlikely places.
 
Fourteen-year-old Clarence Feather knows no world beyond desolate Mayfair Heights. Three years ago, his mother was killed before his eyes by a stray bullet. When his father becomes unable to keep the family afloat, Clarence is manipulated into running drugs. But he longs to be a good person, in spite of the seemingly impossible odds.
           
Wandering through his neighborhood, Clarence meets Mona, a huge albino Great Dane. The two develop a deep bond. When he is forced to attend a dog fight as a rite of passage, Clarence realizes that Mona isn't safe, and neither is he. Can he find a way to protect Mona? Can he survive life in Mayfair Heights and still become the person his mother wanted him to be?

A novel about self-reliance, difficult choices, and imagination in the face of danger and isolation, Wirewalker is a masterfully written debut that blends gritty realism with moments of fantastical escape.
Praise For Wirewalker…
"Mary Lou Hall's Wirewalker is a daring leap into magnificence. This is storytelling at its bravest and most beautiful. Seeing life through Clarence Feather's eyes, feeling it through his wounded, magical heart, I fell in love with the world all over again. Ms. Hall reminded me that when there's no way out, and not even a way through, there's always a way in. The gateway and the treasure are one and the same: compassion, and Mary Lou Hall's is as boundless as her talent. Wirewalker tore me up and healed me too.  It's a call to resurrection for anyone who has forgotten how to hope." 
 
—Paul Griffin, critically acclaimed author of Stay with Me and Burning Blue

"Sometimes starting high school, dealing with your family, and surviving the neighborhood takes the strength of a superhero, but when there are no Batmen or Spider-Men, it takes a real life superhero like Clarence Feather to keep it all from falling apart. Wirewalker beautifully and powerfully reminds us that when navigating a world that offers no good choices, a heart that's good and true can still save the day."
 
—Brendan Kiely, coauthor of the Coretta Scott King Author Honor Award–winning All American Boys and author of The Last True Love Story

"Debut novelist Hall paces her story patiently, allowing each questionable decision Clarence makes to increase the dramatic tension, while quietly raising the stakes for the secondary cast—human and canine—as well. There's grit and challenging honesty here to serve readers who are not quite ready for full-out Urban Lit." —BCCB

"The gritty subject matter of the novel should captivate readers" —Booklist
Viking Books for Young Readers, 9780670016464, 304pp.
Publication Date: September 6, 2016
About the Author
Mary Lou Hall lives with her husband, dogs, and dreams in Richmond, Virginia. She teaches at Virginia Commonwealth University and is working on her second novel.
or
Not Currently Available for Direct Purchase