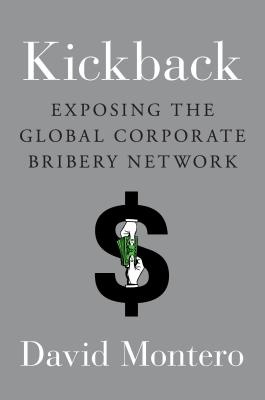 Kickback (Hardcover)
Exposing the Global Corporate Bribery Network
Viking, 9780670016471, 304pp.
Publication Date: November 13, 2018
Other Editions of This Title:
Digital Audiobook (11/12/2018)
* Individual store prices may vary.
Description
An investigation into corporate bribery around the world and how it undermines democracy and the free market system

The World Bank estimates that rich multinational corporations pay hundreds of billions of dollars in bribes every year to officials overseas. The perpetrators are not a handful of rogue companies, but many members of the Fortune 500. Kickback is a sweeping, global investigation into corporate bribery around the world and how backdoor financial transactions undermine democracy and the free market system by lining the pockets of some of the world's worst dictators and criminals. Ultimately, this system affects billions of people by creating conditions that lead to poverty, violence, environmental disaster, and political instability in countries like Nigeria, Bahrain, Costa Rica, and Iraq.

Kickback traces the origins of corporate bribery from the reign of the British East India Company to the methods by which it is carried out today. Traveling across four continents and interviewing police and intelligence officials, convicted criminals, business executives, and corruption experts, David Montero takes an inside look at bribery's pernicious effects. He examines its ramifications at both the individual and national levels--from the murder of a young activist in Bangladesh to a Texas billionaire's dealings with Saddam Hussein, from pharmaceutical firms' payoffs in China to how the entrenched culture of bribery helped destroy the Greek economy. Montero also examines the countermeasures that have been introduced to combat these practices, such as the Justice Department's efforts to halt them and attempts to identify and provide restitution to victims.

Given the new era of profound uncertainty we are entering--the strength of the European Union founders, the power of China rises, the global economy continues on a path of perilous flux, and allegations mount that President Donald Trump and his associates are possibly tainted by bribery themselves--the stakes for eradicating corporate bribery have never been higher.
About the Author
David Montero has documented the impact of corruption in South and South East Asia. Formerly a correspondent for The Christian Science Monitor and a regular producer for PBS's flagship investigative series, FRONTLINE, his work has twice been honored with an Emmy Award nomination as well as the South Asian Journalist Association's Daniel Pearl Award. Montero has also written for The New York Times, The Nation, Le Monde Diplomatique, and many others.
Praise For Kickback: Exposing the Global Corporate Bribery Network…
"Kickbacks, [Montero] demonstrates, are the 'cost of doing business.' But by the end of his book, one is left with the impression that the cost, whatever it might be, is far too high."
—Bloomberg

"Investigative journalist Montero explores the impact of corporate bribery in this insightful and clearly written exposé . . . Montero's far-reaching study will likely shock even readers familiar with the issue."
—Publishers Weekly

"[Montero] is at his most compelling when connecting . . . sordid backroom dealers with some of the world's most recognizable brand names and the international conflicts that they helped foster. . . . A startling window into the bribery that shapes the world in which we live, including the major corporate players and government parties involved in the corruption."
—Kirkus Reviews

"Read Kickback! It's unique, revelatory and concise. It actually shows you how bribes work and who pays the price." 
—Lowell Bergman, Pulitzer Prize-winning journalist and David and Reva Logan Distinguished Chair in Investigative Reporting at UC Berkeley

"Kickback has everything: assassination plots, drug dealers, secret agents, prostitutes, and dirty sheiks, princes, governors, and presidents. But this crime thriller is a deeply reported book about the malfeasance of global companies with household names. David Montero skillfully pulls back the curtain on one of the best-kept secrets of corporate life: the corrosive and all-too-common business of bribery."
—David France, Oscar-nominated director of How to Survive a Plague