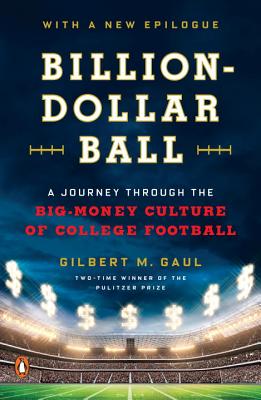 Billion-Dollar Ball (Hardcover)
A Journey Through the Big-Money Culture of College Football
Viking, 9780670016730, 272pp.
Publication Date: August 25, 2015
* Individual store prices may vary.
Description
- A Boston Globe Best Book of 2015 - "A penetrating examination of how the elite college football programs have become 'giant entertainment businesses that happened to do a little education on the side.'"--Mark Kram, The New York Times Two-time Pulitzer-Prize-winning journalist Gilbert M. Gaul offers a riveting and sometimes shocking look inside the money culture of college football and how it has come to dominate a surprising number of colleges and universities. Over the past decade college football has not only doubled in size, but its elite programs have become a $2.5-billion-a-year entertainment business, with lavishly paid coaches, lucrative television deals, and corporate sponsors eager to slap their logos on everything from scoreboards to footballs and uniforms. Profit margins among the top football schools range from 60% to 75%--results that dwarf those of such high-profile companies as Apple, Facebook, and Microsoft--yet thanks to the support of their football-mad representatives in Congress, teams aren't required to pay taxes. In most cases, those windfalls are not passed on to the universities themselves, but flow directly back into their athletic departments. College presidents have been unwilling or powerless to stop a system that has spawned a wildly profligate infrastructure of coaches, trainers, marketing gurus, and a growing cadre of bureaucrats whose sole purpose is to ensure that players remain academically eligible to play. From the University of Oregon's lavish $42 million academic center for athletes to Alabama coach Nick Saban's $7 million paycheck--ten times what the school pays its president, and 70 times what a full-time professor there earns--Gaul examines in depth the extraordinary financial model that supports college football and the effect it has had not only on other athletic programs but on academic ones as well. What are the consequences when college football coaches are the highest paid public employees in over half the states in an economically troubled country, or when football players at some schools receive ten times the amount of scholarship awards that academically gifted students do? Billion-Dollar Ball considers these and many other issues in a compelling account of how an astonishingly wealthy sports franchise has begun to reframe campus values and distort the fundamental academic mission of our universities.
About the Author
Gilbert M. Gaul twice won the Pulitzer Prize and has been shortlisted for the Pulitzer four other times. For more than thirty-five years, he worked as an investigative journalist for The Washington Post, Philadelphia Inquirer and other newspapers. He has reported on non-profit organizations, the business of college sports, homeland security, the black market for prescription drugs and problems in the Medicare program. He was a Nieman Fellow at Harvard University and a Ferris Fellow at Princeton University. The author of three previous books of investigative reporting, Gaul lives in New Jersey.
or
Not Currently Available for Direct Purchase