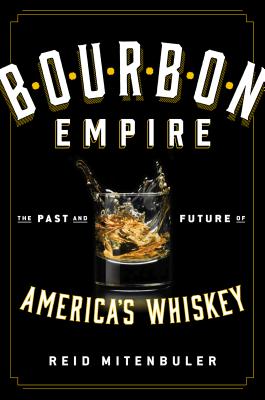 Bourbon Empire (Hardcover)
The Past and Future of America's Whiskey
Viking, 9780670016839, 320pp.
Publication Date: May 12, 2015
Other Editions of This Title:
Digital Audiobook (5/11/2015)
Paperback (5/10/2016)
* Individual store prices may vary.
Description
How bourbon came to be, and why it's experiencing such a revival today
 
Unraveling the many myths and misconceptions surrounding America's most iconic spirit, Bourbon Empire traces a history that spans frontier rebellion, Gilded Age corruption, and the magic of Madison Avenue. Whiskey has profoundly influenced America's political, economic, and cultural destiny, just as those same factors have inspired the evolution and unique flavor of the whiskey itself.
 
Taking readers behind the curtain of an enchanting—and sometimes exasperating—industry, the work of writer Reid Mitenbuler crackles with attitude and commentary about taste, choice, and history. Few products better embody the United States, or American business, than bourbon.
 
A tale of innovation, success, downfall, and resurrection, Bourbon Empire is an exploration of the spirit in all its unique forms, creating an indelible portrait of both bourbon and the people who make it.
About the Author
Reid Mitenbuler has written about whiskey and drinking culture for The Atlantic, Slate, Saveur, Whisky Advocate, and other publications. He lives with his wife in Brooklyn, NY.
Praise For Bourbon Empire: The Past and Future of America's Whiskey…
"Reid Mitenbuler pulls aside the curtain of puffery to show us the spirit's history, as well as how the stuff is actually made, who controls the industry and where it might be headed.... [Shows] the business of liquor to be every bit as fascinating as the fictions in which the distillers love to swaddle themselves."—Wayne Curtis, Wall Street Journal

"An engaging and thorough exploration of the history of America's national booze."—Playboy

"Bourbon Empire digs deep to divulge the truth about the people donning bourbon labels—James C. Crow, Elijah Craig and Evan Williams, to name a few—and unravels the often-questionable practices of bourbon business. It's in these moments of historical shenanigans that we find Mitenbuler's true talent. He doesn't slam bourbon brands for misleading consumers with marketing. Mitenbuler simply writes the truth."—Fred Minnick, Parade

"An illuminating, well-paced narrative that will interest students and imbibers of the wee drap, American-style."—Kirkus
 
"Mitenbuler's prose is relaxed and mellow with a shot of wry; his entertaining, loose-limbed narrative revels in the colorful characters and droll hypocrisies of capitalism at its booziest."—Publishers Weekly 

"Abundant and even surprising detail is bundled with sharp writing that doesn't hesitate to criticize.... This terrific account of the rich heritage behind a classic American beverage is recommended for those who enjoy reading histories of foodstuffs of all sorts."—Library Journal 

"Bourbon Empire is a lively, rowdy tale of swindlers and smugglers, connoisseurs and craftsmen. Reid Mitenbuler is a talented storyteller whose wide-ranging curiosity takes us to Civil War battlefields and prison cells as well as cornfields and world-famous distilleries. Truly fascinating, and a must-read for whiskey lovers!"—Amy Stewart, author of The Drunken Botanist
 
"Bourbon Empire is more than just whiskey history. Mitenbuler demonstrates, with clear, witty and incisive prose, how the drink shaped, and was shaped by, the history of American capitalist society. It is a book that whiskey fans, historians and students of American business will enjoy, and learn much from."—Clay Risen, staff editor, The New York Times and author of American Whiskey, Bourbon, and Rye
 
"A must have for every bourbon enthusiast from beginner to expert. A book that finally tells the true story of our beloved bourbon, putting in perspective its important role in American history. Bourbon Empire has it all, demystifying the good, the bad and the ugly."—Sean Brock, Chef/Partner of McCrady's and Husk
 
"In finding the facts behind some of bourbon's most cherished fables, Mitenbuler has unearthed true tales that are even better than the tall tales. A fresh look at stories we thought we knew."—Lew Bryson, managing editor, Whisky Advocate and author of Tasting Whiskey
 
"Reid manages to juggle his skepticism and enthusiasm in this carefully researched and lovingly written history of America's spirit. He peels back layer after layer of filigree, searching for the real story, which is as much the story of American business, politics, advertising, and immigration as it is the story of bourbon."—Max Watman, author of Harvest and Chasing the White Dog