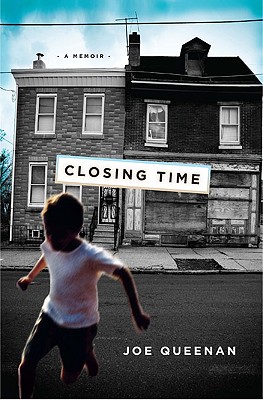 Closing Time
A Memoir
Hardcover

* Individual store prices may vary.
Other Editions of This Title:
Digital Audiobook (6/15/2009)
Compact Disc (6/16/2009)
MP3 CD (6/16/2009)
Paperback (3/30/2010)
Compact Disc (6/1/2009)
Compact Disc (6/1/2009)
MP3 CD (6/1/2009)
Description
A deeply funny and affecting memoir about a great escape from a childhood of poverty

Joe Queenan's acerbic riffs on movies, sports, books, politics, and many of the least forgivable phenomena of pop culture have made him one of the most popular humorists and commentators of our time. In Closing Time Queenan turns his sights on a more serious and personal topic: his childhood in a Philadelphia housing project in the early 1960s. By turns hilarious and heartbreaking, Closing Time recounts Queenan's Irish Catholic upbringing in a family dominated by his erratic father, a violent yet oddly charming emotional terrorist whose alcoholism fuels a limitless torrent of self-pity, railing, destruction, and late-night chats with the Lord Himself. With the help of a series of mentors and surrogate fathers, and armed with his own furious love of books and music, Joe begins the long flight away from the dismal confines of his neighborhood-with a brief misbegotten stop at a seminary-and into the wider world. Queenan's unforgettable account of the damage done to children by parents without futures and of the grace children find to move beyond these experiences will appeal to fans of Augusten Burroughs and Mary Karr, and will take its place as an autobiography in the classic American tradition.
Viking Adult, 9780670020638, 352pp.
Publication Date: April 16, 2009
About the Author
Joe Queenan is the author of seven books and a regular contributor to "The New York Times," "Barron's" and "The Los Angeles Times," a columnist for "Chief Executive," and writes about movies and music for Great Britain's "The Guardian." Formerly an editor at "Forbes" and "Spy," television critic at "People," and a columnist at "TV Guide," "GQ," "Smart Money," "Men's Health," "Barron's Online" and "Movieline," his stories have appeared in scores of national publications, including "The New Republic," "Time," "Newsweek," the "Wall Street Journal," the "Washington Post," the "Los Angeles Times," the "New York Daily News," the "New York Observer," "Playboy," "Rolling Stone," "Us," "Golf Digest," "The Weekly Standard," "Cosmopolitan," "Esquire," "Vogue," "Town & Country," "Allure," and "New York." His work has appeared overseas in "The Independent," "The Spectator," " The Toronto Globe & Mail," the "Times of London," and "Bon." Queenan has been a guest on "The Late Show with David Letterman," "The Daily Show," "Today," "Good Morning, America," "Charlie Rose" and "Late Night with Conan O'Brien," a frequent guest on "Imus in the Morning," and appeared more than two-dozen times on "Politically Incorrect." He regularly writes and hosts radio features for the BBC, and for three years was host of the BBC weekly radio program "Postcard from Gotham." In 2005, he won a Sports Emmy for his work on HBO's "Inside the NFL." He is married, with two children, and lives in Tarrytown, N.Y.
or
Not Currently Available for Direct Purchase