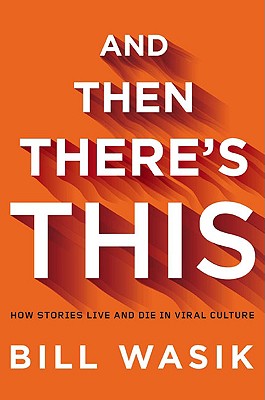 And Then There's This (Hardcover)
How Stories Live and Die in Viral Culture
Viking Adult, 9780670020843, 208pp.
Publication Date: June 11, 2009
Other Editions of This Title:
Digital Audiobook (6/10/2009)
Paperback (8/31/2010)
* Individual store prices may vary.
Description
Breaking news, fresh gossip, tiny scandals, trumped-up crises-every day we are distracted by a culture that rings our doorbell and runs away. Stories spread wildly and die out in mere days, to be replaced by still more stories with ever shorter life spans. Through the Internet the news cycle has been set spinning even faster now that all of us can join the fray: anyone on a computer can spread a story almost as easily as The New York Times, CNN, or People. As media amateurs grow their audience, they learn to think like the pros, using the abundant data that the Internet offers-hit counters, most e-mailed lists, YouTube views, download tallies-to hone their own experiments in viral blowup.

And Then There's This is Bill Wasik's journey along the unexplored frontier of the twenty-first century's rambunctious new-media culture. He covers this world in part as a journalist, following "buzz bands" as they rise and fall in the online music scene, visiting with viral marketers and political trendsetters and online provocateurs. But he also wades in as a participant, conducting his own hilarious experiments: an e-mail fad (which turned into the worldwide "flash mob" sensation), a viral website in a month-long competition, a fake blog that attempts to create "antibuzz," and more. He doesn't always get the results he expected, but he tries to make sense of his data by surveying what real social science experiments have taught us about the effects of distraction, stimulation, and crowd behavior on the human mind. Part report, part memoir, part manifesto, part deconstruction of a decade, And Then There's This captures better than any other book the way technology is changing our culture.
About the Author
Bill Wasik is a senior editor at "Harper"'s magazine, where he has written on culture, media, and politics. He is the editor of the anthology "Submersion Journalism" and has also written for "The Oxford American, Slate, Salon," and "McSweeney's."
Praise For And Then There's This: How Stories Live and Die in Viral Culture…
"This is an exceptionally smart, witty, subtle, enlightening book about our daffy, discombobulating cultural moment. Bill Wasik plunges headlong into the twenty-first century media funhouse, yet manages to keep his moral compass in good working order. Bravo."
- Kurt Andersen, author of Heyday and host of NPR's Studio 360

"Bill Wasik is a guerrilla mischief-maker, a mad scientist of the meme. Irreverence is not a bad starting point for making sense of the web, and Wasik takes full advantage, pushing buttons and pulling puppet strings. The combination of his restless mind and the explosive new medium yields insights that are provocative and, often, hilarious."
-Ted Conover, author of Newjack

"I was the guy who got Bill Wasik's first flash-mob e-mail but was too lazy to put on pants and go. It was a mistake. Bill understands not just how viral culture spreads ideas and scams and energy- drink-purchasing opportunities; it's also a completely new way to tell-and experience- stories."
-John Hodgman, author of The Areas of My Expertise

"This book will last far longer than its allocated fifteen minutes of fame. It's well researched, funny, irreverent, and addictive. Useful, too. One of those rare books that dissects a cultural phenomenon in a way that resonates."
-Seth Godin, author of Tribes

"What if the revolution was what Bill Wasik calls a 'nanostory'? It would begin with a flash mob disrupting business as usual and then die the following day, at a Ford Motor Company 'flash concert' echoing through Boston's New Brutalist downtown. And Then There's This is deeply troubling, but it's also the wittiest book I've read in years-an ingenious and, in the end, hopeful response to the sound and the fury of our twittering times."
-Jeff Sharlet, author of The Family and co-author of Killing the Buddha

"As to the engenderings of the new and newest media-when to YouTube and how to viral, where the microtrend begins and why the nanostory ends-I know of no more reliably informed source than Bill Wasik's And Then There's This. An epistemological wonder to behold."
-Lewis H. Lapham
or
Not Currently Available for Direct Purchase