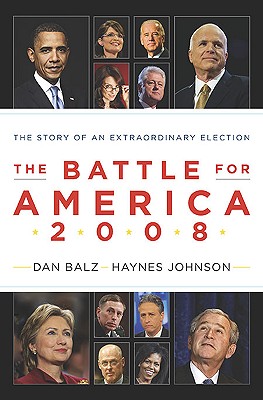 The Battle for America 2008: The Story of an Extraordinary Election (Hardcover)
The Story of an Extraordinary Election
Viking Adult, 9780670021116, 432pp.
Publication Date: August 4, 2009
* Individual store prices may vary.
or
Not Currently Available for Direct Purchase
Description
The definitive account of the landmark election from two of America's best known political reporters

The election of 2008 shattered political barriers, illuminated undercurrents of race, gender, and class, and ignited an extraordinary battle among some of the most formidable political rivals ever to seek the presidency in Barack Obama, Hillary Clinton, and John McCain. It was an election that played out against a backdrop of wars, a shattered economy, and deep pessimism about the future.

Dan Balz and Haynes Johnson followed this campaign from the candidates' first forays into Iowa and New Hampshire to the historic night of Obama's victory celebration. They take readers on a gripping journey through the epic battle for Iowa, Clinton's dramatic comeback in New Hampshire, the racially tinged primary in South Carolina, the stunning endorsement of Obama by Senator Edward M. Kennedy over the Clintons' objections. They reveal the strategic mistakes of the Clinton campaign and the story behind Obama's breakthrough organization. They cover McCain's struggle for survival in the Republican primaries, Sarah Palin, and the economic meltdown that ensured Obama's victory.

Exclusive interviews with the candidates and their top strategists produce intimate portraits of Obama, Clinton, and McCain under stress throughout the longest and most expensive presidential campaign in American history. Balz and Johnson also move far off the campaign trail to listen to voters in battleground states express their deep anxieties about the darkening economic climate and the challenges facing the United States. This book is a riveting account of how this election not only marked a new era in American politics but also offered a test of historic proportions at a watershed moment for our nation.
Praise For The Battle for America 2008: The Story of an Extraordinary Election…
Kirkus Review
"A superior piece of political reportage and interpretation...Essential for watchers of politics and a model for similar electoral analyses in the future."

Booklist Review
Even readers who followed the election closely will find revelations and new perspectives in this gripping account of a fascinating election season. -- Vanessa Bush

New York Times Review
"Makes for engaging reading--for both politics addicts interested in small new details and the more casual reader interested in a broad, savvy overview of the run-up to a historic election." --Michiko Kakutani, New York Times

Time Magazine Review
"Dan Balz and Haynes Johnson...capture the momentous contest in a polished account refreshingly free of last year's breathless sound bites, pundit insta-reaction or fixation on trifling gaffes...an evenhanded and comprehensive account of the race..." --Randy James

Los Angeles Times Review
"Balz and Johnson's material is rich and built upon extensive firsthand interviews... [filled] with details that range from poignant to chilling." --Art Winslow.

Other Praise:

"The classic political campaign of our time has its classic retelling now in Haynes Johnson's and Dan Balz's Battle for America 2008. In addition to the compelling narrative of the events we remember, they have, through their post-election reporting, solved almost all the mysteries about what was happening behind the scenes in the Obama, Clinton, and McCain camps." --David S. Broder, Washington Post

"Magisterial...Captures the thrill of the campaign and its meaning. Balz and JOhnson are the true heirs to Teddy White..." --George Stephanopoulos. ABC's "This Week with George Stephanopoulos

"It's not often that you take a nonfiction book about politics with you on a summer vacation--unless you're having trouble sleeping. But you should take The Battle for America 2008...It's fast-paced and beach-worthy, as good a page turner as any mystery thriller." --Al Kamen, Washington Post

"...a riveting account, combining big-picture analysis, important revelations and intriguing anecdotes." --Roger Simon, Politico

"...told masterfully and fluidly...by two of the best political journalists of this or any era...stocked with scoops and original insights from an incredible campaign--a must-read for political junkies." --Rick Klein, ABC News

"Buy it. Keep it on your shelf. This is a book you want to keep for awhile and savor." --Chris Matthews, Hardball MSNBC

"Every four years there's one great book written about a presidential campaign. For those of us who grew up with Teddy White, it's always exciting when we find that book. I think this is the one." --Joe Scarborough, "Morning Joe" MSNBC

"...extremely well-reported history of the 2008 presidential campaign...There are plenty of scoops..." --Marc Ambinder, The Atlantic

"Dan Balz and Haynes Johnson report a lot of new behind-the-scenes details, so the story feels fresh. What feels familiar are the problems Sen. Obama faced on the campaign trail, which mirror the ones President Obama faces today in selling health care reform." -- John Dickerson, Slate.com.
Coverage from NPR
Advertisement