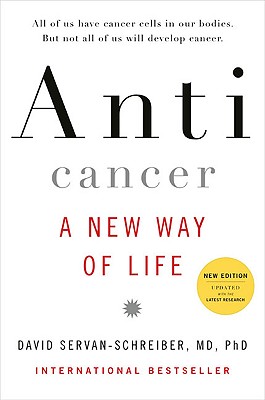 Anticancer
A New Way of Life, New Edition
Hardcover

* Individual store prices may vary.
Description
The revolutionary New York Times bestseller about powerful lifestyle changes that can fight and prevent cancer—an integrative approach based on the latest research

An international phenomenon, Anticancer has been a long-running bestseller in the U.S. since Viking first published it in fall 2008. Now, this updated edition draws on the most recent clinical studies and offers more tips on how people living with cancer can fight it and how healthy people can prevent it. The new edition of Anticancer includes:

• More benefits of anticancer foods, including new alternatives to sugar and cautions about some that are now on the market

• New information about how vitamin D strengthens the immune system

• Warnings about common food contaminants that have recently been proven to contribute to cancer progression

• A new chapter on mind-body approaches to stress reduction, with recent studies that show how our reactions to stress can interfere with natural defenses and how friendships can support healing in ways never before understood

• A groundbreaking study showing that lifestyle modification, as originally proposed in Anticancer, reduces mortality for breast cancer by an astounding 68 percent after completion of treatment

• New supporting evidence for the entire Anticancer program
Praise For Anticancer: A New Way of Life, New Edition…
"A common-sense blueprint for healthy living."
—Chicago Tribune
 
"Fills an important gap in our knowledge of how patients can contribute to their own care by supplementing conventional medical treatment. I recommend this book to anyone interested in preventive medicine and integrated, complementary approaches to patient care."
—John Mendelsohn, MD, president, MD Anderson Cancer Center, University of Texas
 
"Resonating with cancer support communities . . . and recommended nationwide on internet message boards."
—Los Angeles Times
 
"Life affirming . . . filled with practical advice that enables cancer patients to overcome their initial feelings of helplessness and to adopt a proactive attitude of survivorship."
—The Seattle Times
 
"Servan-Schreiber's writing offers much more than science. It is full of passion . . . and compassion for his patients dealing with the emotional aspects of serious or terminal illness."
—Pittsburgh Post-Gazette
 
"Enormously compelling evidence and arguments for participating in our own health by supporting our deep natural capacity for healing. Everybody should read this book and enact its simple but potentially lifesaving recommendations."
—Jon Kabat-Zinn, PhD, author of Wherever You Go, There You Are
 
"Anticancer's message is optimistic, the advice scientifically sound, and the prose highly readable."
—Fort Worth Star-Telegram
 
"Presents a compelling combination of one doctor's story of his battle with cancer along with his research into how to fight the disease . . . Readable and moving."
—Body & Soul Magazine
Viking, 9780670021642, 288pp.
Publication Date: December 31, 2009
About the Author
David Servan-Schreiber, MD, PhD, was a clinical professor of psychiatry at the University of Pittsburgh School of Medicine and cofounder of the Center for Integrative Medicine. He codirected an NIH laboratory for the study of cognitive neuroscience and published more than ninety articles in scientific journals. His pioneering book Anticancer: A New Way of Life became an international bestseller and was translated into more than forty languages. He is also the author of The Instinct to Heal and Not the Last Goodbye. Following a yearlong battle with a relapse of brain cancer, Servan-Schreiber died in July 2011.