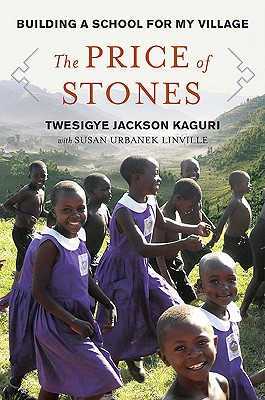 The Price of Stones (Hardcover)
Building a School for My Village
Viking Adult, 9780670021840, 288pp.
Publication Date: June 10, 2010
Other Editions of This Title:
Digital Audiobook (6/9/2010)
Compact Disc (6/10/2010)
Hardcover, Large Print (8/1/2010)
MP3 CD (6/10/2010)
Compact Disc (6/10/2010)
Pre-Recorded Audio Player (8/15/2010)
* Individual store prices may vary.
Description
The extraordinary story of one man's gift to orphaned children in need of hope
Can one person really make a difference in the world? Twesigye Jackson Kaguri defied many naysayers-and his own nagging doubts-and proved that, with a dream and incredible determination, he could change many lives.
Growing up in rural Uganda, Kaguri overcame poverty to earn a degree from the national university and worked as a human rights advocate, eventually making his way to pursue studies at Columbia University. When he returned to his village in Uganda with his wife, they were overwhelmed by the plight of his village's many AIDS orphans and vowed to open the first tuition-free school in the district for these children. Faced with many daunting obstacles, including little money, skepticism among friends in both the U.S. and Uganda, corrupt school inspectors, and a lack of supplies, he doggedly built one classroom after another until they had an accredited primary school filled with students dreaming of becoming the future doctors, teachers, lawyers, engineers, and even presidents of Uganda.
The Price of Stones
is the stirring story behind the founding of the Nyaka AIDS Orphans School. Weaving together tales from his youth with the enormously inspiring account of the remarkable challenges and triumphs of the school, Kaguri shows how someone with a modest idea is capable of achieving monumental results. His story will captivate all readers of
Three Cups of Tea
and Tracy Kidder's
Strength in What Remains
.
About the Author
Twesigye Jackson Kaguri was raised in Uganda, graduated from Makerere University, and was a visiting scholar at Columbia University. He is a director of development at Michigan State University in East Lansing, Michigan State University in East Lansing, Michigan, and the founder and director of the Nyaka and Kutamba AIDS Orphans Schools in Uganda.

Susan Urbanek Linville, a biologist and writer, lives in Pennsylvania.
Praise For The Price of Stones: Building a School for My Village…
"There's nothing abstract about this moving memoir ... Kaguri shows how much one person can do."
-USA TODAY

"Kaguri dreams big. And not without merit. Presented simply and humbly, Kaguri's story debuts this month in his unforgettable memoir."
-The Christian Science Monitor

"A chronicle of the humanitarian efforts by a Ugandan native schooled in the West, addressing poverty and the ravages of AIDS in Africa ... a moving journey of turning beliefs into actions."
-Kirkus Reviews

"The Price of Stones is an inspiring account of turning tragedy into hope for others."
-President Jimmy Carter

"This is a remarkable story about how Twesigye Jackson Kaguri transformed his suffering--the loss of several of his family members to AIDS--into action. Kaguri is a wonderful example of one person using educational success responsibly and with purpose to benefit the lives of those less fortunate. If you've ever doubted your ability to impact the lives of others, read this story and it will change your mind and heart."
-Ishmael Beah, author A Long Way Gone: Memoirs of a Boy Soldier

"Many Americans feel disconnected from the AIDS pandemic occurring on a continent so far away. Twesigye Jackson Kaguri, in his inspirational book The Price of Stones, shortens that distance, making the effects of this disease personal by giving names and faces to AIDS orphans. But more significantly, many of Uganda's discarded children have been given hope and, even more important, love as students at the Nyaka AIDS Orphans School. Twesigye Jackson's life illustrates beautifully that one person can make a difference."
-Ron Hall, New York Times best-selling co-author of Same Kind of Different as Me

"By page 23, I was hooked. By page 33, I had tears in my eyes, the first of many times as I read this impassioned account of one man's humble yet courageous efforts in confronting the grim legacy of the ruthless serial killer, AIDS, in his Ugandan village. If The Price of Stones doesn't break your heart over the plight of AIDS orphans in Africa, see a cardiologist immediately. You may need a transplant."
-Lynn Vincent, New York Times best-selling writer of Same Kind of Different as Me and Going Rogue: An American Life

"By creating a school for AIDS orphans in a remote region of southwestern Uganda, Twesigye Jackson Kaguri answered the question, 'And who is my neighbor?' By telling his story with clarity and passion, he makes his neighbors ours as well."
-Senator John C. Danforth, former US Ambassador to the United Nations

"Twesigye Jackson Kaguri is a force to be reckoned with. He is a social entrepreneur who had a vision and made it a reality. The Price of Stones tells the amazing story of how, with courage and deep faith, he has brought the gift of education to children orphaned by AIDS in rural Uganda. I could not put the book down and cried through many parts of it."
-Maya Ajmera, Founder and President, The Global Fund for Children

"Kaguri's story is a reminder of the importance of education in the lives of children around the world. The obstacles he faced in expanding access to education for children in his native Uganda highlight both the challenges confronting many educators in Africa, and the benefits received by each and every child from attending school."
-Rebecca Winthrop, Ph.D., Fellow and Co-director, Center for Universal Education, Brookings Institution

"This book is a testament to the power of faith and the will to make a difference. Transforming dreams to reality, Twesigye Jackson has found himself to be a man of compassion and empowers us all to be compassionate, too. A fantastic read-enlightening, enlivening, and inspiring."
-Allan R. Handysides, Director, GC Health Ministries, Seventh-day Adventist Church

"This book introduces us to people behind the statistics and offers an intimate, insider's view of the hardship, heartache, sacrifice, hope and joy of children and their families in one community in Uganda. The author provides an inspirational personal account of someone following his heart and giving back to his community. We desperately need to hear more stories like the one told in The Price of Stones."
-Martin Hayes, Child Protection Specialist, ChildFund International

"Twesigye Jackson Kaguri beautifully narrates his journey to transform the devastating legacy of HIV/AIDS and poverty into an occasion for educational excellence. While so many others with his opportunity have left, Jackson returns to his community with a full heart and a herculean investment for the future of the children of Uganda."
-Jessica Huber, Director, Peace and Justice Programs, USAID/Stability, Peace and Reconciliation in Northern Uganda Project

"This remarkable book is the best case study on best practices in community-driven development in an African setting. Readers will be inspired by the book's stories as will anyone anywhere who is trying to make the world a better place."
-Frank Byamugisha, Operations Advisor for Africa, The World Bank, USA

"This book shows that you can build a solid educational foundation for the future of Africa's children at the price of stones. Immensely inspiring."
-Professor Calestous Juma, Professor of the Practice of International Development, Harvard Kennedy School

"Too often we study poverty and disease as abstract phenomena in academic studies. Valuable as such studies are, Twesigye Jackson Kaguri brings us in this book face-to-face with the nature, culture, and response to poverty and the epidemic of HIV/AIDS in rural Uganda. It is also the story of one couple's determination to do something about one of the most moving crises in Uganda, the plight of HIV/AIDS orphans. Kaguri does not flinch from reporting the family arguments, the various manipulations of community and government officials, and the uphill struggle to get something even so fine as a school under way. But in the end it is a story of Africa's resilience, the courage of its peoples, and the ways in which even a small community in America can give hope to those who deserve it the most."
-Princeton N. Lyman, Adjunct Senior Fellow for Africa Policy Studies, Council on Foreign Relations

"Twesigye Jackson Kaguri created a school for AIDS orphans in a remote area of Uganda; he did this with few resources other than his dreams, imagination and trust in the goodness of his friends. He created a community dedicated to a holistic approach to fighting a scourge in his country. He has provided a wonderfully evocative picture of rural Uganda and his book rivets attention with each chapter telling a distinct story in a very telling fashion. His book provides a model of how problems can be solved in a Third World situation with few resources but lots of imagination, optimism, the generation of community support and the resourcefulness of friends."
-Merrick Posnansky, Professor Emeritus of History, UCLA; former professor at Makerere University, Uganda

"An inspiring story of courage and perseverance, The Price of Stones captures the power of hardwork and determination to transform lives in Africa."
-Christopher Higgins, President, Friends of New Hope School Foundation, Uganda

"Born in rural Uganda, Kaguri got a college degree and continued his studies at Columbia University. Then he returned home to a village full of AIDS orphans and decided to build a tuition-free primary school. For readers of Greg Mortenson's Three Cups of Tea, Tracy Kidder's Strength in What Remains, and William Kamkwamba's The Boy Who Harnessed the Wind."
-Library Journal
or
Not Currently Available for Direct Purchase