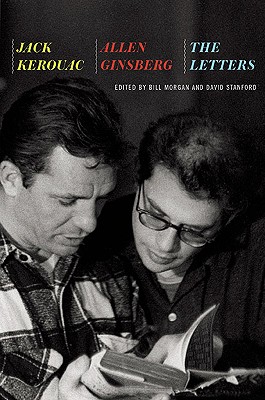 Jack Kerouac and Allen Ginsberg (Hardcover)
The Letters
Viking Adult, 9780670021949, 528pp.
Publication Date: July 8, 2010
Other Editions of This Title:
Paperback (6/28/2011)
* Individual store prices may vary.
Description
The first collection of letters between the two leading figures of the Beat movement
Writers and cultural icons Jack Kerouac and Allen Ginsberg are the most celebrated names of the Beat Generation, linked together not only by their shared artistic sensibility but also by a deep and abiding friendship, one that colored their lives and greatly influenced their writing. Editors Bill Morgan and David Stanford shed new light on this intimate and influential friendship in this fascinating exchange of letters between Kerouac and Ginsberg, two thirds of which have never been published before. Commencing in 1944 while Ginsberg was a student at Columbia University and continuing until shortly before Kerouac's death in 1969, the two hundred letters included in this book provide astonishing insight into their lives and their writing. While not always in agreement, Ginsberg and Kerouac inspired each other spiritually and creatively, and their letters became a vital workshop for their art. Vivid, engaging, and enthralling, "Jack Kerouac and Allen Ginsberg: The Letters" provides an unparalleled portrait of the two men who led the cultural and artistic movement that defined their generation.
About the Author
Jack Kerouac(1922-1969), the central figure of the Beat Generation, was born in Lowell, Massachusetts, in 1922 and died in St. Petersburg, Florida, in 1969. Among his many novels are On the Road, The Dharma Bums, Big Sur, and Visions of Cody.
Praise For Jack Kerouac and Allen Ginsberg: The Letters…
"The Kerouac-Ginsberg letters are marvelous and lively. The exchange ranks among the best examples of completely engaged literary correspondence we know in the past 50 years."
-The Philadelphia Inquirer

"Open-hearted and richly detailed. . . Rich in news about fellow Beat writers, including John Clellon Holmes, William Burroughs, and Gregory Corso, among others, their correspondence provides a bird's-eye view of what went into the making and marketing of the Beat Generation. The publication of these letters between two of America's leading 20th-century authors is an extraordinary event in American literature, particularly welcome in this era of chat and Twitter."
-Library Journal

"Documenting the adventures of "Old Bean" (Allen) and "Jackiboo" from their days at Columbia through October 1969, weeks before Kerouac's death, the letters form a kind of essential Beat masterpiece, and offer hilarious behind-the-scenes commentary on all the "mad ones" involved."
-The Village Voice

"[E]ditors Stanford and Morgan showcase 200 high-voltage letters, most never before published, that embody the energy and psychic hunger that fueled the creativity of these giants of American literature . . . This incandescent collection deepens our understanding of an essential literary revolution."
-Booklist

"The collection reads like a Dostoyevsky novel"
-The New York Observer

"In the seductive collection they've called Jack Kerouac and Allen Ginsberg: The Letters, the editors Bill Morgan and David Stanford stake out a distinct piece of literary turf. They do this despite the fact that Kerouac and Ginsberg were expansive letter writers, that each wrote to many correspondents, and that reams of these other letters have already shown up elsewhere."
-The New York Times (Daily Review)

"The depth of their [Kerouac and Ginsberg's] development as friends but especially as writers has never been shown more clearly than in this stunning new collection, Jack Kerouac and Allen Ginsberg: The Letters. . . Ginsberg biographer Bill Morgan and David Stanford, a longtime editor at Viking, provide readers with a volume as illuminating as it is indispensable for understanding these writers and their work."
-The Los Angeles Times

"Jack Kerouac and Allen Ginsberg: The Letters is destined to become an indispensable item on any fan's bookshelf. . . The collected Kerouac-Ginsberg correspondence is pure literary gold that fans and scholars will mine for decades."
-San Francisco Chronicle
or
Not Currently Available for Direct Purchase