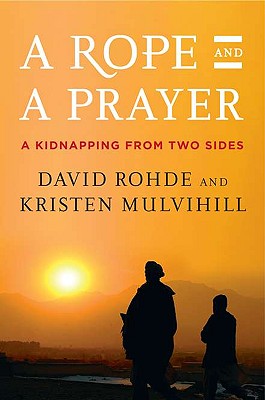 A Rope and a Prayer: A Kidnapping from Two Sides (Hardcover)
A Kidnapping from Two Sides
Viking Adult, 9780670022236, 384pp.
Publication Date: November 30, 2010
* Individual store prices may vary.
or
Not Currently Available for Direct Purchase
Description
The compelling and insightful account of a "New York Times" reporter's abduction by the Taliban, and his wife's struggle to free him.
Invited to an interview by a Taliban commander, "New York Times" reporter David Rohde and two Afghan colleagues were kidnapped in November 2008 and spirited to the tribal areas of Pakistan. For the next seven months, they lived in an alternate reality, ruled by jihadists, in which paranoia, conspiracy theories, and shifting alliances abounded. Held in bustling towns, they found that Pakistan's powerful military turned a blind eye to a sprawling Taliban ministate that trained suicide bombers, plotted terrorist attacks, and helped shelter Osama bin Laden.
In New York, David's wife of two months, Kristen Mulvihill, his family, and "The New York Times" struggled to navigate the labyrinth of issues that confront the relatives of hostages. Their methodical, Western approach made little impact on the complex mix of cruelty, irrationality, and criminality that characterizes the militant Islam espoused by David's captors.
In the end, a stolen piece of rope and a prayer ended the captivity. The experience tested and strengthened Mulvihill and Rohde's relationship and exposed the failures of American effort in the region. The tale of those seven months is at once a love story and a reflection of the great cultural divide-and challenge-of our time.
About the Author
David Rohde, winner of two Pulitzer Prizes in journalism, is a reporter for "The New York Times" and the author of "Endgame: The Betrayal and Fall of Srebrenica." He won his first Pulitzer Prize in 1996 for helping uncover the Srebrenica massacre in Bosnia for "The Christian Science Monitor" and his second in 2009 as part of "The New York Times " team covering Afghanistan and Pakistan.

David and Kristen both grew up in New England and graduated from Brown University. They live in New York.

Kristen Mulvihill has been a fashion and photography editor at various women s magazines, including "Marie Claire" and "Self." Most recently, she was the photography director of "Cosmopolitan" magazine. She is also a painter and illustrator.

David and Kristen both grew up in New England and graduated from Brown University. They live in New York."
Praise For A Rope and a Prayer: A Kidnapping from Two Sides…
"A love story, as well as a political drama...A Rope and a Prayer should be required reading."
-The New York Times Book Review

"Vivid...A fine read."
-Time

"An important and valuable story of love, faith and courage."
-The Washington Post

"Gripping."
-The Boston Globe

"[A] singular and harrowing account of a journalist's captivity in the most important place on earth, and what it means to be the one left behind."
-The Daily Beast

"Equal parts love story and international intelligence thriller, this memoir delivers a crash course in resilience and loyalty."
-Allure

"A gripping, true-life romance."
-The Observer's Very Short List

"Vivid...A fine read."
-Time

"Truly remarkable and bold...A painstakingly reconstructed, harrowing account."
-Kirkus

"Equal parts love story and international intelligence thriller, this memoir delivers a crash course in resilience and loyalty."
-Allure

"A gripping, true-life romance."
-The Observer's Very Short List
Advertisement