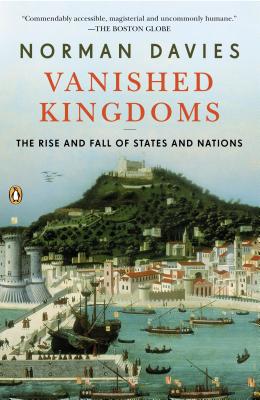 Vanished Kingdoms
Hardcover

* Individual store prices may vary.
Other Editions of This Title:
Digital Audiobook (5/17/2021)
Paperback (11/27/2012)
Hardcover (10/1/2011)
Description
An evocative account of fourteen European kingdoms-their rise, maturity, and eventual disappearance.
There is something profoundly romantic about lost civilizations. Europe's past is littered with states and kingdoms, large and small, that are scarcely remembered today, and while their names may be unfamiliar-Aragon, Etruria, the Kingdom of the Two Burgundies-their stories should change our mental map of the past. We come across forgotten characters and famous ones-King Arthur and Macbeth, Napoleon and Queen Victoria, right up to Stalin and Gorbachev-and discover how faulty memory can be, and how much we can glean from these lost empires. Davies peers through the cracks in the mainstream accounts of modern-day states to dazzle us with extraordinary stories of barely remembered pasts, and of the traces they left behind.
This is Norman Davies at his best: sweeping narrative history packed with unexpected insights. "Vanished Kingdoms" will appeal to all fans of unconventional and thought-provoking history, from readers of Niall Ferguson to Jared Diamond.
Praise For Vanished Kingdoms…

"Densely packed yet commendably accessible, magisterial and uncommonly humane." —The Boston Globe


"Hugely ambitious . . . From the mists, Mr. Davies summons the kingdoms; he records their emergence, their flowering and their demise—whether by 'internall diseases' or 'forraign warre' in Thomas Hobbes's words. And he examines the traces that the kingdoms have left behind, in works of art or a piece of rock or perhaps just a place name." —Wall Street Journal


"Davies resurrects the lands and peoples that were lost in the brutal tide of history. . . . He is presenting knowledge gained over a long lifetime of research. It takes a tremendous feat of empathy to write a detailed tome about countries and peoples that no longer exist. And the amount of information in Vanished Kingdoms that will be new to all but the most expert students of European history is staggering. . . . Fascinating facts and insights flutter on its many pages."—San Francisco Chronicle


"Davies has written short histories of 15 nations and states in a substantive volume that shows how so many past peoples have intertwined with the larger world and shaped it even after they are forgotten in the sands of time . . . an efficient, lively and important work, an outstanding addition to the histories of the human race." —Pittsburgh Post-Gazette


"Davies is well known as an iconoclast who punctures the comforting myths of countries that history has blessed . . . Vanished Kingdoms gives full rein to his historical imagination and enthusiasms, imparting a powerful sense of places lost in time. All across Europe ghosts will bless him for telling their long-forgotten stories." —The Economist


"Davies performs autopsies of Europe's cadaver-states, and like a skilled mortician he has a gift for making them appear lifelike. . . . There are wonders in this book worth discovering." —The Nation


"Davies is certainly one of the best British historical writers of the past half century, and every gauntlet he throws down is bejeweled. His literary gifts and his capacity for what he nicely calls 'imaginative sympathy' are stretched to their limits by this challenging project. . . . Yet Davies succeeds, and it is quite a success." —Timothy Snyder, The Guardian


"Brilliant . . . Davies asks us to contemplate European history in an entirely different way, seeing the map as a shifting patchwork of claims and identities, its complexion always changing, some states dying, others making unexpected revivals. . . . Vanished Kingdoms is distinguished by his extraordinary intellectual ambition and lovely eye for detail." —Dominic Sandbrook, Sunday Times (London)
Viking Adult, 9780670022731, 803pp.
Publication Date: January 5, 2012
About the Author
Norman Davies is a supernumerary Fellow of Wolfson College, Oxford, Fellow of the British Academy and of the Royal Historical Society, and Professor Emeritus at London University. His books include Europe: A History (a New York Times Notable Book), The Isles: A History, and the definitive history of Poland, God s Playground."
or
Not Currently Available for Direct Purchase