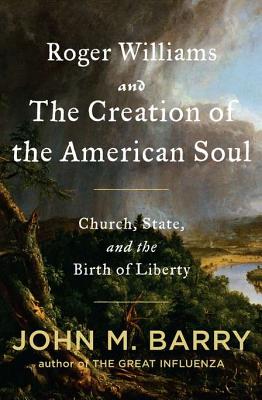 Roger Williams and the Creation of the American Soul
Church, State, and the Birth of Liberty
Hardcover

* Individual store prices may vary.
Other Editions of This Title:
Digital Audiobook (1/9/2012)
Paperback (12/24/2012)
Description
A revelatory look at how Roger Williams shaped the nature of religion, political power, and individual rights in America.
For four hundred years, Americans have wrestled with and fought over two concepts that define the nature of the nation: the proper relation between church and state and between a free individual and the state. These debates began with the extraordinary thought and struggles of Roger Williams, who had an unparalleled understanding of the conflict between a government that justified itself by "reason of state"-i.e. national security-and its perceived "will of God" and the "ancient rights and liberties" of individuals.
This is a story of power, set against Puritan America and the English Civil War. Williams's interactions with King James, Francis Bacon, Oliver Cromwell, and his mentor Edward Coke set his course, but his fundamental ideas came to fruition in America, as Williams, though a Puritan, collided with John Winthrop's vision of his "City upon a Hill."
Acclaimed historian John M. Barry explores the development of these fundamental ideas through the story of the man who was the first to link religious freedom to individual liberty, and who created in America the first government and society on earth informed by those beliefs. The story is essential to the continuing debate over how we define the role of religion and political power in modern American life.
Praise For Roger Williams and the Creation of the American Soul: Church, State, and the Birth of Liberty…
 "John Barry's Roger Williams and the Creation of the American Soul establishes Williams as a brave thinker and also a deft political actor … Mr. Barry puts Williams squarely among our great political thinkers, crediting him with bringing liberal democracy to the American colonies."


John M. Barry is "a sophisticated sorter-out of theological strands."


"Roger Williams is one of those figures, famous but forbidding, who hover at the periphery, imposing, important, indispensable to our history and culture and yet still distant, unknown to most Americans … and yet Williams may be … the one whose breath gives life to modern American culture and whose fingerprints are most evident on the American Constitution. The task of reviving Williams has fallen happily to John M. Barry, chronicler of the great influenza of 1918 and the great Mississippi flood of 1927."


 "Roger Williams deserves our thanks for his courage to fight for religious freedom and individual liberty with his very life at a time when few thought it anything but the rankest heresy. And John Barry deserves our thanks for illuminating this critical and timely chapter of American history … Barry tells the story with passion and an eye for fine detail."

-The Seattle Times
Viking Books, 9780670023059, 480pp.
Publication Date: January 5, 2012
About the Author
John M. Barry is the author of four previous books, including the highly acclaimed and award-winning Rising Tide: The Great Mississippi Flood of 1927 and How It Changed America.
or
Not Currently Available for Direct Purchase