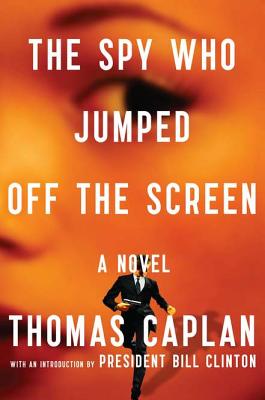 The Spy Who Jumped Off the Screen
Hardcover

* Individual store prices may vary.
Description
A former soldier turned movie star turned spy must stop a catastrophic nuclear weapons deal.
This gripping thriller from Thomas Caplan propels readers around the globe-from Hollywood to Rome, the Black Sea to the Mediterranean-and to the very brink of nuclear abyss.
The novel's charismatic hero, former covert operative Ty Hunter, has become, almost by accident, the number one film star in the world. When he is recruited on a clandestine mission to thwart the transfer of nuclear warheads into rogue hands, he must deploy every skill he has as an actor, soldier, and spy. Donning his fame as a disguise, Ty matches wits and muscle with the enigmatic billionaire Ian Santal and his nefarious protege Philip Frost-two supremely sophisticated adversaries- even as he falls in love with the entrancing young woman closest to them both, the jewelry designer Isabella Cavill.
In prose that is both elegant and powerful, "The Spy Who Jumped Off the Screen" gives us a breakneck parable of good and evil-and a hero in the tradition of James Bond and Jason Bourne, who is sure to become an icon of the genre.
Praise For The Spy Who Jumped Off the Screen…
"There is wisdom as well as considerable pleasure to be extracted from the stylish, involving, utterly contemporary puzzle that is this novel.… The Spy Who Jumped Off the Screen will keep you under its spell and stiffen your resolve to make the world a safer place for our children."—President Bill Clinton, from the Introduction


"Thomas Caplan has crafted an absorbing thriller of intrigue and menace that draws you into a vortex you can't escape until the end. The Spy Who Jumped Off The Screen is the most ingenious thriller I've ever read."—Clive Cussler, #1 New York Times bestselling author of The Kingdom


"A fanciful, enjoyable romp that centers on three stolen nuclear warheads—the fate of mankind!—even as it carries us deep into the world of people who are as dangerous and degenerate as they are rich. . . . [Caplan's] portrait of [decadent billionaires] is a delight."—Patrick Anderson, The Washington Post


"A fascinating thriller."—Greta Van Susteren, Fox News

"You can trust the former president when he tells you to read this diverting spy thriller, which stars Bond-Bourne love child Ty Hunter. He's a triple hyphenate—actor-soldier-spy—and he'll need all three of those personas. . . . There's really nothing more menacing than the threat of nuclear annihilation. You'll believe Caplan's well-constructed, globe-trotting story—and that his hero has the goods to save the day."—Los Angeles Magazine


"A kick-ass premise. . . . The novel boasts great, James Bond–style supporting characters. . . . And it has a story that, with its action and intrigue, is guaranteed to keep readers glued to their seats. . . . An excellent, don't-dare-miss-it kind of thriller."—Booklist (Starred Review)


"With a dashing hero, an attractive jewelry designer, and a megalomaniac billionaire villain worthy of James Bond, Caplan brings to you a thriller for the modern day. You'll sail on a luxury yacht and get lost in foreign locales. Filled with passion and betrayal, technology and money hungry men, this book will bring you up to a new level of story telling, and keep you there for the entire ride. . . . Caplan gets into the minds of the main characters, showing faults, quirks, loves and regrets, and how history affects the present. . . .  Be ready for an adventure worthy of another classic battle between good and evil."—Suspense Magazine

"Thomas Caplan channels Ian Fleming in this gracefully written, fast moving, all too pertinent thriller."—Robert Stone, author of Dog Soldiers


"A highly sophisticated and entertaining thriller! With enviable finesse and accelerating tension, Caplan introduces us to a world of high and low life, West Wing officials and computer paladins, Hollywood stars and global financial wizards. Don't pick up this book if you have made plans for the evening."—Philip Bobbitt, author of The Shield of Achilles and Terror and Consent


"The Spy Who Jumped Off the Screen is a thrilling novel of espionage and derring-do, high jinks and high stakes, that unfolds rapidly against a canvas of seductive international glamour. But its grace note is the siren song of Hollywood that, out of nowhere, attracted then transformed its astonishing hero."—Kevin Starr, author of Golden Dreams: California in an Age of Abundance


"What an exuberant cast of characters--arms dealers, spies, movie stars, beautiful maidens, stolen nuclear warheads -and in Thomas Caplan, a gifted and sophisticated writer to direct the ensemble. The Spy Who Jumped Off the Screen is an entertaining romp."—David Ignatius, author of Bloodmoney


"An elegant thriller by an author with keen insight into the world of international intrigue, with finely crafted characters who will stay with you long after you have closed the book."—Ted Bell, New York Times bestselling author of Warlord


"Caplan's business and international background, reflected in three earlier novels (e.g., Grace and Favor), give authenticity to this fantastic tale of intrigue."—Library Journal

Viking Adult, 9780670023219, 400pp.
Publication Date: January 10, 2012
About the Author
Thomas Caplan, a founder of the PEN/Faulkner Award for Fiction, is the author of three previous novels, "Line of Chance, Parallelogram," and "Grace and Favor." He lives in Maryland.
or
Not Currently Available for Direct Purchase