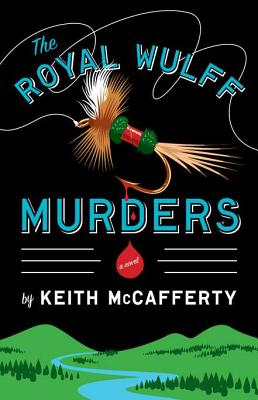 The Royal Wulff Murders (Hardcover)
Viking Adult, 9780670023264, 352pp.
Publication Date: February 16, 2012
* Individual store prices may vary.
Description
The first novel in the clever and fast-paced Sean Stranahan Mystery Series.
When a fishing guide reels in the body of a young man on the Madison, the Holy Grail of Montana trout rivers, Sheriff Martha Ettinger suspects foul play. It's not just the stick jammed into the man's eye that draws her attention; it's the Royal Wulff trout fly stuck in his bloated lower lip. Following her instincts, Ettinger soon finds herself crossing paths with Montana newcomer Sean Stranahan.
Fly fisher, painter, and has-been private detective, Stranahan left a failed marriage and lackluster career to drive to Montana, where he lives in an art studio decorated with fly-tying feathers and mouse droppings. With more luck catching fish than clients, Stranahan is completely captivated when Southern siren Velvet Lafayette walks into his life, intent on hiring his services to find her missing brother. The clues lead Stranahan and Ettinger back to Montana's Big Business: fly fishing. Where there's money, there's bound to be crime.
About the Author
Keith McCafferty is the award-winning survival editor of "Field & Stream magazine," with a circulation of 1.25 million. He lives and works in Montana. This is his first novel.
Praise For The Royal Wulff Murders…
"Keith McCafferty has pulled off a small miracle with The Royal Wulff Murders - a compelling Montana-based novel that will please both mystery readers and discerning fly-fishers. A terrific debut that rings with authenticity and style."---C. J. Box, New York Times bestselling author of Back of  Beyond and Force of Nature
-C. J. Box

"The Royal Wulff Murders hit all my buttons: mystery, flyfishing, Montana, the Madison River, beautiful women, and whole pickup loads of authentic Montana characters, many of them wonderfully quirky. Keith McCafferty is one terrific writer."---Patrick F. McManus, author of The Bear In the Attic and The Huckleberry Murders
-Patrick F. McManus

"Blue Ribbon is what they call a trout stream of extremely high quality and that's what I call Keith McCafferty's The Royal Wulff Murders- the debut of a frighteningly knowledgeable and wonderfully entertaining series."
--Craig Johnson, author of The Cold Dish and Hell is Empty

"A fish story with a homicidal hook… An entertaining debut."
-Kirkus Reviews

"[A] thoroughly entertaining debut…McCafferty blends plenty of fly-fishing lore with a host of intriguing characters…Only the sharp-eyed observation of the medical examiner suggests the body was a murder victim rather than an accidental drowning. The eventual identification of the victim helps link Stranahan's task to that of the sheriff. The vivid Montana setting is a plus."
-Publishers Weekly (starred review)

"The dead man whose eye is skewered with a stick and who has a trout fly hooked into his lip sets the tone for this muscular, original first novel. McCafferty is one of the country's most convincing writers on survival and life in the wilderness, and this mystery is an impressive foray into fiction---taut, often highly amusing, filled with memorable characters like the lady sheriff and the former private eye who paints and fly fishes---and it's a real page turner."
--Nick Lyons, author of My Secret Fishing Life

"Keith McCafferty hits a bull's eye with Sean's story in his debut novel, The Royal Wulff Murders… like bacon and brownies--Stranahan's odd mix of painter, P.I. and fly fisher works...The mystery is a good fit for enthusiasts of Nevada Barr who have read through all the Anna Pigeon novels. Packed with wilderness action and starring a band of stalwart individualists, The Royal Wulff Murders will have readers begging McCafferty for more."
-ShelfAwareness.com

"What a fine and thoroughly satisfying debut novel! There's so much to enjoy here—a fresh sense of place, a cast of compelling characters, and a plot line with as many twists and turns as a Montana trout stream. Even if you know nothing about fly fishing, you're going to love this book. Mark my words: From this day forward, you'll be buying everything Keith McCafferty writes."
-William Kent Krueger, author of Northwest Angle and Iron Lake

"Keith McCafferty's The Royal Wulff Murders is the mystery fly anglers have been waiting for. Finally, an author who knows the crucial difference between 2X and 4X tippet! But it's not just the fishing details that make this novel so enjoyable: it's the rich characters, the robust sense of humor, a sadly topical plot, and a writing style that is as gin-clear as a Montana trout stream."
-Paul Doiron, author of Trespasser and The Poacher�s Son

"The last time I fished the Madison River it was high, fast, and dirty—words that come to mind for parts of McCafferty's tangy debut mystery. But there are also episodes of angling wonder and Montana beauty, rendered in prose so gorgeous they make this book a truly rare catch, the page-turner that doubles as a poetic meditation. (Now how about taking me out on the river, dude?)"—Mark Kingwell, author of Catch and Release: Trout Fishing and the Meaning of Life
-Mark Kingwell

"Sportsmen will find the one-of-a-kind novel captivating, intelligent, and at times uproarious."
-Field & Stream

"What fun it is to visit my favorite fishing spots , not in a guide- boat but in a wonderful murder mystery."
--Henry Winkler, author of I've Never Met an Idiot on the River
or
Not Currently Available for Direct Purchase