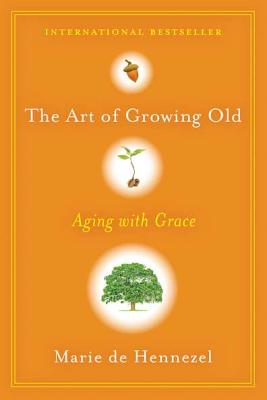 The Art of Growing Old (Hardcover)
Viking Adult, 9780670023455, 192pp.
Publication Date: April 12, 2012
Other Editions of This Title:
Hardcover, Large Print (8/8/2012)
* Individual store prices may vary.
Description
A groundbreaking approach to aging from one of France's best- known clinical psychologists.
How should we accept growing old? It's an inevitable progression and yet in Western society the very subject of aging is often taboo and shrouded in anxiety and shame. Not anymore, says Marie de Hennezel, an internationally renowned clinical psychologist and bestselling author. Now that our lives are longer and richer than ever before, it's imperative to demystify our greatest fear and cultivate a positive awareness of aging.
In this timely and essential book, de Hennezel offers a fresh perspective on the art of growing old. She confronts head-on the inevitable grief we sustain at the loss of our youth and explains how refusing to age and move forward in life is actually what makes us become old. Combining personal anecdotes with psychological theory, philosophy, and eye-opening scientific research from around the world, she shows why we should look forward to embracing everything aging has to offer in terms of human and spiritual enrichment. "The Art of Growing Old" is a thought-provoking, brave, and uplifting meditation on the later years as they should be lived.
About the Author
Marie de Hennezel has spearheaded numerous national health initiatives in France over the last decade and regularly presents seminars on the art of aging well. She is the author of ten previous books, including the international bestseller "Intimate Death," and is a recipient of the Legion of Honor Award.
Praise For The Art of Growing Old…
"In this passionate book, de Hennezel takes on Western culture's obsession with youth. She sets the record straight about the realities of aging and helps readers learn to embrace the work of growing old…. Drawing on literature, film, academia, and numerous interviews with seniors, de Hennezel combines anecdotes with psychological theory, philosophy, and research to present a refreshing take on everything that becoming older can offer. This will appeal to fans of Karl Pillemer's 30 Lessons for Living: Tried and True Advice from the Wisest Americans and Elisabeth Kübler-Ross's work. Highly recommended."
—Library Journal

"This is a subject which all of us deal with, or hope to, and the author's a wise guide on our shared pilgrimage. Neither a Pollyanna nor Cassandra, Marie de Hennezel has written an inspiring text, and one that crosses the Atlantic with scarcely a hitch in its stride: The Art of Growing Old takes as its target audience humanity itself. A luminescent book."
—Nicholas Delbanco, author of Lastingness: The Art of Old Age

"The [Art of Growing Old] is both a gift and a guide for all of us since aging is, of course, a guaranteed part of our lives. Marie de Hennezel shows us that the true Fountain of Youth lies within, but its waters do not make us younger but open our eyes to the possibilities for growth that lie ahead as we get older. She explains how we are capable of transforming ourselves through action, acceptance and love which we gain not in spite of growing older but because of it. De Hennezel is both a poet and a prophet of the aging process, and we all would do better by hearkening to her words."
—Marc Agronin, MD, author of How We Age: A Doctor's Journey into the Heart of Growing Old

"[The Art of Growing Old] is, in essence, an ode to the imperatives of loving and living deeply, laced with evocative gems of wisdom from thinkers in various walks of life."
—HuffingtonPost.com

"Oh, for a pill to end it all, I thought, as the minutes ticked by in the 'dark night of the soul'. But instead of a pill, I can turn to Marie de Hennezel's entirely uplifting book on how to approach old age—a massive bestseller in her native France... Essential reading. But anyone in their 30s and 40s would find de Hennezel's book as inspirational as I do. . . The concept of 'working at growing old' does—paradoxically—offer every one of us a lifeline."
—Bel Mooney, The Daily Mail

"[A]n uplifting book…Ageing is about a never-ending process of development—but you grow old when you stop, when you refuse the renewal of the spirit, which the universe offers, if only you listen and look. This is my personal belief and why I have been bouncing like a Tigger ever since I read Marie de Hennezl's book."
—Bel Mooney, Daily Mail Online

"Marie de Hennezel, now 64, has become a national treasure after writing a bestseller on how to age gracefully. Her advice in The Warmth of the Heart Prevents Your Body from Rusting doesn't involve Botox or facelifts, but embracing your achievements and your relationships…Her book has made me realize that we really become old only when we refuse to accept ageing and can't move forward in life."
—Alice Thomson, The Times 2

"Thanks to Hennezel…France is learning to embrace physical decline rather than resisting it…[She has] led the French field in denouncing the cult of youth that afflicts the modern world."
—Charles Bremner, The Times

"Next month sees the publication in Britain of Marie de Hennezel's bestseller [The Art of Growing Old]…[I]n true Gallic style, Hennezel, a psychotherapist and adviser to the French ministry of health, urges you to 'be the actor of your own old age' and turn it into something beautiful and interesting."
—The Sunday Times Style

"A moving meditation on ageing, suggesting ways to approach the later years with anticipation and optimism….Cultivating a positive awareness of ageing is the theme of this delightfully titled book that explores how it is possible to age without becoming 'old.' As [de Hennezel] 'dons the spectacles of love, faith and sometimes humour,' [she]…finds a balance between the negative aspects and the myth of an idyllic old age. It is a useful guide to seeing advancing years as a time of growth and valuable experiences."
—Choice Magazine

"This is a truly inspiring book by the French psychologist… Her latest is a call to arms for the "baby boomers" generation to embrace their impending old age, rather than fearing it. De Hennezel tackles these fears by taking a highly-intelligent look at all aspects of ageing. Using a mixture of psychological theory, philosophy, scientific research and personal anecdotes, she gently explains that the end of the end of our lives need not be as useless and terrifying as we anticipate… If you plan on living to a ripe old age, this really is worth a read."

-Press Association
or
Not Currently Available for Direct Purchase