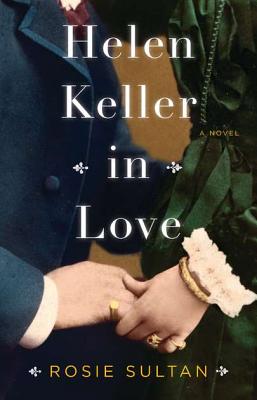 Helen Keller in Love
Hardcover

* Individual store prices may vary.
Other Editions of This Title:
Digital Audiobook (4/25/2012)
Hardcover, Large Print (10/26/2012)
MP3 CD (4/26/2012)
Compact Disc (4/26/2012)
Compact Disc (4/26/2012)
Description
A captivating novel that explores the little-known romance of a beloved American icon
Helen Keller has long been a towering figure in the pantheon of world heroines. Yet the enduring portrait of her in the popular imagination is "The Miracle Worker," which ends when Helen is seven years old.
Rosie Sultan's debut novel imagines a part of Keller's life she rarely spoke of or wrote about: the man she once loved. When Helen is in her thirties and Annie Sullivan is diagnosed with tuberculosis, a young man steps in as a private secretary. Peter Fagan opens a new world to Helen, and their sensual interactions signing and lip-reading with hands and fingers quickly set in motion a liberating, passionate, and clandestine affair. It's not long before Helen's secret is discovered and met with stern disapproval from her family and Annie. As pressure mounts, the lovers plot to elope, and Helen is caught between the expectations of the people who love her and her most intimate desires.
Richly textured and deeply sympathetic, Sultan's highly inventive telling of a story Keller herself would not tell is both a captivating romance and a rare glimpse into the mind and heart of an inspirational figure.
Praise For Helen Keller in Love…
 
"Rosie Sultan is adventurous—and brave. She has immersed herself in every available piece of information about Keller and, to an amazing degree, puts herself into her heroine's silent, dark world. Sultan looks within, telling Helen's story in the first person. We are taken into the isolation and limitations that Keller lived with her entire life. . . . Helen Keller in Love is touching and fun to read. . . . Sultan has given the adult Helen Keller a new voice and reminds us of both her brilliance and her humanity." —The Washington Post

 
"Captivating . . . a riveting story." —Good Housekeeping

 
"Ambitious. Sultan's sensibility is consistently contemporary, a wise choice given Keller's distinctly modern views. An advocate for women's rights, an unapologetic socialist and fierce opponent to World War I, Keller exposed and challenged oppression and prejudice in all its myriad forms. Her voice in this novel is evocative of any current celebrity's. She feels imprisoned by her reputation and her fans' expectations of her, weary of being the meal ticket for her family, and harassed by the press. As much as she loves and needs Annie, she also chafes at their interdependence. And above all, she is unashamed of her own sexuality, eager to express it, and resentful of her mother and sister's determination to keep her pure and caged within the confines of propriety. . . . Sultan does a fine job of demonstrating how Keller navigates the world with just three senses." —Boston Globe

 
"Going well beyond Keller's Miracle Worker days . . . Sultan convincingly imagines that this much-admired if oversimplified icon wanted nothing more than to be treated like a woman. —Patty Wetli, Booklist

 
"With empathy, imagination, and vivid sensory detail, Rosie Sultan's Helen Keller in Love gives voice—and scent and touch—to an iconic American heroine during a little known chapter in her life."
—Jane Mendelsohn, author of I Was Amelia Earhart

 
"In this richly imagined and moving novel, Rosie Sultan brings alive the history of Helen Keller—the brilliant miraculous creature who stole the heart and sympathy of the world—while also exploring how she must have felt as a woman: the loneliness, longing,and great vulnerability. The result is a vivid, sensuous portrait full of sound and vision."
—Jill McCorkle, author of Going Away Shoes

 
"Helen Keller in Love is involving, passionate, and deeply felt. It tells this little-known, remarkable story with a loving heart, beautiful language, and great commitment to its heroine. Helen Keller was a woman with blood in her veins—this book makes you feel it."
—Martha Southgate, author of The Taste of Salt

 
"Eye-opening and thoroughly involving . . . This well-written novel will appeal to those who enjoy women's fiction as well as readers of historical and biographical fiction. A thoroughly enjoyable read that should entice many to seek out one of the biographies Sultan recommends in an afterword." —Library Journal

 
"Debut novelist Rosie Sultan's Helen Keller in Love spins a tale of forbidden love, invoking scents, textures and tastes on every page to show how Helen 'saw' the world. She grounds the story in well-known incidents from Helen's childhood, but draws on later biographies, speeches and letters to show Helen as a woman, intelligent and determined but forced by her handicaps to be dependent on her family and employees. . . . Sultan skillfully expresses Helen's main frustrations: at the public for refusing to take her seriously when she speaks on political issues unrelated to blindness, and at her family and friends for refusing to see her as a grown woman, with a woman's desires. Helen Keller in Love holds readers' attention with a fresh depiction of a woman famous for overcoming her physical handicaps, forced to fight for her right to love." —Katie Noah Gibson, Shelf Awareness
Viking Books, 9780670023493, 242pp.
Publication Date: April 26, 2012
About the Author
Rosie Sultan earned her MFA at Goddard College and won a PEN Discovery Award for fiction. A former fellow at the Virginia Center for the Arts, she has taught writing at Boston University, the University of Massachusetts, and Suffolk University. She lives with her husband and son in Brookline, Massachusetts.
What did you know about Helen Keller before you read this novel? Did the character in the novel match your expectations? Explain.
Were you startled by the sexual nature of Helen's relationship with Peter? Did this challenge any assumptions you had about Helen, or about people with disabilities in general?
Helen describes her mother as living in "a shadow of grief that she couldn't save me" from the illness that took her sight and hearing and that she is haunted by the "intolerable, blurred image of what I could have been" (p. 74). Imagine yourself in Helen's mother's place. Describe your feelings about Helen's life and her relationship with Peter.
Why does Annie object to Helen and Peter's romance? Do you agree with her opinion? What other reasons might she have had for not wanting Helen and Peter to be together?
Have you ever had a romantic affair, friendship, or relationship that others in your life disapproved of? Did their disapproval affect your actions?
On page 43, Helen says, "Annie needed me to stay childlike." What does she mean by this? Is it true?
Helen's descriptions of sounds, feelings, and scents are striking in their beauty and imagery. Choose one of your favorite examples in the book and explain why you find it so moving.
When considering Peter's feelings for her, Helen asks, "Was he attracted to the idea of me? I had the strange sensation the answer was yes" (p. 71). What does she mean by "the idea" of her?
Imagine your own life without sound or sight. What would the biggest challenges be? How would you overcome them?
Why does Helen and Peter's relationship end the way that it does? Are there any clues to this earlier in the book?
Does Peter really love Helen? Did Helen have a realistic expectation of what a relationship is?
Would Helen's life have been better or worse if she and Peter had married?
or
Not Currently Available for Direct Purchase