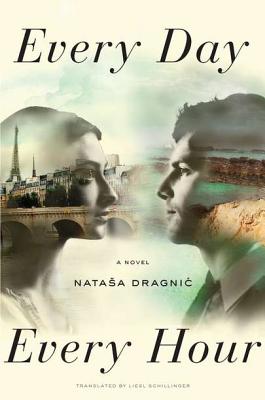 Every Day, Every Hour
Hardcover

* Individual store prices may vary.
Description
An exquisitely romantic debut novel that captures the longing of lost and sometimes found love
It is the mid-1960s in a small seaside town in Croatia. Two children, Luka and Dora, meet on their first day of kindergarten. Luka faints the first time he sees Dora and she wakes him with a kiss. The two become inseparable. Over the next few years, they wander the shores of their town, lying on their special rock by the sea as Luka paints until Dora's parents move to Paris. Bereft, Luka becomes a solitary young man, prey to the needs of his family, but a promising painter. In Paris, Dora blossoms and becomes a successful actress.
When Luka comes to Paris for a show of his paintings, a chance encounter brings them together. Now adults, they fall back in love, and their feelings are given resonance by a shared adoration of Pablo Neruda. Timing and fate, however, seem determined to keep them apart. Like "The Solitude of Prime Numbers" and "One Day," Nata a Dragnic's "Every Day, Every Hour" is a haunting tale of star-crossed love that will utterly entrance readers with the rhythmic beauty of its language and ineffable air of expectation and heartache.
Praise For Every Day, Every Hour…
"[A] passionate, decades-spanning tale of star-crossed lovers" – Vanity Fair

"… captures the frustrated passions of a budding artist and actress on the Adriatic coast, rekindled sixteen years later—where else?—on the streets of Paris." – Vogue

"Natasa Dragnic's tumbling prose has a delightful immediacy and freshness." – The Daily Mail (UK)

"But soon you will be convinced. Arrested. Intoxicated. Natasa Dragnic's debut, Every Day, Every Hour, is a beautiful, intense little book." – BookPage

"A lush, flowing, elegant novel, Every Day, Every Hour shows a world where love is stronger than will." – Simon Van Booy, author of The Secret Lives of People In Love

"...appealingly romantic, unfolding from the alternating viewpoints of two protagonists, who generate palpable sparks." – Library Journal

"A story to savor like a glass of fine wine in summer." – Elle Italia

"[An] irresistible love story." – Esta (The Netherlands)

"A romantically enchanting love story." – Cosmopolitan (Germany)
Viking Books, 9780670023509, 267pp.
Publication Date: May 24, 2012
About the Author
Nata a Dragnic was born in Split, Croatia. After studying German, English, and French, she attended the Croatian School of Diplomacy. She currently lives in Erlangen, Germany. This is her first novel.Liesl schillinger is a New York based journalist and literary critic who writes regularly for "The New York Times Book Review." She was on the editorial staff of "The New Yorker.""