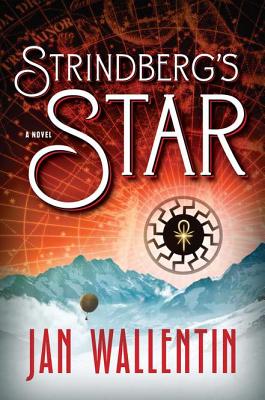 Strindberg's Star (Hardcover)
Viking Books, 9780670023578, 447pp.
Publication Date: May 24, 2012
* Individual store prices may vary.
Description
A multilayered international thrill ride at breakneck pace, reminiscent of "The Rule of Four"
The Arctic, 1897: Nils Strindberg crashes his hydrogen balloon during the mysterious Andree Expedition to the North Pole.
Germany, 1942: Gruesome and inexplicable experiments are performed on concentration camp prisoners.
Sweden, present-day: Cave diver Erik Hall finds a dead body wearing an ancient ankh, buried deep in an abandoned mine. Religious symbol expert Don Titelman seeks out Erik to study the ankh but finds Erik dead. Don is the prime suspect, and soon he's being chased across Europe to escape a secret society that will do anything to get their hands on the ankh. . . .
In this international bestseller, each of these fascinating strands weaves together to create a mind-blowing cross-genre thriller that includes arctic explorers, a secret railroad network, Norse mythology, Nazis, and ancient symbols and a shocking secret that's been hidden for centuries.
About the Author
Jan Wallentin is a journalist. He is forty-one years old and has three children. He lives in Stockholm and is currently working on his next book. This is his first novel.Rachel Willson-Broyles has translated "Invasion" and "Montecore," both by Jonas Hassan Khemiri. She lives in Madison, Wisconsin.
Praise For Strindberg's Star…
"...An intriguing thrill ride...a combination of the secrets and symbols of Dan Brown with the adventures of Jules Verne...unlike anything else you'll read this year."

-AP

"An audacious adventure novel a la Jules Verne steeped in Norse mythology and Nazi esotericism."
—Publishers Weekly
-Publishers Weekly

"In this breathtaking debut novel, lavish with historic detail and colorful panorama, Jan Wallentin brilliantly evokes the mysterious, underwater, middle-earth worlds of Jules Verne, interwoven with the pulse-pounding, countdown thrillers of James Bond. STRINDBERG'S STAR is a tale of eternal evil - with two diabolical "fathers," more deeply disturbed than Darth Vader, pulling the hidden strings."
—Katherine Neville, author of THE EIGHT and THE FIRE
-Katherine Neville

"Evil Nazi schemes, Norse mythology, Pompeian legend and a balloon expedition to the North Pole are narrative bedfellows in this sprawling, fanciful tale…it scores as a larkishly offbeat alternative to the dour mysteries Swedes are known for."
—Kirkus
-Kirkus

"All the elements of a Dan Brown thriller…A perfect vacation read."
—Booklist
-Booklist
or
Not Currently Available for Direct Purchase