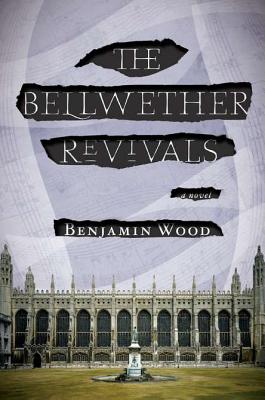 The Bellwether Revivals
Hardcover

* Individual store prices may vary.
Other Editions of This Title:
Compact Disc (5/28/2013)
Paperback (5/28/2013)
MP3 CD (12/1/2016)
Paperback (2/1/2012)
MP3 CD (5/28/2013)
MP3 CD (6/28/2012)
Compact Disc (6/28/2012)
Description
A sophisticated debut novel about the hypnotic influence of love, the beguiling allure of money and the haunting power of music
Bright, bookish Oscar Lowe has escaped the squalid urban neighborhood where he was raised and made a new life for himself amid the colleges and spires of Cambridge. He has grown to love the quiet routine of his life as a care assistant at a local nursing home, where he has forged a close friendship with its most ill-tempered resident, Dr. Paulsen.
All that changes one fateful day when Oscar, while wandering the bucolic grounds of Cambridge, is lured into the chapel at Kings College by the otherworldly sound of an organ. It is here that he meets and falls in love with Iris Bellwether, a beautiful and enigmatic medical student. Drawn into the world of scholarship and privilege, Oscar soon becomes embroiled in the strange machinations of Iris's older brother, Eden.
A charismatic but troubled musical prodigy, Eden convinces his sister and their close-knit circle of friends to participate in a series of disturbing experiments. Eden believe that music with his expert genius to guide it can cure people. As the line between genius and madness begins to blur, however, Oscar fears that it is danger and not healing that awaits them all but it might be too late. . . .
A masterful work of psychological suspense and emotional resonance from a brilliant young talent, "The Bellwether Revivals" will hold readers spellbound until its breathtaking conclusion.
Praise For The Bellwether Revivals…
"Wood vividly dramatizes the quandary that Oscar finds himself in: He's so entranced by Iris and the Bellwether circle that he dreads challenging Eden directly, yet Eden could be a danger to himself and others. The showdown occurs at the remote estate owned by the absent Bellwether parents, where Eden retreats to a small outbuilding housing an organ — a place where the Phantom of the Opera would feel right at home."
—Maureen Corrigan, The Washington Post
 
"Wood's novel is weighty and so he sets himself a challenge. Fortunately, in the main, he pulls it off, at times triumphantly. . . . It would be an overstatement to suggest that Wood does for Cambridge what Evelyn Waugh does for Oxford but, to give him his due, he accurately captures, or recreates, that similar youthful hedonism and folly, and Eden is as offbeat and infuriating a creation as Sebastian Flyte. . . . Wood's own original stamp is his treatment of that brittle boundary between genius and madness, and its inventiveness and execution makes this debut a compulsive read."
—Malcolm Forbes, The National (UAE)
 
"From the moment young Oscar follows the organ music in Kings College chapel, I was ready to follow the talented Benjamin Wood anywhere. Wood writes beautifully about music, hypnotism, old people and the lush landscapes of Cambridge. And his intricate plot carries both Oscar and the reader to a place where the stakes, finally, are nothing less than life and death."
—Margot Livesey, author of the New York Times bestselling The Flight of Gemma Hardy
 
"Oh how I loved this novel! I was drawn in from the very first sentence and pretty much didn't put it down until I reached the last. This is the kind of story that makes you want to hole up under the covers and not come out until you've uncovered the mysteries at its heart. I find myself constantly thinking of Wood's characters—wonderful, surprising Oscar Lowe and those beautiful, doomed Bellwethers. It reminded me, more than anything, of Donna Tartt's The Secret History, another novel that utterly consumed me, body and soul."
—Joanna Smith Rakoff, author of the New York Times bestselling A Fortunate Age
 
"Discovering the world of Benjamin Wood's characters is like unlocking a series of psychological puzzles, mysterious and completely engrossing. Impossible to put down, The Bellwether Revivals is a brilliant investigation into obsessions and their entirely unpredictable consequences."
—Susan Daitch, author of Paper Conspiracies
 
"Well-drawn . . . richly imagined emotion . . . Wood's confident, sometimes creepy debut novel draws you in—like the faintly heard strain from that hauntingly played pipe-organ—and then, once you're inside, holds on, ever tightening its grip."
—The Independent on Sunday (UK)
 
"The Bellwether Revivals is a stunningly good debut novel, a thrilling story of music and its hold on a group of young people's minds and lives. Benjamin Wood writes with vigor, precision and intensity, with a story that will keep readers up all night."
—Steven Galloway, bestselling author of The Cellist of Sarajevo
 
"The Bellwether Revivals renders the cruelties and frailties of genius with acuity and tenderness, exploring the naïve sophistication of bright young minds, the moral immunity granted to coteries of privilege and the true nature of mastery in art. Seductive, resonant and disquieting, Benjamin Wood's novel captures strains and cadences, qualities of music that are rarely rendered except in sound."
—Eleanor Catton, award-winning author of The Rehearsal
 
"In this multi-themed and far-reaching novel, the dichotomies of reason and superstition, sanity and madness, science and faith, are given close and sustained attention. . . . An accomplished novel, suffused with intelligence and integrity. Wood gives voice to theories and ideas in a lucid and accessible way. . . . This skillful novel has flow, pace and a lightness of touch."
—Samantha Harvey, The Guardian (UK)
 

"Previous authors have explored the proximity of genius to madness, but Wood treats this familiar theme with a freshness and intelligence that hint at greater things to come."
—TLS
 
"There's more than a hint of Donna Tartt's The Secret History about this novel, with Cambridge taking the place of Vermont… highly effective."
—The Daily Mail (UK)
 
"The novel … has as its lodestone Brideshead Revisited … a timely examination of the conflict between religion and scepticism, a theme explored with more rigor than in this novel's template. There, we rarely doubt that Waugh is on the side of grace and the supernatural. Donna Tartt's The Secret History is also in the DNA here, and there are echoes of another literary analysis of the unhealthy emotional bond between a brother and sister, L P Hartley's Eustace and Hilda.  Does it matter that Wood wears his influences so clearly on his sleeve? Some may find the book reads like a contemporary filigree on its illustrious predecessors, but most readers will find themselves transfixed by this richly drawn cast of characters. The fact that Wood can hold his own in such heavyweight company is a measure of his achievement."
—Barry Forshaw, The Independent (UK)
 
"Music offers no real cure for sickness, as Oscar slowly and disturbingly discovers.  The bright boy from the sink estate realizes the Cambridge set he's been sucked into, in an attempt to ensnare beautiful Iris, is racing towards a terrible danger."
—The Daily Mirror (UK) (Four-star review)
 
"Intense . . . Benjamin Wood's debut plunges into the heart of privileged Cambridge where musical genius Eden Bellwether is the leader of a coterie of acolytes.  Outsider Oscar—bookish and estranged from his working-class family—falls for Eden's sister Iris and becomes involved with Eden's conviction that he can heal the sick with the music of an obscure baroque composer.  Things go wrong when Eden tries to 'mend' Iris's broken leg, and then attempts to cure an author of terminal brain cancer.  As events spiral out of control, the conflicts between madness and reason, religion and blind faith, become dangerously real."
—Marie Claire (UK)
 
"Students have been in the headlines … will it bring the campus novel back into vogue? With not one but two books featuring students out this month, it certainly seems the case.  Written by graduates and both featuring Oxbridge graduates… The Bellwether Revivals by Benjamin Wood … boasts a 21st century spin on a genre that once upon a time seemed only to celebrate lofty minded or louche toffs."
—Mariella Frostrup, Open Books BBC Radio 4
 
"Praise be, a brilliant debut novel reminiscent of the moral explorations of Iris Murdoch and Zadie Smith but younger in temperament, more directly passionate and theatrical."
—Three Guys One Book
 
"Wood moves the reader deftly through pastoral Cambridge, into the British upper crust, and ultimately into the mad mind of Eden himself."
—Kirkus Reviews
 
"Read it. Quite a debut."
—Patrick Neate, author of City of Tiny Lights
 
"The Bellwether Revivals takes a well-worn format and twists it from the word Go.  Main character from humble background insinuates self into the lives of a bunch of posh people, except that this time it's different, and it's crucial to the story that it is … Wood's stylish, sensual novel really cast a spell on me. A fictional experiment. It worked."
—Isabel Costello, isabelcostello.wordpress.com
Viking Adult, 9780670023592, 432pp.
Publication Date: June 14, 2012
About the Author
Benjamin Wood was born in 1981 and grew up in northwest England. In 2004, he was awarded a Commonwealth Scholarship to attend the MFA Creative Writing Programme at the University of British Columbia, Canada, where he was also the fiction editor of the literary journal "PRISM International." Wood is now a lecturer in creative writing at Birkbeck, University of London. "The Bellwether Revivals" is his first novel.
or
Not Currently Available for Direct Purchase