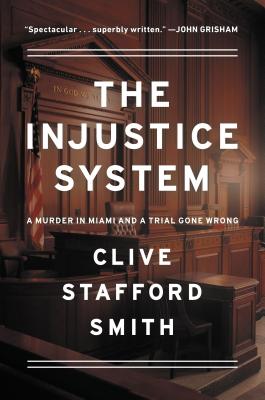 The Injustice System: A Murder in Miami and a Trial Gone Wrong (Hardcover)
A Murder in Miami and a Trial Gone Wrong
Viking Books, 9780670023707, 352pp.
Publication Date: November 8, 2012
* Individual store prices may vary.
or
Not Currently Available for Direct Purchase
Description
The maverick public defender who inspired John Grisham tells the story of his most frustrating case
A man accused of a murder he didn t commit languishes on death row. A crusading lawyer is determined to free him. This powerful book reads like a page-turning legal thriller with one crucial difference: Justice is not served in the end.
In 1986, Kris Maharaj was arrested in Miami for the murder of his ex- business partner. A witness swore he saw him pull the trigger and a jury found him guilty and sentenced him to death. But he swears he didn t do it. Twenty years later, he's bankrupted himself on appeals and been abandoned by everyone but his wife.
Enter Clive Stafford Smith, a charismatic public defender with a passion for lost causes who calls up old files and embarks on his own investigation. It takes him from Miami to Nassau to Washington as he uncovers corruption at every turn. Step by step, Clive slowly dismantles the case, guiding us through the whole scaffolding of the legal process and revealing a fundamentally broken system whose goal is not so much to find the right man as to convict.
A bombshell whose final chapter should re-open a long closed case, "The Injustice System" will appeal to fans of true crime and anyone who has served on a jury.
About the Author
Clive Stafford Smith has spent twenty-five years defending high-profile criminal cases in Georgia, Mississippi, and Louisiana. A recipient of the Gandhi International Peace Award and a Lannan Cultural Freedom Award, he was a finalist for the Orwell Prize for his most recent book, "Eight O Clock Ferry to the Windward Side: Seeking Justice In Guantanamo Bay." He founded Reprieve, a nonprofit legal defense firm and lived for many years in New Orleans."
Praise For The Injustice System: A Murder in Miami and a Trial Gone Wrong…
"A complicated whodunit . . . In the course of recounting the crime, trial, and appeals, Smith paints a bleak picture of criminal justice in America—this is Miami after all, not some backwater town. There are dishonest cops, smug prosecutors, a feckless defense lawyer (now a judge), and venal witnesses. . . . A moving tale of devotion by an extraordinary lawyer who nearly bankrupted himself and his fledgling public-interest law office to fight for his client's life and liberty, The Injustice System reveals the deep gap between cherished ideals and harsh reality in a country addicted to incarceration."
—The New York Times Book Review


"True stories of wrongful convictions are by their nature utterly compelling, but most Americans don't believe them. How can our vaunted system break down so miserably? In The Injustice System, Clive Stafford Smith details a spectacular example of a bogus conviction, and the many lives ruined by it. It is a superbly written account of only one case, but one of thousands." —John Grisham
 
 
"An empowering read for anyone who cares about the human implementation of justice." —Colin Firth  
  "If you believe in the death penalty, read this book. It will change your mind and change your life." —Susan Hill  
   "Clive Stafford Smith is a true hero and this book helps explain why." —Jon Ronson  
  "Smith packages this revealing analysis of the broader justice system in a true-life legal thriller about one particularly egregious case. . . . He shines a harsh light on the conventional belief that the innocent rarely go as far as trial and are seldom convicted, and the immunity of prosecutors from accusations of wrongdoing, including withholding evidence that could prove defendants innocent." —Booklist
Advertisement