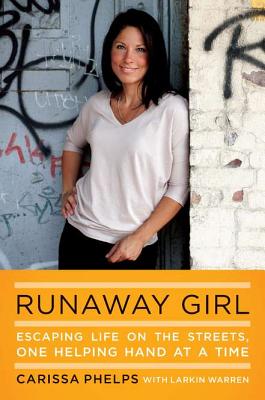 Runaway Girl: Escaping Life on the Streets, One Helping Hand at a Time (Hardcover)
Escaping Life on the Streets, One Helping Hand at a Time
Viking Books, 9780670023721, 311pp.
Publication Date: July 5, 2012
* Individual store prices may vary.
or
Not Currently Available for Direct Purchase
Description
Riveting . . . A genuinely important book that casts the problem of sex trafficking inAmericainto stunning, heartbreaking relief. ("Kirkus Reviews")
A "School Library Journal "Best Adult Book for Teens
A Joan F. Kaywell Award Finalist from the Florida Council of Teachers of English
Carissa Phelps was a runner. By the time she was twelve, she had run away from home, dropped out of school, and fled blindly into the arms of a brutal pimp. Even when she escaped him, she could not outrun the crushing inner pain of abuse, neglect, and abandonment. With little to hope for, she expected to end up in prison, or worse. But then her life was transformed through the unexpected kindness of a teacher and a counselor. Through small miracles, Carissa accomplished the unimaginable, graduating from UCLA with both a law degree and an MBA. She left the streets behind, yet found herself back, this time working to help homeless and at-risk youth discover their own paths to a better life. Like the multimillion-copy bestseller"The Glass Castle," this memoir moves us through the power of its unflinching candor and generosity.
About the Author
An attorney, motivational speaker, and youth advocate, Carissa Phelps works as part of a global collective to help local and international survivors of sex trafficking rebuild their lives. Her life story was the subject of the award-winning documentary "Carissa." She lives in San Luis Obispo, California.

LarkinWarren s essays and articles have appeared in the "New York Times" "Magazine," "Glamour," "More, " and "Good Housekeeping." Among her recent book collaborations are Mary Forsberg Weiland s "Fall to Pieces "and Elyn R. Saks s bestselling "The Center Cannot Hold." "
Praise For Runaway Girl: Escaping Life on the Streets, One Helping Hand at a Time…
Praise for Runaway Girl:
 
"This devastatingly honest memoir is not for the fainthearted . . . Kafka famously wrote, 'A book must be the ax for the frozen sea within us.' Runaway Girl just might become such a book. [Phelps] gives the reader valuable insight into a problem that is larger than most people realize."
—San Francisco Chronicle
 
"Phelps is a success . . . [a] remarkable story."
—NPR

"Carissa Phelps's story illustrates the power each of us has to speak the words that are the difference between life and death, freedom and imprisonment, success and failure. Carissa is brilliant. She's changing our world for the better, not despite what she's been through, but specifically because of it."
—Rhonda Sciortino, radio host of Crack the Code  and author of Succeed Because of What You've Been Through

"Riveting . . . A genuinely important book that casts the problem of sex trafficking in America into stunning, heartbreaking relief."
—Kirkus Reviews

"Runaway Girl may break your heart but I promise it will ultimately awe and inspire you. No child should have to endure what Carissa did, but thousands do. Her story is a testimony to the resilience of these children and the difference a caring individual can make in their lives. If you have any doubts whether one person can make a difference in the life of a traumatized, 'delinquent,' young person, Runaway Girl should put them to rest."
—Dr. Howard Zehr, professor of restorative justice, Eastern Mennonite University's Center for Justice and Peacebuilding, and author of What Will Happen to Me?
 
"Runaway Girl demonstrates a great amount of insight and maturity. Crisp writing and perfectly chosen events highlight the story of what happens to the majority of twelve-year-olds on the street."
—School Library Journal, selected as a Best Adult Books for Teens of the Year
 
"As a captivating account of the triumph of a battered heart, Runaway Girl is truly a modern profile in courage, a spiritual odyssey, and a riveting read. Any child who experienced the trauma that Carissa Phelps so poignantly portrays will gain comfort, encouragement, and hope in reading this book."
—Paul Freese, Public Counsel Law Center
 
"A brave memoir."
—Publishers Weekly
 
"What happens to the thousands of kids every year in the United States who are forced to leave home? Many of them are find themselves in the same situation Carissa Phelps did: fallen between the cracks in foster care and forced by a vicious exploiter to walk the streets. With courage, insight, and unflinching honesty, Carissa reveals the truth about her life as a runaway, bringing to light the many issues facing homeless youth while providing them with a beacon of hope to follow. I want everyone who cares about our country's young people to read this book."
—Janice Erlbaum, author of Girlbomb
 
"This book is provocative in the best sense of the word: it incites readers to help. . . . Runaway Girl is an effective, socially aware book that offers unique insight into one woman's personal experiences with trauma and recovery and her journey to find herself in a difficult, frightening, and ultimately supportive world."  
—Katie Shaeffer, BookshelfBombshells.com

"With not a trace of victimhood or unplaced drama, this is a terrific addition to all collections."
—Amy Cheney, Alameda County Library, Juvenile Hall, CA
 
"Runaway Girl should be required reading for anyone with kids, especially girls, in their lives."
—Jesika Long, Jesikalong.Tumblr.com
 
"Runaway Girl is both a cautionary tale about the realities of sex-trafficking in the U.S. and an inspirational story of the change that is possible with the help of others. A very important read for both parents and teenagers."
—Vera Pereskokova, SheKnows.com
Advertisement