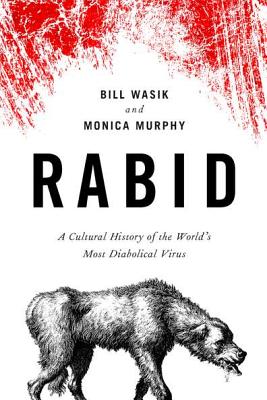 Rabid
A Cultural History of the World's Most Diabolical Virus
Hardcover

* Individual store prices may vary.
Other Editions of This Title:
Digital Audiobook (7/18/2012)
Paperback (6/25/2013)
MP3 CD (7/19/2012)
Compact Disc (7/19/2012)
Compact Disc (7/19/2012)
Description
A maddened creature, frothing at the mouth, lunges at an innocent victim and, with a bite, transforms its prey into another raving monster. It's a scenario that underlies our darkest tales of supernatural horror, but its power derives from a very real virus, a deadly scourge known to mankind from our earliest days. In this fascinating exploration, journalist Bill Wasik and veterinarian Monica Murphy chart four thousand years in the history, science, and cultural mythology of rabies.
The most fatal virus known to science, rabies kills nearly 100 percent of its victims once the infection takes root in the brain. A disease that spreads avidly from animals to humans, rabies has served throughout history as a symbol of savage madness, of inhuman possession. And today, its history can help shed light on the wave of emerging diseases, from AIDS to SARS to avian flu, that we now know to originate in animal populations.
From Greek myths to zombie flicks, from the laboratory heroics of Louis Pasteur to the contemporary search for a lifesaving treatment, "Rabid "is a fresh, fascinating, and often wildly entertaining look at one of mankind's oldest and most fearsome foes.
Praise For Rabid: A Cultural History of the World's Most Diabolical Virus…
"A searing narrative."
—The New York Times
 
"In this keen and exceptionally well-written book, rife with surprises, narrative suspense and a steady flow of expansive insights, 'the world's most diabolical virus' conquers the unsuspecting reader's imaginative nervous system. . . . A smart, unsettling, and strangely stirring piece of work."
—San Francisco Chronicle
 
"Fascinating. . . . Wasik and Murphy chronicle more than two millennia of myths and discoveries about rabies and the animals that transmit it, including dogs, bats and raccoons."
—The Wall Street Journal
 
"Rabid delivers the drama of Louis Pasteur's courageous work developing the rabies vaccine at the same time it details the disease's place in our cultural history, taking us from Homer to the Bronte sisters to Zora Neale Hurston to Richard Matheson. . . . All along the book's prose and pace shine—the book is as fast as the virus is slow."
—The Seattle Times
 
"A very readable, fascinating account of a terrifying disease….Wasik and Murphy grippingly trace the cultural history of the disease. . . . Rabid reminds us that the disease is a chilling, persistent reminder of our own animal connections, and of the simple fact that humans don't call all of the shots."
—The Boston Globe
 
"Compelling. . . . Murphy and Wasik give life, context and understanding to the terrifying disease. Like the virus itself, this fascinating book moves quickly, exploring both the marginalized status and deadly nature of the virus. And as the authors trace the influence of rabies through history, Rabid becomes nearly impossible to put down."
—New Scientist
 
"An elegant exploration of the science behind one of the most horrible way to die."
—Chris Anderson, author of The Long Tail
 
"This book is not for the squeamish. Yet those who are fascinated by how viruses attack the body, by the history of vaccination and by physicians' efforts to save the most desperately ill patients will want to read it. There is also a happy ending: scientists are working to harness rabies as a potent drug delivery vehicle."
—Scientific American
 
"[Wasik and Murphy] offer an in-depth look at a disease so insidious that it even turns our best friends—dogs—against us. The pair convincingly link the history of rabies…with the history of man's fear of nature and the unknown, and our own latent capacity for beastliness."
—The Daily Beast
 
"Thrilling, smart, and devilishly entertaining, Rabid is one of those books that changes your sense of history—and reminds us how much our human story has been shaped by the viruses that live among us."
—Steven Johnson, author of The Ghost Map
 
"Rabies has always been as much metaphor as disease, making it an excellent subject for cultural history. . . . As Wasik and Murphy document . . . the horror of rabies has been with us since the beginning of human civilization."
—Bookforum
 
"Funny and spry. . . . It's a rare pleasure to read a nonfiction book by authors who research like academics but write like journalists."
—Alice Gregory, n+1
 
 "Readable, fascinating, informative, and occasionally gruesome, this is highly recommended for anyone interested in medical history or the cultural history of disease."
—Library Journal (starred review)
 
"Take Bill Wasik, one of our most perceptive journalistic storytellers, have him join forces with Monica Murphy, scholar of public health, and you end up with this erudite, true-life creep show of a book. It turns out that the rabies virus is a good bit more fascinating and at least as frightening as any of those blood-thirsty monsters that have stalked our fairy tales, multiplexes, and dreams."
—Donovan Hohn, author of Moby Duck
 
"Ambitious and smart."
—Publisher's Weekly
 
"Terrible virus, fascinating history in Rabid."
—NPR
 
"As entertaining as they are on rabies in culture, the authors also eruditely report on medicine and public health issues through history, from ancient Assyria to Bali to Manhattan in the last five years, showing that while the disease may be contained, it may never be fully conquered. Surprisingly fun reading about a fascinating malady."
—Kirkus Reviews
 
"The ultimate weird dad book."
—Very Short List
 
"The rabies virus is a microscopic particle of genes and proteins. And yet it has cast a fearful shadow over all of human history. Bill Wasik and Monica Murphy have produced an eerily elegant meditation on disease and madness, dogs and vampires. It's as infectious as its subject."
—Carl Zimmer, NPR contributor and author of Parasite Rex
 
 "A fun read, rivaling a Stephen King novel for page-turning thrills."
—The Awl
Viking Books, 9780670023738, 275pp.
Publication Date: July 19, 2012
About the Author
Bill Wasik is a senior editor at "Wired" and was formerly a senior editor at "Harper s;" he writes on technology, media, and crowd dynamics. Monica Murphy holds degrees in public health from Johns Hopkins University and in veterinary medicine from the University of Minnesota. They are married and live with their son and whippet in Oakland, California. "
Coverage from NPR
or
Not Currently Available for Direct Purchase