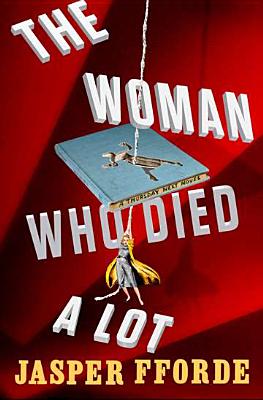 The Woman Who Died a Lot (Hardcover)
Now with 50% Added Subplot
Viking Books, 9780670025022, 366pp.
Publication Date: October 2, 2012
Other Editions of This Title:
Paperback (9/24/2013)
Hardcover, Large Print (2/22/2013)
* Individual store prices may vary.
Description
The newest tour de force starring Thursday Next in the "New York Times" bestselling series
The Bookworld's leading enforcement officer, Thursday Next, has been forced into a semiretirement following an assassination attempt, returning home to Swindon and her family to recuperate.
But Thursday's children have problems that demand she become a mother of invention: Friday's career struggles in the Chronoguard, where he is relegated to a might-have-been; Tuesday's trouble perfecting the Anti-Smote shield, needed in time to thwart an angry Deity's promise to wipe Swindon off the face of the earth; and the issue of Thursday's third child, Jenny, who doesn t exist except as a confusing and disturbing memory.
With Goliath attempting to replace Thursday at every opportunity with synthetic Thursdays, and a call from the Bookworld to hunt down Pagerunners who have jumped into the Realworld, Thursday's convalescence is going to be anything but restful as the week ahead promises to be one of the Next family's oddest.
About the Author
Jasper Fforde traded a varied career in the film industry for staring vacantly out of the window and arranging words on a page. He lives and writes in Wales."The Eyre Affair"was his first novel in the bestsellingseries ofThursday Nextnovels, which includes"Lost in a Good Book," "The Well of Lost Plots," "Something Rotten," "First Among Sequels," "One of Our Thursdays is Missing," and"The Woman Who Died A Lot."The series has more than one million copies (and counting) in print.He is also the author of"The Big Over Easy"and"The Fourth Bear"of the Nursery Crime series, and"Shades of Grey." Visit jasperfforde.com."
Praise For The Woman Who Died a Lot: Now with 50% Added Subplot…
Praise for The Woman Who Died A Lot "Fforde continues to show that his forte is absurdist humor in his seventh crime thriller starring Thursday Next, a member of the Literary Detectives division of Special Operations in an alternate-universe Britain.  [An] endearingly-bizarre fantasy world limited only by Fforde's impressive imagination." –Publishers Weekly "As always, Fforde makes this wacky world perfectly plausible, elucidating Ffordian physics with just the right ratio of pseudoscientific jargon to punch lines. It's a dazzling, heady brew of high concept and low humor, absurd antics with a tea-and-toast sensibility that will appeal to fans of Douglas Adams and P. G. Wodehouse alike. Fforde is ffantastic!"–Booklist (starred review)
"Strap in and hang on tight.... Another winner for fans and lovers of sf, time travel, puns, allusions, and all sorts of literary hijinks."–Library Journal (Starred review) "Jasper Fforde fans, rejoice! The Woman Who Died a Lot, the seventh installment in his Thursday Next series, delivers all the imagination, complexity and laughs we've come to expect from Fforde and his book-hopping, butt-kicking heroine.The Woman Who Died a Lot brings together the charming lunacy and intricate plotting that have enthralled Fforde's readers over the years." –Shelf Awareness  "In Misery, Stephen King compares the euphoric feeling writers experience in creative bursts to 'falling into a hole filled with bright light.' Avid readers also know that feeling: A good story temporarily erases the world. British novelist Jasper Fforde has expanded on King's simile in a wonderful seven-book series of novels featuring Thursday Next. Enormously knowledgeable about literary history, Fforde scatters nuggets for nerdy readers like me. By the end, all of Fforde's myriad particles of plot, accelerated by his immense skill and narrative sense, collide, producing pyrotechnics and a passel of new particles to propel his next tale. I love the Thursday Next books, and when a new one appears, I don't fall but leap into this bibliophile's Wonderland." –The Cleveland Plain Dealer "This is the proverbial madcap lighthearted romp, full of hijinks, parody, and puns. Jasper Fforde does it well. It's safe to say that if you enjoy that particularly British, Douglas Adams-style absurd delivery of wry observations, you'll get a kick out of this one." –New York Journal of Books"The Welsh writer Jasper Fforde's wildly inventive books defy easy description — more accurately, they mercilessly mock the concept of easy description. Are they mysteries? Outrageous parodies of literary classics? Science fiction? Absurdist humor? Gleeful mashups of all the above?" [The Woman Who Died A Lot is] still big, big fun, with enough in-jokes to keep anyone snickering for a long time — especially English Lit geeks." –The Seattle Times "Quirky and surprising and funny. Thursday fans will welcome her return." –The Free Lance–Star 

Praise for One of Our Thursdays is Missing "One of Our Thursdays is Missing, like other Fforde novels, is jam packed with spot-on parody, puns and wry observations about words and genres that will delight literary-minded fans of the series." - Los Angeles Times "There is no denying Fforde's supersized imagination, linguistic agility and love of books, Books, BOOKS." - Chicago Sun-Times "Fforde's diabolical meshing of insight and humor makes a 'mimefield' both frightening and funny, while the reader must traverse a volume that's minefield of unexpected turns and amusing twists." - Publishers Weekly "One of Our Thursdays is Missing is filled with passages [in] which geeky humor jostles with genuine insight about the current state of fiction.… [T]ake a joy ride with the passionate reader who wrote this novel." - Milwaukee Journal-Sentinel "[With a] furiously agile imagination…Fforde has shaken up genres—fantasy, comedy, crime, sci-fi, parody, literary criticism—and come up with a superb mishmash with lots of affectionate in-jokes for any book lover." - Miami Herald "Fforde is a breath of fresh air." -Kirkus "Fforde's books are more than just an ingenious idea. They are written with buoyant zest and are tautly plotted. They have empathetic heroes and heroines who nearly make terrible mistakes and suitably dastardly villains who do. They also have more twists and turns than Christie, and are embellished with the rich details of Dickens or Pratchett." -Independent "A riot of puns, in-jokes and literary allusions that Fforde carries off with aplomb." - Daily Mail "Fans of the late Douglas Adams, or, even, Monty Python, will feel at home with Fforde." Herald
or
Not Currently Available for Direct Purchase