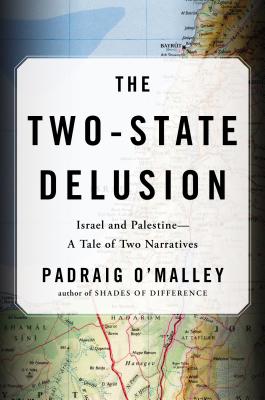 The Two-State Delusion (Hardcover)
Israel and Palestine--A Tale of Two Narratives
Viking, 9780670025053, 512pp.
Publication Date: July 28, 2015
Other Editions of This Title:
Paperback (7/26/2016)
* Individual store prices may vary.
Description
Padraig O'Malley is the subject of the new acclaimed documentary The Peacemaker

"A thoughtful autopsy of the failed two-state paradigm . . . Evenhanded, diplomatic, mutually respectful, and enormously useful."
—Kirkus, starred review

Disputes over settlements, the right of return, the rise of Hamas, recognition of Israel as a Jewish state, and other intractable issues have repeatedly derailed peace negotiations between Israel and Palestine.

Now, in a book that is sure to spark controversy, renowned peacemaker Padraig O'Malley argues that the moment for a two-state solution has passed. After examining each issue and speaking with Palestinians and Israelis as well as negotiators directly involved in past summits, O'Malley concludes that even if such an agreement could be reached, it would be nearly impossible to implement given the staggering costs, Palestine's political disunity and the viability of its economy, rapidly changing demographics, Israel's continuing political shift to the right, global warming's effect on the water supply, and more.

In this revelatory, hard-hitting book, O'Malley approaches the key issues pragmatically, without ideological bias, to show that we must find new frameworks for reconciliation if there is to be lasting peace between Palestine and Israel.
About the Author
PADRAIG O'MALLEY is the Moakley Chair for Peace and Reconciliation at the McCormack Graduate School of Global and Policy Studies, University of Massachusetts. He has dedicated his career to studying and helping to resolve conflicts in Northern Ireland, South Africa, and beyond. He is the author of Shades of Difference and Biting at the Grave, one of The New York Times's ten best books of 1990. He lives in Cambridge, Massachusetts.
Praise For The Two-State Delusion: Israel and Palestine--A Tale of Two Narratives…
"Impressive . . . [O'Malley] has done a tremendous amount of research about the Israeli-Palestinian conflict. He's not only delved deeply into the literature; he's also interviewed dozens of participants on both sides. The result is a book so packed with information that it will reward even the reader so dedicated that she consumes the Israel-Palestine stories buried on Page A17 of The Times. . . . O'Malley is not only knowledgeable; he's also honest."
—New York Times Book Review
 
"The Two-State Delusion provides an impartial, empathic but relentlessly objective look at our reality . . . [and] a refreshing departure from the blame game in which Israelis and Palestinians and their respective international champions try to make the other side responsible for the peace process's failure. And it diverges from the tendency to find the trick that will do the job, and comes to a conclusion as intellectually compelling as it is dismaying."
—Haaretz (Israel)

"On the basis of a meticulous research effort . . . O'Malley argues very persuasively that the two-state solution is dead. . . . This volume provides valuable and very timely explanations for the persistence of the Israeli-Palestinian conflict. One can only hope that Israeli, Palestinian and American decision makers will absorb the major lessons taught so very convincingly by O'Malley."
—Middle East Policy

"An honest assessment of where the Israelis and Palestinians are right now . . . After interviewing more than one hundred leaders on both sides, [O'Malley] believes everything attempted so far is on the wrong track. The problem, he explains, is that both sides are looking backward instead of forward."
—Cleveland Plain-Dealer

"A thoughtful autopsy of the failed two-state paradigm . . . [O'Malley] carefully sifts through the intractable coexistence between the Palestinians and Israelis and finds both sides so traumatized by the 'narrative' of their respective struggle that they are unable to view the other with respect or humanity—the beginning of true reconciliation. . . . Evenhanded, diplomatic, mutually respectful and enormously useful."
—Kirkus, starred review
 
"Exhaustively researched . . . There are no heroes in O'Malley's account, and no clear villains either."
—Publishers Weekly

Praise for Shades of Difference: Mac Maharaj & the Struggle for South Africa

"A striking success."
—Jeremy Harding, The New York Times Book Review
 
"An original and important work . . . An entry for the reader into a wider understanding of the elements of the Struggle, the contradictions that had to be overcome to bring us freedom."
—Nadine Gordimer, Winner of the Nobel Prize in Literature
 
"[O'Malley] is knowledgeable and sure-footed as he recounts this story… making a complex narrative on the whole quite clear." —San Francisco Chronicle

"Meticulous and unflinchingly honest."
—The New York Sun
 
"Brilliantly written."
—Library Journal (starred review) 
 
"A groundbreaking biography of a central figure in the fight to end South African apartheid."
—Publishers Weekly
 
"[Shades of Difference] is one of those seminal works that every South African should read. If you have read Mandela's Long Road to Freedom and other annals of our struggle, it is imperative to add this one to your collection because it provides an important and vital thread to the understanding of South Africa, then, now and into the future."
—Musa Zondi, The Sowetan
 
"An extraordinarily well-researched work . . . O'Malley has a deep understanding . . . and is perhaps one of the few outsiders who could readily understand the South African struggle."
—The Independent (South Africa)
 
"[Shades of Difference] is more than the story of one of the most important players in the liberation drama – it is required reading for those of us who want to understand where we came from, how we got here and why some things happen as they do."
—Africa News
 
"If you are interested in where this country has come from and where it may be headed, then this book is required reading."
—The Star (South Africa)
 
Praise for Biting at the Grave: The Irish Hunger Strikes and the Politics of Despair

"Anyone who wants to understand the essence of the confrontation will have cause to be devoutly grateful for this book."
—The New York Times Book Review
 
"O'Malley's story of two English-speaking communities who squandered the benefits of constitutional government is frightening, for his theme—the destructive effects of feelings of beleaguerment, entrapment, and victimization—is echoed in every morning's newspaper."
—The New Yorker
 
"A book equal to the pity and terror of its subject, Padraig O'Malley simplifies nothing, extenuates nothing, and scrutinizes everything. This is not only a heart-felt narrative, but a sustained exercise of moral and political intelligence." —Seamus Heaney

"A brilliant, chilling, and heartbreaking book." —Boston Globe

"O'Malley shrewdly assesses the psychological, cultural, religious and political forces that kept the hunger strikes going against all odds, and against all reason." —Washington Post

"A fierce and uncompromising examination of the history, mythology, mindset and religion that make up modern Ireland, north and south alike." —Philadelphia Inquirer
or
Not Currently Available for Direct Purchase