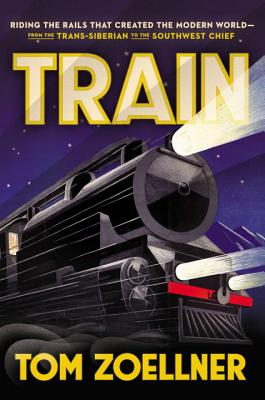 Train (Hardcover)
Riding the Rails That Created the Modern World--From the Trans-Siberian to the Southwest Chief
Viking Books, 9780670025282, 346pp.
Publication Date: January 30, 2014
Other Editions of This Title:
Digital Audiobook (1/29/2014)
MP3 CD (1/30/2014)
Compact Disc (1/30/2014)
Paperback (10/28/2014)
Hardcover, Large Print (6/11/2014)
Compact Disc (1/30/2014)
* Individual store prices may vary.
Description
A revelatory, entertaining account of the world's most indispensable mode of transportation
Tom Zoellner loves trains with a ferocious passion. In his new book he chronicles the innovation and sociological impact of the railway technology that changed the world, and could very well change it again.
From the frigid trans-Siberian railroad to the antiquated Indian Railways to the futuristic MagLev trains, Zoellner offers a stirring story of man's relationship with trains. Zoellner examines both the mechanics of the rails and their engines and how they helped societies evolve. Not only do trains transport people and goods in an efficient manner, but they also reduce pollution and dependency upon oil. Zoellner also considers America's culture of ambivalence to mass transit, using the perpetually stalled line between Los Angeles and San Francisco as a case study in bureaucracy and public indifference.
Train presents both an entertaining history of railway travel around the world while offering a serious and impassioned case for the future of train travel.
About the Author
Tom Zoellner is the author of four previous nonfiction books, including "Uranium," winner of the 2011 American Institute of Physics Science Writing Award. He is an Associate Professor at Chapman University and lives in downtown Los Angeles.
Praise For Train: Riding the Rails That Created the Modern World--From the Trans-Siberian to the Southwest Chief…
Praise for Train:

"Tom Zoellner's writing is never less than engaging; in Train he has made himself a veritable Walt Whitman of rail travel. It's a great read." —Richard Rhodes, Pulitzer prize-winning author of The Making of the Atomic Bomb   "Train is such a pleasure to read, elegant, deeply informed and smart, full of knowledge-bearing sentences, and prose so companionable and rich in insight that it is as if its author were at your shoulder, taking you along with him. What an enjoyable journey. I will never hear the far off moan of a train in the night without thinking of it, and I know of no higher praise one can give a book. Tom Zoellner is quickly making himself a reputation as a man of wide and eclectic interests, and oh, my! Can he write!" —Richard Bausch, author of Peace

"Spirited and bighearted...Zoellner enlightens us about an industry that's hiding in plain sight."—San Francisco Chronicle

"Highly entertaining, lucid and perceptive....It's a train lover's celebration of the great epic story of rail travel itself."—Los Angeles Times

"This is one of those all-too-rare books that have so much to them"—The Washington Times

"[Train] is a gracefully written, densely detailed meditation of trains—past, present and future....[P]art travelogue, as he rides seven train that shaped the modern world; part personal memoir, as he describes the people he met along the way; and part history of trains, from their origin to their impact on societies around the world and their vital role in the fast-forward 21st century."—LA Weekly

"An absorbing and lively reflection on an enduring marvel of modern industrial technology."—Booklist

"Train makes for fascinating reading….The author's easy, breezy style will keep readers chugging along."—The St. Louis Post-Dispatch

"Zoellner illustrates how the modern era was ushered in and strapped in place by railroads, and how trains—the reality and the idea—continue to shape the world as we understand it….Train is by turns lyrical, powerful, romantic, transporting, and rich."—Phoenix New Times

"[Train], rich with history and local color, is a mesmerizing read for anyone interested in the impact of trains on the environment, politics, economics, and daily life around the world today."—Library Journal

"Enchanting and informative."—New York Post

"[Train] is an absorbing round-the-world journey."—BookPage
or
Not Currently Available for Direct Purchase