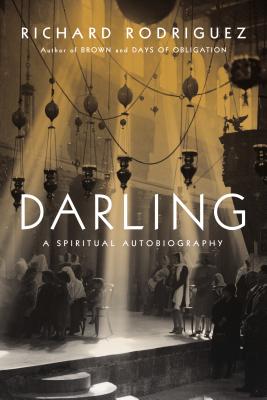 Darling
A Spiritual Autobiography
Hardcover

* Individual store prices may vary.
Other Editions of This Title:
Paperback (8/26/2014)
Description
An award winning writer delivers a major reckoning with religion, place, and sexuality in the aftermath of 9/11
Hailed in "The Washington Post "as one of the most eloquent and probing public intellectuals in America, Richard Rodriguez now considers religious violence worldwide, growing public atheism in the West, and his own mortality.
Rodriguez's stylish new memoir the first book in a decade from the Pulitzer Prize finalist moves from Jerusalem to Silicon Valley, from Moses to Liberace, from Lance Armstrong to Mother Teresa. Rodriguez is a homosexual who writes with love of the religions of the desert that exclude him. He is a passionate, unorthodox Christian who is always mindful of his relationship to Judaism and Islam because of a shared belief in the God who revealed himself within an ecology of emptiness. And at the center of this book is a consideration of women their importance to Rodriguez's spiritual formation and their centrality to the future of the desert religions.
Only a mind as elastic and refined as Rodriguez's could bind these threads together into this wonderfully complex tapestry.
Praise For Darling: A Spiritual Autobiography…
Praise for Darling

"Richard Rodriguez may be the most empathic essayist in America….His sentences are reliable joys: liquid and casual, they slip in and out of philosophy and anecdote noiselessly, like people padding through an empty chapel, expecting to hear nothing more than the sound of their own passage."—Sasha Frere-Jones, The New Yorker

"An eccentric mélange of a book….Under Rodriguez' guidance…all the pieces are connected slowly until the project as a whole reveals itself. It's as if you've been wandering for miles in a desert and, suddenly, your salvation appears."—NPR.org

"Darling links its illumination of the 'desert God' of Judaism, Christianity, and Islam…to a more personal history…but its inquiries range much further than personal experience."—Leslie Jamison, The New York Times Book Review

"The phenomenal writing carries the day….A deeply humanistic voice."—The Boston Globe

"[Rodriguez's] charming, associative prose is reminiscent of James Baldwin…Darling is a revelation."—Financial Times

"It would not be a stretch to call Rodriguez our greatest living essayist….He is an inward writer who is always looking out toward issues of race, spirituality, sexuality, and heritage."—David Gessner, Ecotone

"[With a] sophisticate and compassionate vision....[Richard Rodriguez] is, quite simply, one of the finest prose stylists now writing in English."—Shelf Awareness

"A rich tapestry, a Persian carpet of a book….The deep pleasures of [Darling] defy the usual capsule account."—Lesley Hazelton, San Francisco Chronicle
 
"[Rodriguez reveals] truths about our culture that are not immediately obvious but are somehow familiar….If Rodriguez's meditations are a desert, they constitute a paradoxical landscape that is simultaneously open and teeming."—Kirkus

"Engaging and readable, this highly personal and candid discovery…will delight Rodriguez's fans."—Library Journal (starred review)

"With compassion and profundity of vision, Rodriguez offers a compelling view of modern spirituality that is as multifaceted as it is provocative."—Kirkus (starred review)

"Wide-ranging, erudite, passionate, and thought-provoking."—Booklist

"Darling is a remarkable collection, one that will no doubt strengthen Rodriguez's reputation as being one of America's finest essayists."—The El Paso Times

Praise for Brown: The Last Discovery of America

"It may be a while yet before America is as comfortable with the ambiguities of its complexion as Rodriguez is. In the meantime, he injects some desperately needed complexity into America's thorniest debate."—Mother Jones
 
"The recurrent strands of [Rodriguez's] though—family, religion, education, race, sex, California, America, Mexico—gain new resonance each time and stand, in the end, for the complexity of a whole greater than the sum of its parts."—The New York Times Book Review

Praise for Days of Obligation: An Argument with My Mexican Father

"Days of Obligation looks into America—north and south of the Rio Grande—as penetratingly and eloquently as Camus did when he compared the mental landscapes of France and Algiers."—David Lohrey, The Los Angeles Times Book Review

"It is like nothing I have ever read before, and the sheer dazzle of its suggestions says more about America than anything I have read since Lawrence."—Pico Iyer, author of Falling Off the Map

 
Viking, 9780670025305, 235pp.
Publication Date: October 3, 2013
About the Author
Richard Rodriguez is the author of "H"unger of Memory, Brown, " "and "Days of Obligation." He is a fellow of New America Media. He was a long-time contributor to PBS and continues to write for "Harper's Magazine"and the"Los Angeles" "Times." Helives in San Francisco."
or
Not Currently Available for Direct Purchase