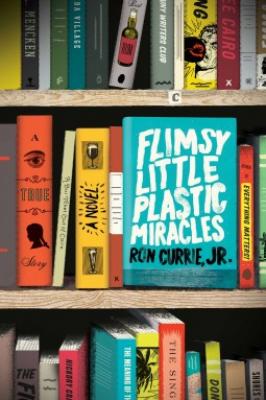 Flimsy Little Plastic Miracles (Hardcover)
Viking Books, 9780670025343, 340pp.
Publication Date: February 7, 2013
Other Editions of This Title:
Digital Audiobook (2/6/2013)
Paperback (1/28/2014)
Other (2/1/2013)
* Individual store prices may vary.
Description
A bold, arresting new work of fiction from the acclaimed author of "Everything Matters "
In this tour de force of imagination, Ron Currie asks why literal veracity means more to us than deeper truths, creating yet again a genre-bending novel that will at once dazzle, move, and provoke.
The protagonist of Ron Currie, Jr.'s new novel has a problem or rather, several of them. He's a writer whose latest book was destroyed in a fire. He's mourning the death of his father, and has been in love with the same woman since grade school, a woman whose beauty and allure is matched only by her talent for eluding him. Worst of all, he's not even his own man, but rather an amalgam of fact and fiction from Ron Currie's own life. When Currie the character exiles himself to a small Caribbean island to write a new book about the woman he loves, he eventually decides to fake his death, which turns out to be the best career move he's ever made. But fame and fortune come with a price, and Currie learns that in a time of twenty-four-hour news cycles, reality TV, and celebrity Twitter feeds, the one thing the world will not forgive is having been told a deeply satisfying lie.
What kind of distinction could, or should, be drawn between Currie the author and Currie the character? Or between the book you hold in your hands and the novel embedded in it? Whatever the answers, Currie, an inventive writer always eager to test the boundaries of storytelling in provocative ways, has essential things to impart along the way about heartbreak, reality, grief, deceit, human frailty, and blinding love.
About the Author
Ron Currie, Jr., is the winner of the 2009 Addison M. Metcalf Award from the American Academy of Arts and Letters as well as the New York Public Library Young Lion s Award for his acclaimed debut, "God Is Dead." His 2009 novel, "Everything Matters!," was an Indie Next Pick and one of Amazon s 100 Top Books of 2009 and was named by the "Los Angeles Times" as among the Best Fiction of 2009. He lives in Waterville, Maine."
Praise For Flimsy Little Plastic Miracles…


 Praise for FLIMSY LITTLE PLASTIC MIRACLES

"Sharp and sarcastic, Currie's dramatic story keeps you tethered in place…it's a truly genuine love story wrapped in a series of comically improbable events." —thedailybeast.com
                                                                    
"A powerful, brilliant, compelling novel about love, writing, fame, fiction and shame that is emotionally effective and intellectually engaging, coming as close to anything I've read, to meeting David Foster Wallace's call for fiction that makes the head beat like the heart." —bookslut.com

"So blisteringly funny that I laughed as I hadn't laughed in years:  we're talking demonic, unstoppable, don't sit next to that guy howls." —The Washington Post

"Resounds with humor and insight into love, loss, and reality…An astonishing feat of innovation with surprises on nearly every page, Currie's entrancing novel marks the work of a scathingly comic virtuoso." —ALA Booklist
                                                               
"A postmodern love story, self-consciously playful…things get both crazy and interesting…moving and hilarious." —Kirkus Reviews
 
"A metafictional tangle of debauchery and technological anxiety…Told in a bouncy, pinball style, this darkly droll novel is never boring." —Publishers Weekly
 
"Currie stays true to his gutsy, thoughtful, and unconventional self in this brilliant meditation on life, death, truth, and imperfection. Flimsy Little Plastic Miracles is flimsy like a brick sh*thouse. Ron Currie, Jr. is a fearless and inspired writer at the top of his game.  Read him." —Jonathan Evison, author of The Revised Fundamentals of Caregiving and West of Here
                                                                 
"Both a brilliantly constructed inquiry into the nature of reality and a soulful ode to the free fall of obsessive love. These two spines interweave ever more tightly till they fuse into a dazzling question mark with no easy answers. This is a beautiful book." —Kate Christensen, author of The Astral and The Great Man
or
Not Currently Available for Direct Purchase