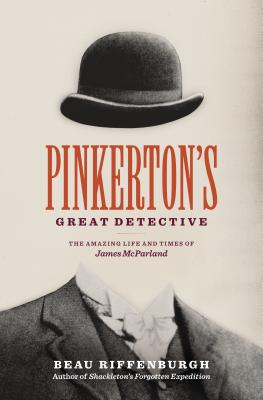 Pinkerton's Great Detective
The Amazing Life and Times of James McParland
Hardcover

* Individual store prices may vary.
Other Editions of This Title:
Digital Audiobook (12/19/2013)
Paperback (11/25/2014)
Description
The story of the legendary Pinkerton detective who took down the Molly Maguires and the Wild Bunch
The operatives of the Pinkerton's National Detective Agency were renowned for their skills of subterfuge, infiltration, and investigation, none more so than James McParland. So thrilling were McParland's cases that Sir Arthur Conan Doyle included the cunning detective in a story along with Sherlock Holmes.
Riffenburgh digs deep into the recently released Pinkerton archives to present the first biography of McParland and the agency's cloak-and-dagger methods. Both action packed and meticulously researched, Pinkerton's Great Detective brings readers along on McParland's most challenging cases: from young McParland's infiltration of the murderous Molly Maguires gang in the case that launched his career to his hunt for the notorious Butch Cassidy and the Wild Bunch to his controversial investigation of the Western Federation of Mines in the assassination of Idaho's former governor.
Filled with outlaws and criminals, detectives and lawmen, "Pinkerton's Great Detective" shines a light upon the celebrated secretive agency and its premier sleuth.
Praise For Pinkerton's Great Detective: The Amazing Life and Times of James McParland…
"Locating the real James McParland amid the invective, acclaim and invention (including his own) is no easy task, and Beau Riffenburgh, author of ''Shackleton's Forgotten Expedition,' has made good use of the recently released Pinkerton archives.... McParland was the prototype of a character that has become an adored part of America's cultural landscape, the hard-boiled gumshoe, the lone sleuth in search of justice."
—Ben McIntyre, The New York Times

"Revisiting archives and reintroducing historical context, Riffenburgh unfolds a measured, thought-provoking tale of mine-centered mayhem."
—American History 

"Thanks to Riffenburgh, it is not hard to divine the truth. McParland was neither a demon nor a saint. This is no copout. The man belonged to an age ravaged by violence and conflict, and his job as he understood it was to capture the guilty.... He was not always in the right, but he broke with the right less often and less deliberately than the criminals he hunted. That is as much heroism as Riffenburgh, a great detective in his own right, has managed to find in this alien, tumultuous time."
—The Christina Science Monitor

"Riffenburgh navigates… [a] moral quagmire deftly, contextualizing McParland and his far more violent time, while simultaneously deconstructing the image of the 'Great Detective.'"
—The Daily Beast
 
Viking Books, 9780670025466, 384pp.
Publication Date: November 14, 2013
About the Author
Beau Riffenburgh has a Ph.D. in history from the University of Cambridge, where he was a member of the academic staff. He has written numerous books on exploration, including "Shackleton's Forgotten Expedition." He lives in Llanarthne, Wales, UK.
or
Not Currently Available for Direct Purchase