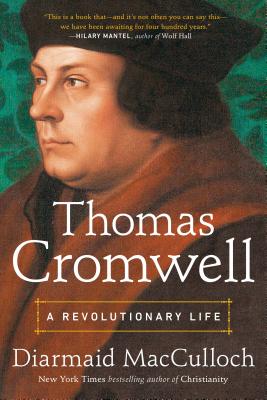 Thomas Cromwell
A Revolutionary Life
Hardcover

* Individual store prices may vary.
Other Editions of This Title:
Digital Audiobook (10/29/2018)
Paperback (10/29/2019)
Description
The long-awaited biography of the genius who masterminded Henry VIII's bloody revolution in the English government, which reveals at last Cromwell's role in the downfall of Anne Boleyn

"This a book that - and it's not often you can say this - we have been awaiting for four hundred years." --Hilary Mantel, author of Wolf Hall

Since the sixteenth century we have been fascinated by Henry VIII and the man who stood beside him, guiding him, enriching him, and enduring the king's insatiable appetites and violent outbursts until Henry ordered his beheading in July 1540. After a decade of sleuthing in the royal archives, Diarmaid MacCulloch has emerged with a tantalizing new understanding of Henry's mercurial chief minister, the inscrutable and utterly compelling Thomas Cromwell.

History has not been kind to the son of a Putney brewer who became the architect of England's split with Rome. Where past biographies portrayed him as a scheming operator with blood on his hands, Hilary Mantel reimagined him as a far more sympathetic figure buffered by the whims of his master. So which was he--the villain of history or the victim of her creation? MacCulloch sifted through letters and court records for answers and found Cromwell's fingerprints on some of the most transformative decisions of Henry's turbulent reign. But he also found Cromwell the man, an administrative genius, rescuing him from myth and slander.

The real Cromwell was a deeply loving father who took his biggest risks to secure the future of his son, Gregory. He was also a man of faith and a quiet revolutionary. In the end, he could not appease or control the man whose humors were so violent and unpredictable. But he made his mark on England, setting her on the path to religious awakening and indelibly transforming the system of government of the English-speaking world.
Praise For Thomas Cromwell: A Revolutionary Life…
"Thomas Cromwell has famously defied his biographers, but no more. Diarmaid MacCulloch's book is subtle, witty and precisely constructed. He has sifted the vast archive to clear away the accumulated error, muddle and propaganda of centuries, allowing us to see this clever and fascinating man better than ever before, and in the mirror of his times. This a book that—and it's not often you can say this—we have been awaiting for four hundred years." —Hilary Mantel, author of Wolf Hall and Bring Up the Bodies

"Thomas Cromwell is a wonderfully rich, detailed and demanding account of an extraordinary career....It's a book to satisfy academic historians and the general reader alike. Nothing so dramatically and persuasively conveys the reality of life in these blood-soaked years."—Wall Street Journal

"MacCulloch threads Cromwell's notes and other contemporary sources along with modern historians' work to recreate his motivations. This comprehensive biography is ideal for passionate devotees of Hilary Mantel's historical novels."—Publishers Weekly

"A landmark portrait of a complex, confounding man."—Booklist (starred review)

"MacCulloch's monumental biography brings Henry VIII's notorious minister to vivid, detailed life….A must-read biography of a man whose role in shaping English and Protestant history has long been misunderstood."—Library Journal (starred review)

"Triumphant and definitive… This is a masterpiece of documentary detective work, which buzzes with the excitement of a great historian immersed in archives. Acute, elegant and devastating." —Dan Jones, Sunday Times
 
"This biography is a major work of scholarship of the type that will reset academic understanding of Tudor politics for a generation … and golly, can MacCulloch make a Tudor paper trail seem exciting."  —Financial Times



Praise for Christianity: The First Three Thousand Years

"Immensely ambitious and absorbing." —Adam Gopnik, The New Yorker

"A landmark contribution . . . It is difficult to imagine a more comprehensive and surprisingly accessible volume than MacCulloch's." —Jon Meacham, The New York Times Book Review

"A prodigious, thrilling, masterclass of a history book. MacCulloch is to be congratulated for his accessible handling of so much complex, difficult material." —John Cornwell, Financial Times

Praise for Silence: A Christian History

"In MacCulloch's hands, reading about Christianity often feels as soulful, as silently consuming, as prayer itself." —Tom Bissell, Harper's Magazine

"Silence is excellent: beautifully written, factually dense, intellectually sophisticated." —Kathryn Schulz, New York magazine

"Enjoyable and intelligent . . . MacCulloch is a gifted scholar and his ideas are always worth hearing." —The Economist

Viking, 9780670025572, 752pp.
Publication Date: October 30, 2018
About the Author
Diarmaid MacCulloch is Professor of the History of the Church at Oxford University. His books include Thomas Cranmer: A Life, which won the Whitbread Biography Prize, the James Tait Black Prize, and the Duff Cooper Prize; The Reformation: A History, winner of the National Book Critics Circle Award and the Wolfson Prize; and Christianity: The First Three Thousand Years, a New York Times bestseller that won the Cundill Prize in History. An Anglican deacon, knighted in 2012, he has presented many highly celebrated documentaries for television and radio. He lives in Oxford, England.