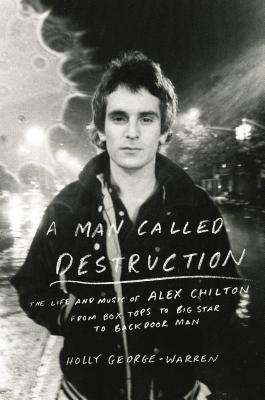 A Man Called Destruction
The Life and Music of Alex Chilton, from Box Tops to Big Star to Backdoor Man
Hardcover

* Individual store prices may vary.
Other Editions of This Title:
Paperback (2/24/2015)
Description
The first biography of the influential musician and forebear of the indie-rock scene
Alex Chilton's story is rags to riches in reverse, beginning with teenage rock stardom and heading downward. Following stints leading 60s sensation the Box Tops ( The Letter ) and pioneering 70s popsters Big Star ( the ultimate American pop band "Time"), Chilton became a dishwasher. Yet he rose again in the 80s as a solo artist, producer, and trendsetter, coinventing the indie-rock genre. By the 90s, acolytes from R.E.M. to Jeff Buckley embodied Chilton's legacy, ushering him back to the spotlight before his untimely death in 2010.
In the career-spanning and revelatory "A Man Called Destruction," longtime Chilton acquaintance Holly George-Warren has interviewed more than 100 bandmates, friends, and family members to flesh out a man who presided over and influenced four decades of American musical history, rendered here with new perspective through the adventures of a true iconoclast.
Praise For A Man Called Destruction: The Life and Music of Alex Chilton, from Box Tops to Big Star to Backdoor Man…
"A Man Called Destruction is also the only thing about this criminally under-appreciated band you'll ever need to read. It does more than all the articles, books, documentary films, and cover albums with liner notes written by famous fanboys about how important and life-changing Big Star's recordings were combined…Nobody has done such a great job telling his story before. This is what makes Holly George-Warren's achievement such an important one, and A Man Called Destruction one of the most important books on the life and work of a musician to come out this year."
~Jason Diamond, Flavorwire
 
"A thoroughly reported biography illuminating the life and work of one of the more mystifying and influential cult figures in rock.... Chilton receives the biography he deserves."
~Kirkus Reviews (starred)

"The immensely gifted  and highly influential musician Alex Chilton has long deserved a big biography. Holly George-Warren's meticulously researched and beautifully written book shows us Chilton in all his mysterious glory. A Man Called Destruction gets to the heart of the man by focusing on the music he made (and the music that made him) with great precision and authority. I loved reading this sensitive, sympathetic, and intelligent portrait of a complicated and important figure."
~Dana Spiotta, author of Stone Arabia

"This book is the very definition of a labor of love. Every page of it is infused with Holly George-Warren's affection for and deep understanding of Alex Chilton and his groundbreaking work. Even its most candid moments are presented with empathy and a profound respect. Chilton could be thorny and difficult character -- he is fortunate to have found a biographer eager to untangle the knots of his character and to find the sweet heart beating within."
~Anthony DeCurtis, Contributing Editor, Rolling Stone
 
Viking Books, 9780670025633, 370pp.
Publication Date: March 20, 2014
About the Author
Holly George-Warren is the award-winning author of the "New York Times "bestseller "The Road to Woodstock "(with Michael Lang), "Public Cowboy #1: The Life and Times of Gene Autry," "Punk 365," and a dozen other books. The two-time Grammy nominee has written for such publications as "Rolling Stone," the "New York Times," "The Village Voice," and "Entertainment Weekly." Coeditor of "The Rolling Stone Encyclopedia of Rock & Roll," she served as the editorial director of Rolling Stone Press for eight years. She lives in upstate New York.
or
Not Currently Available for Direct Purchase