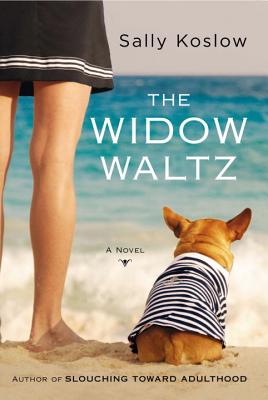 The Widow Waltz
Hardcover

* Individual store prices may vary.
Other Editions of This Title:
Digital Audiobook (12/9/2013)
MP3 CD (12/10/2013)
Compact Disc (12/10/2013)
Hardcover, Large Print (10/9/2013)
Paperback (5/27/2014)
MP3 CD (12/10/2013)
Compact Disc (12/10/2013)
Compact Disc (12/10/2013)
Description
"This heartfelt, witty addition to women's fiction will appeal to fans of Elizabeth Berg and Anna Quindlen." (""Booklist)""
Georgia Waltz has things many people only dream of: a plush Manhattan apartment overlooking Central Park, a Hamptons beach house, valuable jewels and art, two bright daughters, and a husband she adores, even after decades of marriage. It's only when Ben suddenly drops dead from a massive coronary while training for the New York City Marathon that Georgia discovers her husband--a successful lawyer--has left them nearly penniless. Their wonderland was built on lies.
As the family attorney scours emptied bank accounts, Georgia must not only look for a way to support her family, she needs to face the revelation that Ben was not the perfect husband he appeared to be, just as her daughters--now ensconced back at home with secrets of their own--have to accept that they may not be returning to their lives in Paris and at Stanford subsidized by the Bank of Mom and Dad. As she uncovers hidden resilience, Georgia's sudden midlife shift forces her to consider who she is and what she truly values. That Georgia may also find new love in the land of Spanx and stretch marks surprises everyone--most of all, her.
Sally Koslow's fourth novel is deftly told through the alternating viewpoints of her remarkable female protagonists as they plumb for the grit required to reinvent their lives. Inspiring, funny, and deeply satisfying, "The Widow Waltz" explores in a profound way the bonds between mothers and daughters, belligerent siblings, skittish lovers, and bitter rivals as they discover the power of forgiveness, and healing, all while asking, "What "is" family, really?
Praise For The Widow Waltz…
Praise for The Widow Waltz:

***Chosen by People magazine as a Great Summer Read***

***Chosen by USA Today as a Hot Summer Read***

"Witty and insightful."
—People magazine (A Great Summer Read Pick)

"Lovers of breezy beach reads . . . will enjoy the journey."
—Real Simple

"Well-written, page-turning domestic fiction about a family's reinvention and healing that will attract fans of Elizabeth Berg."
—Library Journal

"Wry and funny."
—More magazine (A Summer Book Pick)

"An inspirational piece about rising up to meet challenges, valuing family, and finding independence, inner strength and new perspectives. . . . Those of you looking for a breezy summer book should thoroughly enjoy Koslow's latest effort."
—Book Reporter

"Sally Koslow delivers another winner, a smart and hopeful story of a mother and daughters growing up and starting over—together."
—Eleanor Brown, author of The Weird Sisters
 
"I devoured this book."
 —Jesse Kornbluth, The Huffington Post

"Entertaining . . . Koslow knows how to please." 
—Kirkus Reviews
"Pop Quiz: Your beloved husband dies suddenly, leaving you penniless and perplexed. Do you  (a) climb into bed until your house is repossessed (b) find another, wealthier man to pick up the tab, or  (c) take a  deep breath, grab hold of your daughters, and dive into the mess? Because I myself lean toward (a), I was charmed and inspired by Georgia Waltz, heroine of The Widow Waltz, who in the face of calamity, digs deep for answers and discovers her better self in the process. By turns lighthearted and insightful, The Widow Waltz is a clarion call for any woman who's been disappointed by love:  Take a chance! Forgive yourself! Forgive each other! Buy this book!"
—Jillian Medoff, author of Hunger Point and I Couldn't Love You More

"Sally Koslow gives us a portrait of female fortitude and reinvention in her tale of how fifty-something Georgia must start again from 'Go' after her luxurious Manhattan life implodes overnight. Reading a Koslow novel is like eating a top-of-the-line gourmet truffle: exquisitely and carefully constructed, ultimately pleasurable—yet there's iron in it, too. Readers of Anne Tyler, Elin Hilderbrand, Cathleen Schine, and Randy Susan Meyers will devour this book as I did."
—Jenna Blum, author of Those Who Save Us and The Stormchasers
 
"Sally Koslow takes economic downturn . . . and turns it into an urban fairy tale featuring plucky heroines, wolfish villains, a magic garden, and one unlikely knight. The Widow Waltz tells a story of reinvention with humor, intrigue, and just the right touch of mid-life romance."
—Ann Bauer, author of The Forever Marriage

"Poignant, charming, and funny, The Widow Waltz is a wonderful reminder that we are never too old to grow up. A must-read." —Julie Buxbaum, author of The Opposite of Love
 
 "With style, wit, and unflinching honesty, Sally Koslow explores the devastating confusion of a woman and her daughters betrayed by their beloved husband and father, who has died suddenly and taken secrets with him, and how these women summon wisdom and power to help one another heal."
—Erika Robuck, author of Hemingway's Girl and Call Me Zelda
 
"The Widow Waltz is as smart, savvy, and clear-sighted as its heroine, a woman who searches for the truth beneath her dead husband's betrayal. Sally Koslow has written a warm and buoyant story about marriage, motherhood, and second acts."
—Caryn James, author of  Glorie and What Caroline Knew

"This heartfelt, witty addition to women's fiction will appeal to fans of Elizabeth Berg and Anna Quindlen."
—Booklist
Viking Books, 9780670025640, 342pp.
Publication Date: June 13, 2013
About the Author
Sally Koslow is the author of three novels, "The Late, Lamented Molly Marx," a Target Book Pick; "With Friends Like These"; and "Little Pink Slips," inspired by her time as the editor in chief of "McCall's"; and "Slouching Toward Adulthood," a witty and insightful report from the parenting trenches. She lives in New York City.
or
Not Currently Available for Direct Purchase